Citi Elements® Bench
Citi Elements® is an exciting new collection of street furniture offered in a choice of materials and finishes providing customisation at affordable prices.The multi-material design means there is a configured solution to suit almost any landscape.
This versatile design uses simple forms of shape and geometry matching multifaceted use across a variety of environments. Select from a seat, bench, table and a combination of materials to suit your budget and match your project. For finer detailing, seat and frame finishes are available for maximum impact.
Furthermore; the use of eco-friendly materials, including 100% recycled plastic and FSC® certified hardwood and softwood timber, help to protect the planet for future generations.

Simple, affordable design where form meets function
Choice of materials and finishes to suit the Landscape
Seat, bench, table option provide scope to vary usage
FSC® certified timber responsibly sourced from well managed forests (FSC® C133609)
100% recycled plastic for low maintenance and resistance to climate change
Stainless Steel for high durability and resistance to everyday urban use
Mild steel in a choice of powder coated finishes for visual consistency and cohesion
Surface mounted for easy installation
Ethical Risk Index
This Radar diagram illustrates the level of ethical risk associated with a specific stone. Ethical risk is plotted against the 10 ten measures of the ERI, with each value drawn from reports produced by independent ethical auditors, engaged by Marshalls to provide non-biased and honest reporting into levels of risk in that supply chain.
Each of the 10 measure is designed to recognise different and discrete sources of ethical risk. This produces a bespoke, fit for purpose framework designed specifically for the requirements of the stone industry. The radar diagram itself also compares the Marshalls supply chain to the wider industry in that stone, giving users a working comparison of Marshalls supply chain to the industry average, in the opinion of the auditor.
Modern Slavery Act Awareness
Supply Chain Visibility
Income and Employment Security
Health & Safety
Social-Wellbeing
Employment Freely Chosen
Empowerment
Environmental
Governance
Corruption and Bribery
View More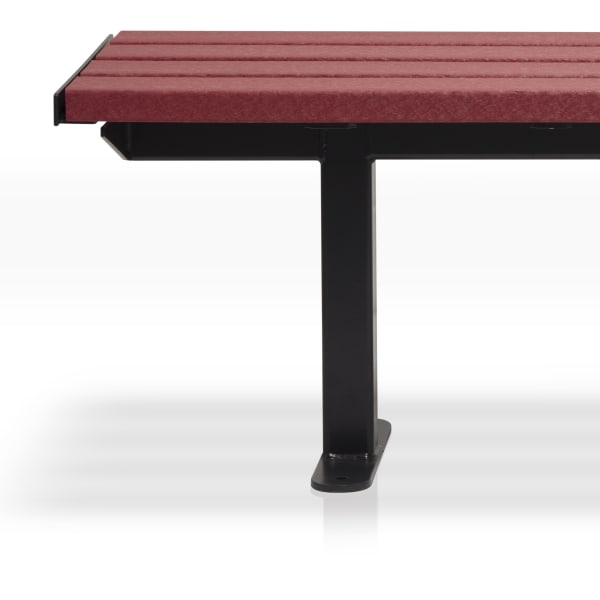 citi element bench - red plastic slats with black steel frame
Certification Logos and Accreditations
| Product Name | id | Arm Rest Option | Frame Material/Finish | Seat Material/Finish | Length (mm) | Width (mm) | Height (mm) | Overall Height (mm) | Weight (kg) |
| --- | --- | --- | --- | --- | --- | --- | --- | --- | --- |
| Citi Elements Bench Plastic Plain Jet Black | CE-SE-000-01 | No | Mild steel powder coated | 100% recycled plastic | 1820 | 415 | 475 | 475 | 50 |
| Citi Elements Bench Plastic End Arms Jet Black | CE-SE-00002 | Yes | Mild steel powder coated | 100% recycled plastic | 1820 | 415 | 475 | 475 | 50 |
| Citi Elements Bench Plastic All Arms Jet Black | CE-SE-00003 | Yes | Mild steel powder coated | 100% recycled plastic | 1820 | 415 | 475 | 475 | 50 |
| Citi Elements Bench FSC Softwood Plain | CE-SE-000-07 | No | Mild steel powder coated | FSC® certified timber | 1820 | 415 | 475 | 475 | 50 |
| Citi Elements Bench FSC Softwood Plain Anthracite Grey | CE-SE-00007-004 | No | Mild steel powder coated | FSC® certified timber | 1820 | 415 | 475 | 475 | 50 |
| Citi Elements Bench FSC Softwood Plain White Aluminium | CE-SE-00007-011 | No | Mild steel powder coated | FSC® certified timber | 1820 | 415 | 475 | 475 | 50 |
| Citi Elements Bench FSC Softwood Plain Grey Aluminium | CE-SE-00007-015 | No | Mild steel powder coated | FSC® certified timber | 1820 | 415 | 475 | 475 | 50 |
| Citi Elements Bench FSC Softwood Plain Traffic Yellow | CE-SE-00007-043 | No | Mild steel powder coated | FSC® certified timber | 1820 | 415 | 475 | 475 | 50 |
| Citi Elements Bench FSC Softwood Plain Jet Black | CE-SE-00007-044 | No | Mild steel powder coated | FSC® certified timber | 1820 | 415 | 475 | 475 | 50 |
| Citi Elements Bench FSC Softwood Plain Moss Green | CE-SE-00007-048 | No | Mild steel powder coated | FSC® certified timber | 1820 | 415 | 475 | 475 | 50 |
| Citi Elements Bench FSC Softwood Plain Corten | CE-SE-00007-079 | No | Mild steel powder coated | FSC® certified timber | 1820 | 415 | 475 | 475 | 50 |
| Citi Elements Bench FSC Softwood Plain Bronze | CE-SE-00007-080 | No | Mild steel powder coated | FSC® certified timber | 1820 | 415 | 475 | 475 | 50 |
| Citi Elements Bench FSC Softwood Plain Oxide Red | CE-SE-00007-087 | No | Mild steel powder coated | FSC® certified timber | 1820 | 415 | 475 | 475 | 50 |
| Citi Elements Bench FSC Softwood Plain Steel Blue | CE-SE-00007-088 | No | Mild steel powder coated | FSC® certified timber | 1820 | 415 | 475 | 475 | 50 |
| Citi Elements Bench FSC Softwood End Arms | CE-SE-00008 | Yes | Mild steel powder coated | FSC® certified timber | 1820 | 415 | 475 | 475 | 50 |
| Citi Elements Bench FSC Softwood End Arms Anthracite Grey | CE-SE-00008-004 | Yes | Mild steel powder coated | FSC® certified timber | 1820 | 415 | 475 | 475 | 50 |
| Citi Elements Bench FSC Softwood End Arms White Aluminium | CE-SE-00008-011 | Yes | Mild steel powder coated | FSC® certified timber | 1820 | 415 | 475 | 475 | 50 |
| Citi Elements Bench FSC Softwood End Arms Grey Aluminium | CE-SE-00008-015 | Yes | Mild steel powder coated | FSC® certified timber | 1820 | 415 | 475 | 475 | 50 |
| Citi Elements Bench FSC Softwood End Arms Traffic Yellow | CE-SE-00008-043 | Yes | Mild steel powder coated | FSC® certified timber | 1820 | 415 | 475 | 475 | 50 |
| Citi Elements Bench FSC Softwood End Arms Jet Black | CE-SE-00008-044 | Yes | Mild steel powder coated | FSC® certified timber | 1820 | 415 | 475 | 475 | 50 |
| Citi Elements Bench FSC Softwood End Arms Moss Green | CE-SE-00008-048 | Yes | Mild steel powder coated | FSC® certified timber | 1820 | 415 | 475 | 475 | 50 |
| Citi Elements Bench FSC Softwood End Arms Corten | CE-SE-00008-079 | Yes | Mild steel powder coated | FSC® certified timber | 1820 | 415 | 475 | 475 | 50 |
| Citi Elements Bench FSC Softwood End Arms Bronze | CE-SE-00008-080 | Yes | Mild steel powder coated | FSC® certified timber | 1820 | 415 | 475 | 475 | 50 |
| Citi Elements Bench FSC Softwood End Arms Oxide Red | CE-SE-00008-087 | Yes | Mild steel powder coated | FSC® certified timber | 1820 | 415 | 475 | 475 | 50 |
| Citi Elements Bench FSC Softwood End Arms Steel Blue | CE-SE-00008-088 | Yes | Mild steel powder coated | FSC® certified timber | 1820 | 415 | 475 | 475 | 50 |
| Citi Elements Bench FSC Softwood All Arms | CE-SE-00009 | Yes | Mild steel powder coated | FSC® certified timber | 1820 | 415 | 475 | 475 | 50 |
| Citi Elements Bench FSC Softwood All Arms Anthracite Grey | CE-SE-00009-004 | Yes | Mild steel powder coated | FSC® certified timber | 1820 | 415 | 475 | 475 | 50 |
| Citi Elements Bench FSC Softwood All Arms White Aluminium | CE-SE-00009-011 | Yes | Mild steel powder coated | FSC® certified timber | 1820 | 415 | 475 | 475 | 50 |
| Citi Elements Bench FSC Softwood All Arms Grey Aluminium | CE-SE-00009-015 | Yes | Mild steel powder coated | FSC® certified timber | 1820 | 415 | 475 | 475 | 50 |
| Citi Elements Bench FSC Softwood All Arms Traffic Yellow | CE-SE-00009-043 | Yes | Mild steel powder coated | FSC® certified timber | 1820 | 415 | 475 | 475 | 50 |
| Citi Elements Bench FSC Softwood All Arms Jet Black | CE-SE-00009-044 | Yes | Mild steel powder coated | FSC® certified timber | 1820 | 415 | 475 | 475 | 50 |
| Citi Elements Bench FSC Softwood All Arms Moss Green | CE-SE-00009-048 | Yes | Mild steel powder coated | FSC® certified timber | 1820 | 415 | 475 | 475 | 50 |
| Citi Elements Bench FSC Softwood All Arms Corten | CE-SE-00009-079 | Yes | Mild steel powder coated | FSC® certified timber | 1820 | 415 | 475 | 475 | 50 |
| Citi Elements Bench FSC Softwood All Arms Bronze | CE-SE-00009-080 | Yes | Mild steel powder coated | FSC® certified timber | 1820 | 415 | 475 | 475 | 50 |
| Citi Elements Bench FSC Softwood All Arms Oxide Red | CE-SE-00009-087 | Yes | Mild steel powder coated | FSC® certified timber | 1820 | 415 | 475 | 475 | 50 |
| Citi Elements Bench FSC Softwood All Arms Steel Blue | CE-SE-00009-088 | Yes | Mild steel powder coated | FSC® certified timber | 1820 | 415 | 475 | 475 | 50 |
| Citi Elements Bench FSC Hardwood Plain | CE-SE-00013 | No | Mild steel powder coated | FSC® certified timber | 1820 | 415 | 475 | 475 | 50 |
| Citi Elements Bench FSC Hardwood Plain Anthracite Grey | CE-SE-00013-004 | No | Mild steel powder coated | FSC® certified timber | 1820 | 415 | 475 | 475 | 50 |
| Citi Elements Bench FSC Hardwood Plain White Aluminium | CE-SE-00013-011 | No | Mild steel powder coated | FSC® certified timber | 1820 | 415 | 475 | 475 | 50 |
| Citi Elements Bench FSC Hardwood Plain Grey Aluminium | CE-SE-00013-015 | No | Mild steel powder coated | FSC® certified timber | 1820 | 415 | 475 | 475 | 50 |
| Citi Elements Bench FSC Hardwood Plain Traffic Yellow | CE-SE-00013-043 | No | Mild steel powder coated | FSC® certified timber | 1820 | 415 | 475 | 475 | 50 |
| Citi Elements Bench FSC Hardwood Plain Jet Black | CE-SE-00013-044 | No | Mild steel powder coated | FSC® certified timber | 1820 | 415 | 475 | 475 | 50 |
| Citi Elements Bench FSC Hardwood Plain Moss Green | CE-SE-00013-048 | No | Mild steel powder coated | FSC® certified timber | 1820 | 415 | 475 | 475 | 50 |
| Citi Elements Bench FSC Hardwood Plain Corten | CE-SE-00013-079 | No | Mild steel powder coated | FSC® certified timber | 1820 | 415 | 475 | 475 | 50 |
| Citi Elements Bench FSC Hardwood Plain Bronze | CE-SE-00013-080 | No | Mild steel powder coated | FSC® certified timber | 1820 | 415 | 475 | 475 | 50 |
| Citi Elements Bench FSC Hardwood Plain Oxide Red | CE-SE-00013-087 | No | Mild steel powder coated | FSC® certified timber | 1820 | 415 | 475 | 475 | 50 |
| Citi Elements Bench FSC Hardwood Plain Steel Blue | CE-SE-00013-088 | No | Mild steel powder coated | FSC® certified timber | 1820 | 415 | 475 | 475 | 50 |
| Citi Elements Bench FSC Hardwood End Arms | CE-SE-00014 | Yes | Mild steel powder coated | FSC® certified timber | 1820 | 415 | 475 | 475 | 50 |
| Citi Elements Bench FSC Hardwood End Arms Anthracite Grey | CE-SE-00014-004 | Yes | Mild steel powder coated | FSC® certified timber | 1820 | 415 | 475 | 475 | 50 |
| Citi Elements Bench FSC Hardwood End Arms White Aluminium | CE-SE-00014-011 | Yes | Mild steel powder coated | FSC® certified timber | 1820 | 415 | 475 | 475 | 50 |
| Citi Elements Bench FSC Hardwood End Arms Grey Aluminium | CE-SE-00014-015 | Yes | Mild steel powder coated | FSC® certified timber | 1820 | 415 | 475 | 475 | 50 |
| Citi Elements Bench FSC Hardwood End Arms Traffic Yellow | CE-SE-00014-043 | Yes | Mild steel powder coated | FSC® certified timber | 1820 | 415 | 475 | 475 | 50 |
| Citi Elements Bench FSC Hardwood End Arms Jet Black | CE-SE-00014-044 | Yes | Mild steel powder coated | FSC® certified timber | 1820 | 415 | 475 | 475 | 50 |
| Citi Elements Bench FSC Hardwood End Arms Moss Green | CE-SE-00014-048 | Yes | Mild steel powder coated | FSC® certified timber | 1820 | 415 | 475 | 475 | 50 |
| Citi Elements Bench FSC Hardwood End Arms Corten | CE-SE-00014-079 | Yes | Mild steel powder coated | FSC® certified timber | 1820 | 415 | 475 | 475 | 50 |
| Citi Elements Bench FSC Hardwood End Arms Bronze | CE-SE-00014-080 | Yes | Mild steel powder coated | FSC® certified timber | 1820 | 415 | 475 | 475 | 50 |
| Citi Elements Bench FSC Hardwood End Arms Oxide Red | CE-SE-00014-087 | Yes | Mild steel powder coated | FSC® certified timber | 1820 | 415 | 475 | 475 | 50 |
| Citi Elements Bench FSC Hardwood End Arms Steel Blue | CE-SE-00014-088 | Yes | Mild steel powder coated | FSC® certified timber | 1820 | 415 | 475 | 475 | 50 |
| Citi Elements Bench FSC Hardwood All Arms | CE-SE-00015 | Yes | Mild steel powder coated | FSC® certified timber | 1820 | 415 | 475 | 475 | 50 |
| Citi Elements Bench FSC Hardwood All Arms Anthracite Grey | CE-SE-00015-004 | Yes | Mild steel powder coated | FSC® certified timber | 1820 | 415 | 475 | 475 | 50 |
| Citi Elements Bench FSC Hardwood All Arms White Aluminium | CE-SE-00015-011 | Yes | Mild steel powder coated | FSC® certified timber | 1820 | 415 | 475 | 475 | 50 |
| Citi Elements Bench FSC Hardwood All Arms Grey Aluminium | CE-SE-00015-015 | Yes | Mild steel powder coated | FSC® certified timber | 1820 | 415 | 475 | 475 | 50 |
| Citi Elements Bench FSC Hardwood All Arms Traffic Yellow | CE-SE-00015-043 | Yes | Mild steel powder coated | FSC® certified timber | 1820 | 415 | 475 | 475 | 50 |
| Citi Elements Bench FSC Hardwood All Arms Jet Black | CE-SE-00015-044 | Yes | Mild steel powder coated | FSC® certified timber | 1820 | 415 | 475 | 475 | 50 |
| Citi Elements Bench FSC Hardwood All Arms Moss Green | CE-SE-00015-048 | Yes | Mild steel powder coated | FSC® certified timber | 1820 | 415 | 475 | 475 | 50 |
| Citi Elements Bench FSC Hardwood All Arms Corten | CE-SE-00015-079 | Yes | Mild steel powder coated | FSC® certified timber | 1820 | 415 | 475 | 475 | 50 |
| Citi Elements Bench FSC Hardwood All Arms Bronze | CE-SE-00015-080 | Yes | Mild steel powder coated | FSC® certified timber | 1820 | 415 | 475 | 475 | 50 |
| Citi Elements Bench FSC Hardwood All Arms Oxide Red | CE-SE-00015-087 | Yes | Mild steel powder coated | FSC® certified timber | 1820 | 415 | 475 | 475 | 50 |
| Citi Elements Bench FSC Hardwood All Arms Steel Blue | CE-SE-00015-088 | Yes | Mild steel powder coated | FSC® certified timber | 1820 | 415 | 475 | 475 | 50 |
| Citi Elements Bench FSC Hardwood Stainless Steel Bead Blast Plain | CE-SE-00019 | No | Stainless Steel 316 Bead Blast | FSC® certified timber | 1820 | 415 | 475 | 475 | 50 |
| Citi Elements Bench FSC Hardwood Stainless Steel Bead Blast End Arms | CE-SE-00020 | Yes | Stainless Steel 316 Bead Blast | FSC® certified timber | 1820 | 415 | 475 | 475 | 50 |
| Citi Elements Bench FSC Hardwood Stainless Steel Bead Blast All Arms | CE-SE-00021 | Yes | Stainless Steel 316 Bead Blast | FSC® certified timber | 1820 | 415 | 475 | 475 | 50 |
| Citi Elements Bench FSC Hardwood Stainless Steel Brushed Plain | CE-SE-00025 | No | Stainless Steel 316 Brushed Satin | FSC® certified timber | 1820 | 415 | 475 | 475 | 50 |
| Citi Elements Bench FSC Hardwood Stainless Steel Brushed End Arms | CE-SE-00026 | Yes | Stainless Steel 316 Brushed Satin | FSC® certified timber | 1820 | 415 | 475 | 475 | 50 |
| Citi Elements Bench FSC Hardwood Stainless Steel Brushed All Arms | CE-SE-00027 | Yes | Stainless Steel 316 Brushed Satin | FSC® certified timber | 1820 | 415 | 475 | 475 | 50 |
| Citi Elements Bench Plastic Plain Cranberry Red | CE-SE-00039 | No | Mild steel powder coated | 100% recycled plastic | 1820 | 415 | 475 | 475 | 50 |
| Citi Elements Bench Plastic End Arms Cranberry Red | CE-SE-00042 | Yes | Mild steel powder coated | 100% recycled plastic | 1820 | 415 | 475 | 475 | 50 |
| Citi Elements Bench Plastic All Arms Cranberry Red | CE-SE-00043 | Yes | Mild steel powder coated | 100% recycled plastic | 1820 | 415 | 475 | 475 | 50 |
| Citi Elements Bench Plastic Plain Apple Green | CE-SE-00046 | No | Mild steel powder coated | 100% recycled plastic | 1820 | 415 | 475 | 475 | 50 |
| Citi Elements Bench Plastic End Arms Apple Green | CE-SE-00047 | Yes | Mild steel powder coated | 100% recycled plastic | 1820 | 415 | 475 | 475 | 50 |
| Citi Elements Bench Plastic All Arms Apple Green | CE-SE-00048 | Yes | Mild steel powder coated | 100% recycled plastic | 1820 | 415 | 475 | 475 | 50 |
| Citi Elements Bench Plastic Plain Cobalt Blue | CE-SE-00053 | No | Mild steel powder coated | 100% recycled plastic | 1820 | 415 | 475 | 475 | 50 |
| Citi Elements Bench Plastic End Arms Cobalt Blue | CE-SE-00054 | Yes | Mild steel powder coated | 100% recycled plastic | 1820 | 415 | 475 | 475 | 50 |
| Citi Elements Bench Plastic All Arms Cobalt Blue | CE-SE-00055 | Yes | Mild steel powder coated | 100% recycled plastic | 1820 | 415 | 475 | 475 | 50 |
| Citi Elements Bench Plastic Plain Lime | CE-SE-00060 | No | Mild steel powder coated | 100% recycled plastic | 1820 | 415 | 475 | 475 | 50 |
| Citi Elements Bench Plastic End Arms Lime | CE-SE-00061 | Yes | Mild steel powder coated | 100% recycled plastic | 1820 | 415 | 475 | 475 | 50 |
| Citi Elements Bench Plastic All Arms Lime | CE-SE-00062 | Yes | Mild steel powder coated | 100% recycled plastic | 1820 | 415 | 475 | 475 | 50 |
| Citi Elements Bench Plastic Plain Orange | CE-SE-00067 | No | Mild steel powder coated | 100% recycled plastic | 1820 | 415 | 475 | 475 | 50 |
| Citi Elements Bench Plastic End Arms Orange | CE-SE-00068 | Yes | Mild steel powder coated | 100% recycled plastic | 1820 | 415 | 475 | 475 | 50 |
| Citi Elements Bench Plastic All Arms Orange | CE-SE-00069 | Yes | Mild steel powder coated | 100% recycled plastic | 1820 | 415 | 475 | 475 | 50 |
| Citi Elements Bench Plastic Plain Purple | CE-SE-00074 | No | Mild steel powder coated | 100% recycled plastic | 1820 | 415 | 475 | 475 | 50 |
| Citi Elements Bench Plastic End Arms Purple | CE-SE-00075 | Yes | Mild steel powder coated | 100% recycled plastic | 1820 | 415 | 475 | 475 | 50 |
| Citi Elements Bench Plastic All Arms Purple | CE-SE-00076 | Yes | Mild steel powder coated | 100% recycled plastic | 1820 | 415 | 475 | 475 | 50 |
| Citi Elements Bench Plastic Plain Earth Brown | CE-SE-00081 | No | Mild steel powder coated | 100% recycled plastic | 1820 | 415 | 475 | 475 | 50 |
| Citi Elements Bench Plastic End Arms Earth Brown | CE-SE-00082 | Yes | Mild steel powder coated | 100% recycled plastic | 1820 | 415 | 475 | 475 | 50 |
| Citi Elements Bench Plastic All Arms Earth Brown | CE-SE-00083 | Yes | Mild steel powder coated | 100% recycled plastic | 1820 | 415 | 475 | 475 | 50 |