Open and here to support you.
All businesses in the Marshalls group are open.
We are working safely to manufacture products, take new orders and fulfill existing ones.
Find out more
Essentials Bench
Essentials Benches are a functional choice of street furniture at great value prices offered in a choice of 6 finishes. Available in All 304 stainless steel, All steel powder coated, 304 stainless steel frame/hardwood slats, 304 stainless steel frame /softwood slats, steel powder coated/hardwood slats, steel powder coated/softwood slats.
The design and materiality is the perfect choice for the demands of retail and business parks, car parks and walkways. Introducing seating-spaces within public areas provides comfort and accessibility and encourages people to spend longer outdoors.

Functional choice of street furniture at great value prices
Choice of finishes available including durable 304 grade stainless steel
Surface mounted for easy installation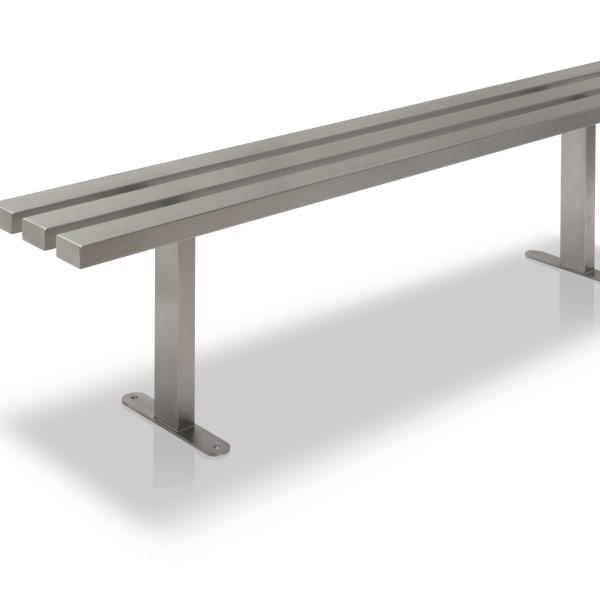 essentials 304 stainless steel bench
Certification Logos and Accreditations
| Product Name | Arm Rest Option | Frame Material/Finish | Seat Material/Finish | Length (mm) | Width (mm) | Overall Height (mm) | Weight (kg) |
| --- | --- | --- | --- | --- | --- | --- | --- |
| Essentials Bench Steel Powder Coated | No | Mild steel powder coated | Mild steel powder coated | 1800 | 315 | 452 | 38 |
| Essentials Bench Steel Powder Coated Softwood Slats | No | Mild steel powder coated | Timber Softwood | 1800 | 315 | 452 | 26 |
| Essentials Bench Steel Powder Coated Hardwood Slats | No | Mild steel powder coated | Timber Hardwood | 1800 | 315 | 452 | 26 |
| Essentials Bench 304 Stainless Steel | No | Stainless steel 304 brushed satin | Stainless steel 304 brushed satin | 1800 | 315 | 452 | 26 |
| Essentials Bench 304 Stainless Steel Softwood Slats | No | Stainless steel 304 brushed satin | Timber Softwood | 1800 | 315 | 452 | 23 |
| Essentials Bench 304 Stainless Steel Hardwood Slats | No | Stainless steel 304 brushed satin | Timber Hardwood | 1800 | 315 | 452 | 23 |