Linsign Bollard Range
The Linsign family brings together the Heritage and Sentinel ranges with the addition of signage.
The Linsign 150 comes with an unobtrusive 150mm diameter sign face, suitable for marking cycle ways or parking spaces.
Both the Linsign 230 and 300 ranges are DDA compliant and suited for use in urban environments, or traffic calming schemes. The Linsign 230 has a rectangular sign face and the Linsign 300 has a circular 300mm diameter sign face. These make the ideal choice for demarcation of parking and pedestrianising areas in urban, retail and industrial locations.
Effective Traffic Management Bollard
Low maintenance
100% recycleable material
Easy to install
Customisable with a choice of colours
DD Compliant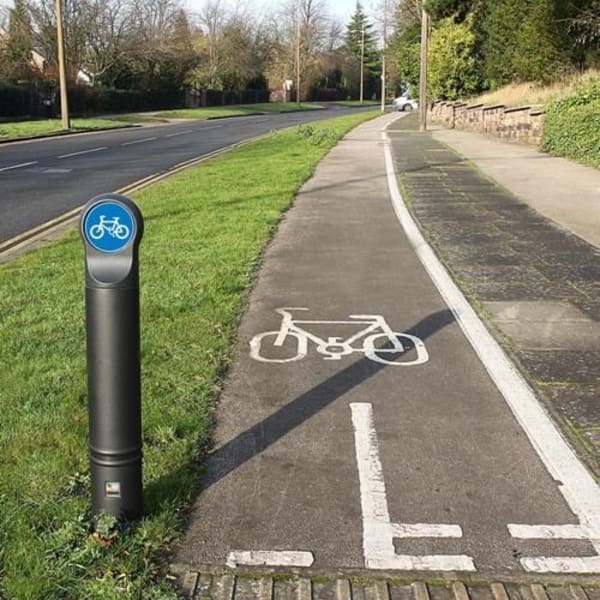 linsign heritage 150 bollard
Certification Logos and Accreditations
| Product Name | Material | Overall Height (mm) | Reflective Tape Available | Weight (kg) | Aperture ∅ |
| --- | --- | --- | --- | --- | --- |
| Linsign 300 - Heritage Bollard | Moulded Polyethylene (PE) | 1098 | Yes | 4.75 | 364 |
| Linsign 300 - Heritage Visibol Bollard | Moulded Polyethylene (PE) | 1098 | Yes | 4.75 | 364 |
| Linsign 300 - Sentinel Bollard | Moulded Polyethylene (PE) | 1098 | Yes | 4.75 | 364 |
| Linsign 300 - Sentinel Visibol Bollard | Moulded Polyethylene (PE) | 1098 | Yes | 4.75 | 364 |
| Linsign 230 - Heritage Bollard | Moulded Polyethylene (PE) | 1098 | Yes | 4.75 | 339 |
| Linsign 230 - Heritage Visibol Bollard | Moulded Polyethylene (PE) | 1098 | Yes | 4.75 | 339 |
| Linsign 230 - Sentinel Bollard | Moulded Polyethylene (PE) | 1098 | Yes | 4.75 | 339 |
| Linsign 230 - Sentinel Visibol Bollard | Moulded Polyethylene (PE) | 1098 | Yes | 4.75 | 339 |
| Linsign 150 - Heritage Bollard | Moulded Polyethylene (PE) | 1098 | Yes | 4 | 195 |
| Linsign 150 - Heritage Visibol Bollard | Moulded Polyethylene (PE) | 1098 | Yes | 4 | 195 |
| Linsign 150 - Sentinel Bollard | Moulded Polyethylene (PE) | 1098 | Yes | 4 | 195 |
| Linsign 150 - Sentinel Visibol Bollard | Moulded Polyethylene (PE) | 1098 | Yes | 4 | 195 |
| Linsign 150 - Sentinel Decorative Bollard | Moulded Polyethylene (PE) | 1098 | No | 4 | 195 |