Open and here to support you.
All businesses in the Marshalls group are open.
We are working safely to manufacture products, take new orders and fulfill existing ones.
Find out more
M3 Mitre Top Bollard
Made from 100% recycled stainless steel, the Rhino M3 Mitre Bollard is extremely strong and requires low levels of maintenance. Equipped with a 6mm thick wall for increased strength, it's ideal for pedestrian walkways and car parks.Marshalls' Rhino M3 Mitre Top Bollard is manufactured from quality grade 316 stainless steel and its unique design offers a contemporary aspect to any streetscape. This type of bollard is available in 3 diameter options - 89mm, 114mm and 168mm. Available with a range of optional extras Rhino Stainless Steel Static bollards can be tailored to suit the requirements of your project.
Made from stainless steel
3 optional diameters
Low maintenance
Corrosion resistant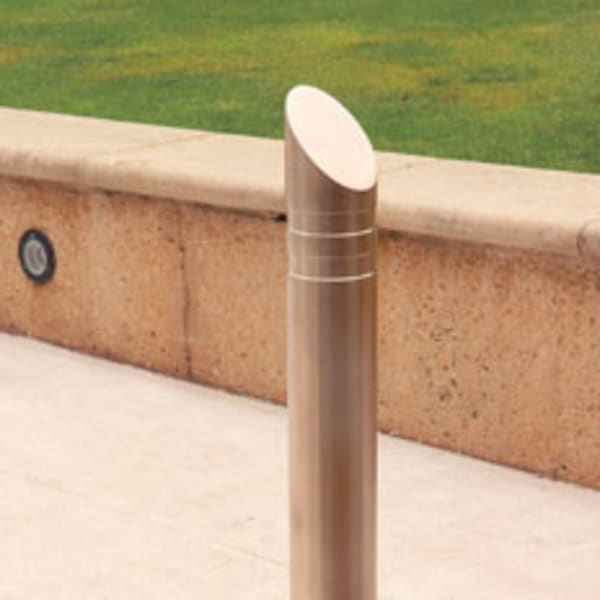 rhino m3 mitre top stainless steel bollard
Certification Logos and Accreditations
| Product Name | Material | Finish | Diameter (mm) | Height (mm) | Reflective Tape Available | Reflective Tape Colours | Weight (kg) | Fixing Method |
| --- | --- | --- | --- | --- | --- | --- | --- | --- |
| M3 Mitre Top Bollard Ø89 Root Fix | Stainless Steel | Brushed Satin | 89 | 900 | Yes | Red | 15 | Root Fixed |
| M3 Mitre Top Bollard Ø89 Surface Mount | Stainless Steel | Brushed Satin | 89 | 900 | Yes | Red | 15 | Surface Mounted |
| M3 Mitre Top Bollard Ø89 Rem | Stainless Steel | Brushed Satin | 89 | 900 | Yes | Red | 16 | Removable |
| M3 Mitre Top Bollard Ø114 Root Fix | Stainless Steel | Brushed Satin | 114 | 900 | Yes | Red | 19 | Root Fixed |
| M3 Mitre Top Bollard Ø114 Surface Mount | Stainless Steel | Brushed Satin | 114 | 900 | Yes | Red | 19 | Surface Mounted |
| M3 Mitre Top Bollard Ø114 Rem | Stainless Steel | Brushed Satin | 114 | 900 | Yes | Red | 20 | Removable |
| M3 Mitre Top Bollard Ø168 Root Fix | Stainless Steel | Brushed Satin | 168 | 900 | Yes | Red | 27 | Root Fixed |
| M3 Mitre Top Bollard Ø168 Surface Mount | Stainless Steel | Brushed Satin | 168 | 900 | Yes | Red | 27 | Surface Mounted |
rhino m3 mitre top stainless steel bollard