Open and here to support you.
All businesses in the Marshalls group are open.
We are working safely to manufacture products, take new orders and fulfill existing ones.
Find out more
Pavepoint Jointing Grout
Marshalls Pavepoint Grout is a rapid setting, high fludity grout fully compliant with BS 7533. Designed for use with a range of paving types including natural stone and concrete, Pavepoint Grout is ideal for use in commercial, industrial and residential areas.
Complies with BS 7533
High early and final strength
Extremely durable
Shrinkage compensated
Easy to use
Open to foot traffic in 1 hour
Open to Vehicle traffic in 4 hours
New Range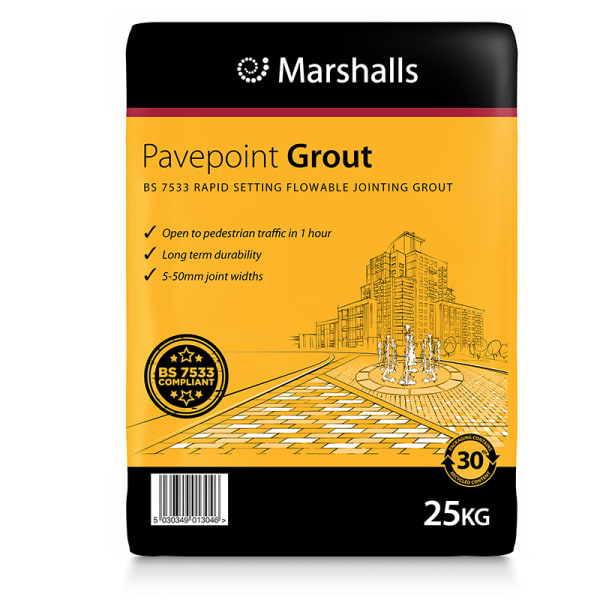 pavepoint jointing grout
Certification Logos and Accreditations
| id | Product Name | Yield | Water Addition |
| --- | --- | --- | --- |
| A62547 | Pavepoint Jointing Grout Natural Standard 25kg | 14 litres (per25kg) | 4.25l per 25kg |
| A65004 | Pavepoint Jointing Grout Natural Smooth Plus 25kg | 14 litres (per25kg) | 4.25l per 25kg |
| A65005 | Pavepoint Jointing Grout Charcoal Standard 25kg | 14 litres (per25kg) | 4.25l per 25kg |
| A65006 | Pavepoint Jointing Grout Charcoal Smooth Plus 25kg | 14 litres (per25kg) | 4.25l per 25kg |