Metrolinia Bench 600
Available in precast concrete manufactured in the UK, or natural stone, the Metrolinia Bench 600, forms part of a range of building blocks which allow designers to create a variety of seating configurations in order to meet the challenges of contemporary urban landscapes.
The Bench 600 can be used in a configuration or as a simple standalone solution providing great flexibility and supporting the desire to create sociable spaces, where people want to relax and spend time. Also available in a 1200mm length, the seat is finished with Iroko timber slats and offered in a variety of colour options in either concrete, sandstone or granite.
The modules can also be tailored around specific bespoke requirements. Get in touch for more information.
Contemporary yet timeless design
Limitless configurations achievable
Available in natural stone or concrete to suit a range of projects
Offered in a choice of colour variations
Surface mounted, anchored design, limiting the disruption during installation
Intermediate modules can be used as standalone pieces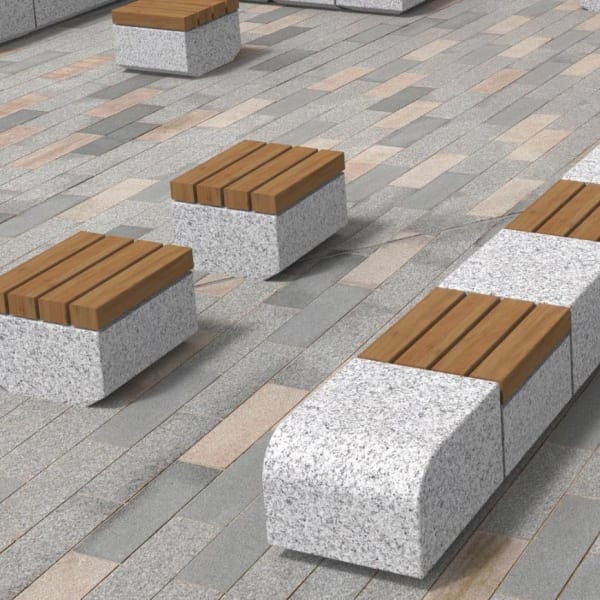 metrolinia bench 600 natural stone
Certifications, Accreditations & Credentials
| Product Name | Material | Body/Frame Colour | Length (mm) | Width (mm) | Overall Height (mm) | Seat Height (mm) | Weight (kg) | Fixing Method |
| --- | --- | --- | --- | --- | --- | --- | --- | --- |
| Metrolinia Bench 600 Concrete | Concrete with timber slats | Anthracite, city grey, city silver grey | 600 | 600 | 450 | 450 | 440 | Surface mounted and secured with M12 stud bar pins |
| Metrolinia Bench 600 Callisto Granite | Natural stone, Granite with timber slats | Callisto | 600 | 600 | 450 | 450 | 340 | Surface mounted and secured with M12 stud bar pins |
| Metrolinia Bench 600 Umbriel Granite | Natural stone, Granite with timber slats | Umbriel | 600 | 600 | 450 | 450 | 315 | Surface mounted and secured with M12 stud bar pins |
| Metrolinia Bench 600 Brackendale Sandstone | Natural stone, Sandstone with timber slats | Brackendale | 600 | 600 | 450 | 450 | 310 | Surface mounted and secured with M12 stud bar pins |
| Metrolinia Bench 600 Brownridge Sandstone | Natural stone, Sandstone with timber slats | Brownridge | 600 | 600 | 450 | 450 | 310 | Surface mounted and secured with M12 stud bar pins |
| Metrolinia Bench 600 Laurel Bank Sandstone | Natural stone, Sandstone with timber slats | Laurel Bank | 600 | 600 | 450 | 450 | 310 | Surface mounted and secured with M12 stud bar pins |
| Metrolinia Bench 600 Sander Red Sandstone | Natural stone, Sandstone with timber slats | Sander Red | 600 | 600 | 450 | 450 | 315 | Surface mounted and secured with M12 stud bar pins |
| Metrolinia Bench 600 Thornlake Sandstone | Natural stone, Sandstone with timber slats | Thornlake | 600 | 600 | 450 | 450 | 310 | Surface mounted and secured with M12 stud bar pins |