Open and here to support you.
All businesses in the Marshalls group are open.
We are working safely to manufacture products, take new orders and fulfill existing ones.
Find out more
RB109 Bollard
Delivering excellent perimeter security within different environments, as well protected parking and the effective demarcation of pedestrian walkways, the RB109 Bollard is suitable for any urban mixed-use application.Rhino steel bollards are manufactured using galvanised steel, specified to BS EN ISO 1461 (1999) for durability and added strength. The optional anti-ram model specification is equipped with a steel joist for increased internal strength and to prevent vehicles penetrating beyond the bollard.Rhino bollards offer flexibility in choices; the RB109 bollard has a height above ground of 1000mm, but shorter versions are also available. Specified to RAL Black 9005 as standard (other colours are available), choose optional Class 2 reflective hazard banding in amber, white or red, depending on project requirements. Other product options include fixing methods and chain connectors.
Manufactured from steel
Standard or anti-ram models
Features optional chain connectors and hazard banding
Root, base plate or lift out and lock fixings
3 height options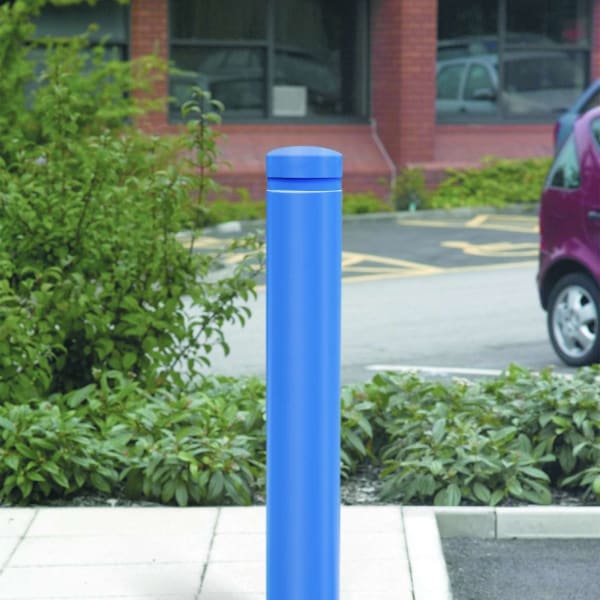 rhino rb109 steel bollard
Certification Logos and Accreditations
| Product Name | Material | Finish | Diameter (mm) | Height (mm) | Reflective Tape Available | Reflective Tape Colours | Weight (kg) | Fixing Method |
| --- | --- | --- | --- | --- | --- | --- | --- | --- |
| RB109 Bollard Anti Ram Ø114mm | Steel | Galvanised and Powder Coated | 114 | 1000 | Yes | Red, White or Yellow | 28 | Anti Ram |
| RB109 Bollard Anti Ram Ø139mm | Steel | Galvanised and Powder Coated | 139 | 1000 | Yes | Red, White or Yellow | 33 | Anti Ram |
| RB109 Bollard Anti Ram Ø168mm | Steel | Galvanised and Powder Coated | 168 | 1000 | Yes | Red, White or Yellow | 47 | Anti Ram |
| RB109 Bollard Anti Ram Ø194mm | Steel | Galvanised and Powder Coated | 194 | 1000 | Yes | Red, White or Yellow | 52 | Anti Ram |
| RB109 Bollard Removable Ø114mm | Steel | Galvanised and Powder Coated | 114 | 1000 | Yes | Red, White or Yellow | 20 | Removable |
| RB109 Bollard Removable Ø139mm | Steel | Galvanised and Powder Coated | 139 | 1000 | Yes | Red, White or Yellow | 27 | Removable |
| RB109 Bollard Removable Ø168mm | Steel | Galvanised and Powder Coated | 168 | 1000 | Yes | Red, White or Yellow | 30 | Removable |
| RB109 Bollard Root Fixed Ø114mm | Steel | Galvanised and Powder Coated | 114 | 1000 | Yes | Red, White or Yellow | 21 | Root Fixed |
| RB109 Bollard Root Fixed Ø139mm | Steel | Galvanised and Powder Coated | 139 | 1000 | Yes | Red, White or Yellow | 25 | Root Fixed |
| RB109 Bollard Root Fixed Ø168mm | Steel | Galvanised and Powder Coated | 168 | 1000 | Yes | Red, White or Yellow | 31 | Root Fixed |
| RB109 Bollard Root Fixed Ø194mm | Steel | Galvanised and Powder Coated | 194 | 1000 | Yes | Red, White or Yellow | 36 | Root Fixed |
| RB109 Bollard Surface Mount Ø114mm | Steel | Galvanised and Powder Coated | 114 | 1000 | Yes | Red, White or Yellow | 18 | Surface Mounted |
| RB109 Bollard Surface Mount Ø139mm | Steel | Galvanised and Powder Coated | 139 | 1000 | Yes | Red, White or Yellow | 20 | Surface Mounted |
| RB109 Bollard Surface Mount Ø168mm | Steel | Galvanised and Powder Coated | 168 | 1000 | Yes | Red, White or Yellow | 24 | Surface Mounted |
| RB109 Bollard Surface Mount Ø194mm | Steel | Galvanised and Powder Coated | 194 | 1000 | Yes | Red, White or Yellow | 30 | Surface Mounted |
rhino rb109 steel bollard