Open and here to support you.
All businesses in the Marshalls group are open.
We are working safely to manufacture products, take new orders and fulfill existing ones.
Find out more
RB123 Bollard
The RB123 Bollard from Rhino is designed to provide effective perimeter security, to demarcate parking areas and to define public walkways. It is manufactured using hot dip galvanised steel for strength and durability and has 2 available versions - standard and anti-ram.The anti-ram model features a steel joist to provide an extra element of strength and resistance against ram-raiders, ensuring vehicles cannot penetrate beyond the bollard. Depending on specific requirements, the bollard can be root fixed, surface mounted or removable for flexibility. Hazard banding in amber, white or red and chain connectors come as add-ons, and a choice of 4 diameters, between 114mm and 194mm, are available. The bollard is also available in a range of RAL colours.
Standard or anti-ram models
Features optional chain connectors and hazard banding
Root, base plate or lift out and lock fixings
3 height options
4 diameter options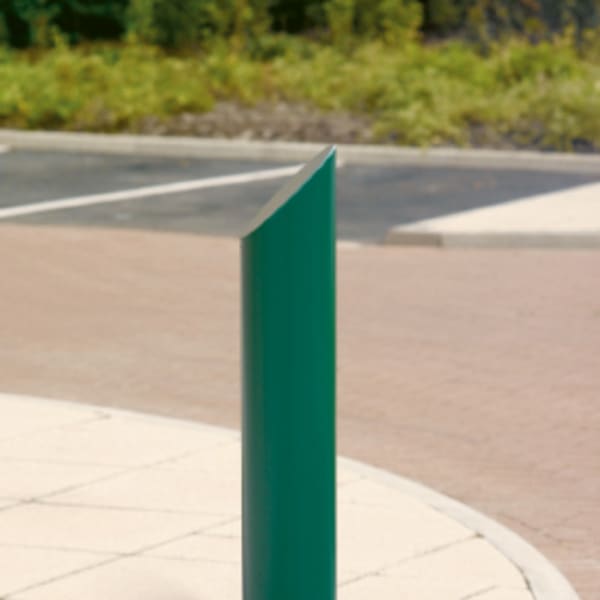 RB123
Certification Logos and Accreditations
| Product Name | Material | Finish | Diameter (mm) | Height (mm) | Reflective Tape Available | Reflective Tape Colours | Weight (kg) | Fixing Method |
| --- | --- | --- | --- | --- | --- | --- | --- | --- |
| RB123 Bollard Anti Ram Ø114mm | Steel | Galvanised and Powder Coated | 114 | 1000 | Yes | Red, White or Yellow | 27 | Anti Ram |
| RB123 Bollard Anti Ram Ø139mm | Steel | Galvanised and Powder Coated | 139 | 1000 | Yes | Red, White or Yellow | 32 | Anti Ram |
| RB123 Bollard Anti Ram Ø168mm | Steel | Galvanised and Powder Coated | 168 | 1000 | Yes | Red, White or Yellow | 46 | Anti Ram |
| RB123 Bollard Anti Ram Ø194mm | Steel | Galvanised and Powder Coated | 194 | 1000 | Yes | Red, White or Yellow | 51 | Anti Ram |
| RB123 Bollard Removable Ø114mm | Steel | Galvanised and Powder Coated | 114 | 1000 | Yes | Red, White or Yellow | 19 | Removable |
| RB123 Bollard Removable Ø139mm | Steel | Galvanised and Powder Coated | 139 | 1000 | Yes | Red, White or Yellow | 26 | Removable |
| RB123 Bollard Removable Ø168mm | Steel | Galvanised and Powder Coated | 168 | 1000 | Yes | Red, White or Yellow | 29 | Removable |
| RB123 Bollard Root Fixed Ø114mm | Steel | Galvanised and Powder Coated | 114 | 1000 | Yes | Red, White or Yellow | 20 | Root Fixed |
| RB123 Bollard Root Fixed Ø139mm | Steel | Galvanised and Powder Coated | 139 | 1000 | Yes | Red, White or Yellow | 25 | Root Fixed |
| RB123 Bollard Root Fixed Ø168mm | Steel | Galvanised and Powder Coated | 168 | 1000 | Yes | Red, White or Yellow | 30 | Root Fixed |
| RB123 Bollard Root Fixed Ø194mm | Steel | Galvanised and Powder Coated | 194 | 1000 | Yes | Red, White or Yellow | 34 | Root Fixed |
| RB123 Bollard Surface Mount Ø114mm | Steel | Galvanised and Powder Coated | 114 | 1000 | Yes | Red, White or Yellow | 17 | Surface Mounted |
| RB123 Bollard Surface Mount Ø139mm | Steel | Galvanised and Powder Coated | 139 | 1000 | Yes | Red, White or Yellow | 19 | Surface Mounted |
| RB123 Bollard Surface Mount Ø168mm | Steel | Galvanised and Powder Coated | 168 | 1000 | Yes | Red, White or Yellow | 23 | Surface Mounted |
| RB123 Bollard Surface Mount Ø194mm | Steel | Galvanised and Powder Coated | 194 | 1000 | Yes | Red, White or Yellow | 29 | Surface Mounted |