Open and here to support you.
All businesses in the Marshalls group are open.
We are working safely to manufacture products, take new orders and fulfill existing ones.
Find out more
RhinoGuard® 15/30 Protective Bollard
The Rhinoguard® 15/30 bollard is an innovative product that protects against the risk of a hostile vehicle attack in public spaces. It's the ideal choice for projects which have protective countermeasure specifications. The 15/30 bollard can withstand vehicle speeds of up to 30mph from a 1.5 tonne saloon car, with crash tests resulting in the complete immobilisation of the vehicle, eliminating any chance of a second attack. The tested core can be sleeved with a choice of styles and materials depending on your desired aesthetic. Choices include brushed stainless steel, steel with a polyester powder coat finish from a range of RAL colours, or Ferrocast with a painted finish. The bollard can also be specified with a choice of top cap and reflective banding.
This product is capable of withstanding a 1.5 tonne vehicle travelling at 30mph. The security classification is V/1500/48/90:1.27/2.45
Crash tested in accordance with BSI PAS 68 standard
Able to withstand speeds of up to 30mph
PAS68 Classification Code: Standard Bollard PAS68:2007:V/1500(M1)48/90:1.3/0.0
Numerous sleeve options available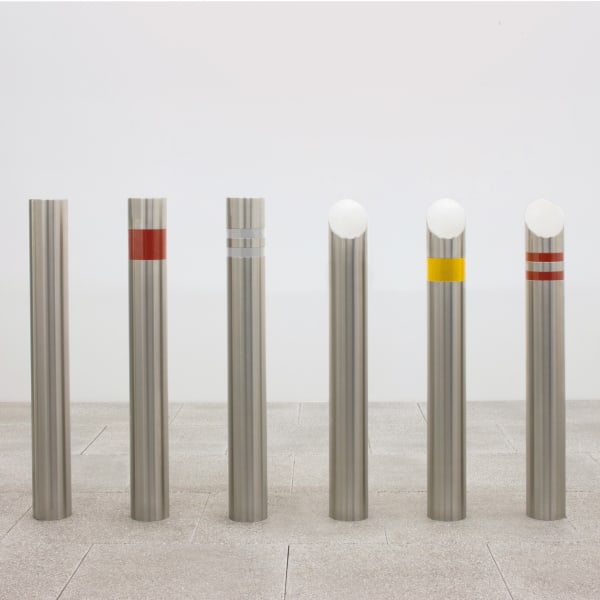 Rhinoguard_15_30
Certification Logos and Accreditations
| Product Name | Sleeve Material | Sleeve Finish | Core Diameter (mm) | Sleeve Diameter (mm) | Height Above Ground (mm) | Fixing Method | Core Weight (kg) | Sleeve Weight (kg) | Reflective Tape Available | Length (mm) | Height (mm) | Weight (kg) |
| --- | --- | --- | --- | --- | --- | --- | --- | --- | --- | --- | --- | --- |
| RhinoGuard® 15/30 Protective Bollard Steel | Mild Steel | Galvanised & Powder Coated | 114 | 168 | 1000 | Root Fixed | 90 | 22 | Yes | 1400 | 1000 | 112 |
| RhinoGuard® 15/30 Protective Bollard Stainless Steel | Grade 316 Stainless Steel | Brushed | 114 | 129 | 1000 | Root Fixed | 90 | 8 | Yes | 1400 | 1000 | 98 |
Rhinoguard_15_30