Open and here to support you.
All businesses in the Marshalls group are open.
We are working safely to manufacture products, take new orders and fulfill existing ones.
Find out more
RhinoGuard® 25/20 Protective Bollard
Able to withstand the force of a 2.5-tonne vehicle driving at 20mph, the Rhinoguard® 25/10 protective bollard system is an excellent choice for protecting public spaces. The steel core is set into reinforced concrete foundations and 200mm into the ground – providing the ultimate resistance to vehicular attack. The 25/20 model has been successfully crash-tested in accordance with the BSI PAS 170 standard, rendering test vehicles immobile on collision. The bollards are not only strong enough to withstand the force of a hostile vehicle but they are also an attractive and cost-effective solution, with a choice of sleeves available to cover the certified steel core. Sleeve options include brushed stainless steel, steel with a polyester powder coat finish or painted Ferrocast. A range of standard RAL colours are available.
Range of sleeve options to complement project design
High level of protection for a number of design schemes
Can withstand the impact of a 2.5 tonne 4x4 utility vehicle travelling at 20mph
Crash-tested in accordance with the BSI PAS 170 standard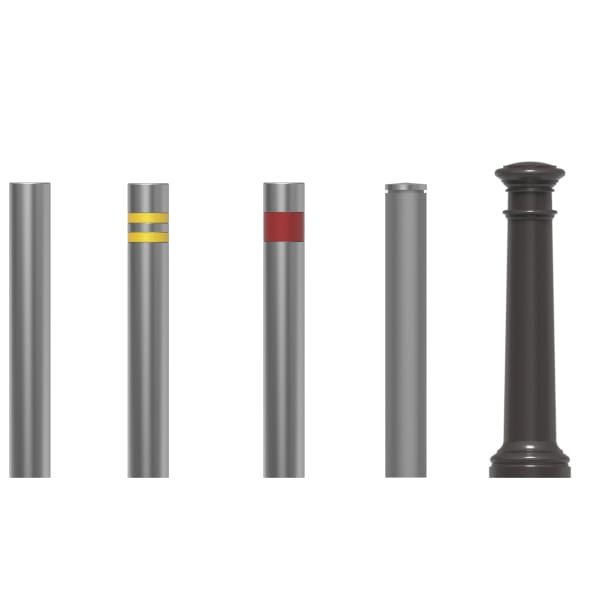 pas 170 sleeve options
Certification Logos and Accreditations
| Product Name | Core Diameter (mm) | Height Above Ground (mm) | Fixing Method | Core Weight (kg) | Weight (kg) |
| --- | --- | --- | --- | --- | --- |
| RhinoGuard® 25/20 139Ø Protective Bollard Galvanised & Powder Coated | 139 | 1000 | Root Fixed | 53 | 53 |
| RhinoGuard® 25/20 139Ø Protective Bollard Galvanised | 139 | 1000 | Root Fixed | 53 | 53 |
| Product Name | Sleeve Material | Sleeve Finish | Core Diameter (mm) | Sleeve Diameter (mm) | Height Above Ground (mm) | Core Weight (kg) | Sleeve Weight (kg) | Reflective Tape Available | Weight (kg) |
| --- | --- | --- | --- | --- | --- | --- | --- | --- | --- |
| RhinoGuard 25/20 350Ø Protective Bollard Ferrocast Manchester Sleeve | Ferrocast | Painted | 139 | 350 | 1100 | 53 | 47 | Yes | 47 |
| Product Name | Sleeve Material | Sleeve Finish | Core Diameter (mm) | Sleeve Diameter (mm) | Height Above Ground (mm) | Core Weight (kg) | Sleeve Weight (kg) | Reflective Tape Available | Weight (kg) |
| --- | --- | --- | --- | --- | --- | --- | --- | --- | --- |
| RhinoGuard 25/20 168Ø Protective Bollard Mild Steel Powder Coat Sleeve (No Grooves) | Mild Steel | Galvanised & Powder Coated | 139 | 168 | 1000 | 53 | 23 | Yes | 23 |
| RhinoGuard 25/20 168Ø Protective Bollard Mild Steel Powder Coat Sleeve (1 Groove) | Mild Steel | Galvanised & Powder Coated | 139 | 168 | 1000 | 53 | 23 | Yes | 23 |
| RhinoGuard 25/20 168Ø Protective Bollard Mild Steel Powder Coat Sleeve (2 Grooves) | Mild Steel | Galvanised & Powder Coated | 139 | 168 | 1000 | 53 | 23 | Yes | 23 |
| Product Name | Sleeve Material | Sleeve Finish | Core Diameter (mm) | Sleeve Diameter (mm) | Height Above Ground (mm) | Core Weight (kg) | Sleeve Weight (kg) | Reflective Tape Available | Weight (kg) |
| --- | --- | --- | --- | --- | --- | --- | --- | --- | --- |
| RhinoGuard 25/20 154Ø Protective Bollard Stainless Steel Sleeve (No Grooves) | Grade 316 Stainless Steel | Brushed | 139 | 154 | 1000 | 53 | 9 | Yes | 9 |
| RhinoGuard 25/20 154Ø Protective Bollard Stainless Steel Sleeve (1 Groove) | Grade 316 Stainless Steel | Brushed | 139 | 154 | 1000 | 53 | 9 | Yes | 9 |
| RhinoGuard 25/20 154Ø Protective Bollard Stainless Steel Sleeve (2 Grooves) | Grade 316 Stainless Steel | Brushed | 139 | 154 | 1000 | 53 | 9 | Yes | 9 |
| RhinoGuard 25/20 204Ø Protective Bollard Stainless Steel GEO Sleeve | Grade 316 Stainless Steel | Bead Blasted | 139 | 204 | 1100 | 53 | 16 | No | 16 |
pas 170 sleeve options