Open and here to support you.
All businesses in the Marshalls group are open.
We are working safely to manufacture products, take new orders and fulfill existing ones.
Find out more
RhinoGuard® 72/50 Protective Bollard
The RhinoGuard® 72/50 Shallow Mount Protective Bollard has proven levels of safety performance. Capable of withstanding the impact of a 7.2 tonne two axle rigid N2 lorry travelling at 50mph, it provides an effective shield for critical infrastructure, protecting both people and buildings.

This robust bollard is quick to install and an ideal choice if you're facing foundation limitations, requiring an excavation depth of just 175mm. At the core of the RhinoGuard® 72/50 Shallow Mount Protective Bollard is crash-tested technology tested to IWA-14.1 requirements, with a sleeve being placed over it to provide a more attractive finish in all locations where aesthetics and safety are key.

The sleeve is available in steel, stainless steel and Ferrocast.
This product is capable of withstanding a 7.2 tonne vehicle travelling at 50mph. The security classification is V/7200(N2A)/80/90:5.7
175mm excavation depth
Available in 3 finishes
1000mm height above ground
Successfully crash tested to the BSI PAS 68 standard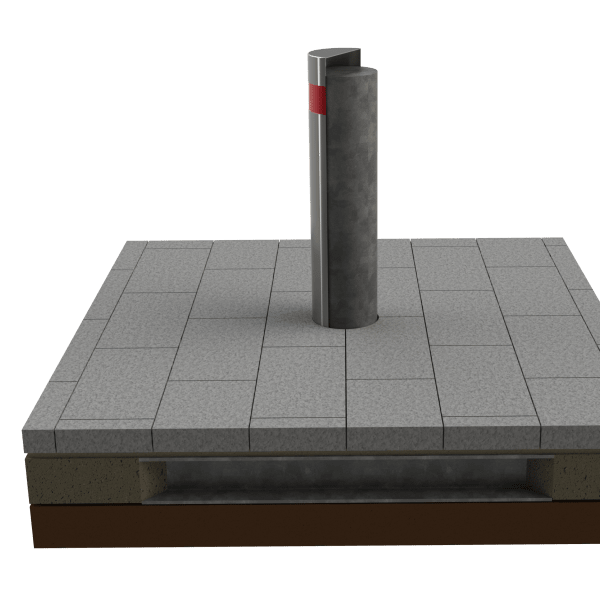 rhinoguard 72/50 shallow mount bollard
Certification Logos and Accreditations
| Product Name | Sleeve Material | Sleeve Finish | Core Diameter (mm) | Sleeve Diameter (mm) | Height Above Ground (mm) | Fixing Method | Core Weight (kg) | Sleeve Weight (kg) | Reflective Tape Available | Length (mm) | Height (mm) | Weight (kg) |
| --- | --- | --- | --- | --- | --- | --- | --- | --- | --- | --- | --- | --- |
| RhinoGuard® 72/50 Protective Bollard Steel | Steel | Galvanised & Powder Coated | 244 | 273 | 1000 | Cast in Foundation | 650 | 38 | Yes | 1375 | 1000 | 688 |
| RhinoGuard® 72/50 Protective Bollard Stainless Steel | Grade 316 Stainless Steel | Brushed | 244 | 254 | 1000 | Cast in Foundation | 650 | 16 | Yes | 1375 | 1000 | 666 |
rhinoguard 72/50 shallow mount bollard