Open and here to support you.
All businesses in the Marshalls group are open.
We are working safely to manufacture products, take new orders and fulfill existing ones.
Find out more
RhinoGuard® Geo Protective Litter Bin
The Geo PAS 68 Bin offers a high level of hidden security against vehicular attack without compromising contemporary design or generating a sense of concern for the general public.

The RhinoGuard PAS 68 core within the bollard section guarantees a high standard of perimeter protection and comes in both Ø 140mm & Ø 204mm depending on the level of protection required.
Made from top quality 316 grade
stainless steel
The RhinoGuard PAS 68 core within the bollard section guarantees a high standard of perimeter protection
Modern and timeless design
Comes in both Ø 140mm & Ø 204mm depending on the level of protection required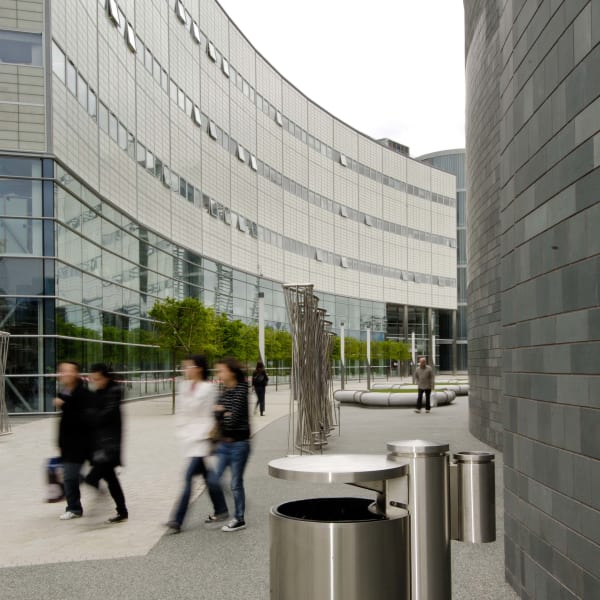 geo litter bin
Certification Logos and Accreditations
| Product Name | Sleeve Material | Sleeve Finish | Core Diameter (mm) | Sleeve Diameter (mm) | Height Above Ground (mm) | Fixing Method | Core Weight (kg) | Sleeve Weight (kg) |
| --- | --- | --- | --- | --- | --- | --- | --- | --- |
| RhinoGuard® Geo Protective Litter Bin 15/30 | Grade 316 Stainless Steel | bead blasted or brushed satin | 114 | 140 | 1100 | Root Fixed | 90 | 46 |
| RhinoGuard® Geo Protective Litter Bin 25/40 | Grade 316 Stainless Steel | bead blasted or brushed satin | 168 | 204 | 1100 | Root Fixed | 90 | 60 |
| RhinoGuard® Geo Protective Litter Bin 75/40 | Grade 316 Stainless Steel | bead blasted or brushed satin | 168 | 204 | 1100 | Root Fixed | 90 | 65 |