Open and here to support you.
All businesses in the Marshalls group are open.
We are working safely to manufacture products, take new orders and fulfill existing ones.
Find out more
RS150 Bollard
Carefully manufactured from grade 316L stainless steel, the Rhino RS150 Bollard is exceptionally strong and requires little maintenance. This makes it ideal for pedestrian walkways and protected parking. Boasting a subtle modern design, this static stainless steel bollard can add contemporary style to any location.The stainless steel used to make the Rhino RS150 Bollard is 100% recyclable, ideal for projects where environmental impact is a concern. This type of bollard can also be fitted with an anti-ram technology which offers added protection against ram-raids and collisions.Further optional extras include hazard banding, surface mount fixing and removable for temporary vehicle access.
Anti-ram option available
Low maintenance
Optional diameters
Made from durable stainless steel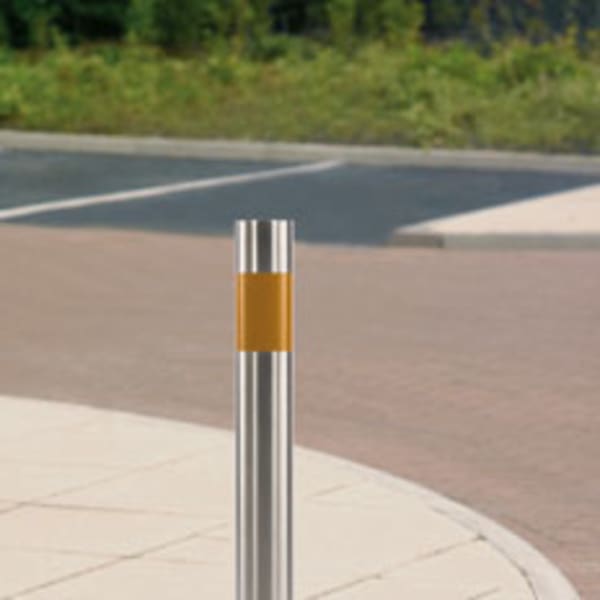 rs150 bollard
Certification Logos and Accreditations
| Product Name | Material | Finish | Diameter (mm) | Height (mm) | Reflective Tape Available | Reflective Tape Colours | Weight (kg) | Fixing Method |
| --- | --- | --- | --- | --- | --- | --- | --- | --- |
| RS150 Bollard Ø101 Removable | Steel | Brushed Satin | 101 | 1000 | Yes | Red, White or Yellow | 15 | Removable |
| RS150 Bollard Ø101 Root Fix | Steel | Brushed Satin | 101 | 1000 | Yes | Red, White or Yellow | 11 | Root Fixed |
| RS150 Bollard Ø101 Surface Mount | Steel | Brushed Satin | 101 | 1000 | Yes | Red, White or Yellow | 7 | Surface Mounted |
| RS150 Bollard Ø114 Removable | Steel | Brushed Satin | 114 | 1000 | Yes | Red, White or Yellow | 16 | Removable |
| RS150 Bollard Ø114 Root Fix | Steel | Brushed Satin | 114 | 1000 | Yes | Red, White or Yellow | 12 | Root Fixed |
| RS150 Bollard Ø114 Surface Mount | Steel | Brushed Satin | 114 | 1000 | Yes | Red, White or Yellow | 10 | Surface Mounted |
| RS150 Bollard Ø129 Removable | Steel | Brushed Satin | 129 | 1000 | Yes | Red, White or Yellow | 24 | Removable |
| RS150 Bollard Ø129 Root Fix | Steel | Brushed Satin | 129 | 1000 | Yes | Red, White or Yellow | 14 | Root Fixed |
| RS150 Bollard Ø129 Surface Mount | Steel | Brushed Satin | 129 | 1000 | Yes | Red, White or Yellow | 8 | Surface Mounted |
| RS150 Bollard Ø154 Removable | Steel | Brushed Satin | 154 | 1000 | Yes | Red, White or Yellow | 32 | Removable |
| RS150 Bollard Ø154 Root Fix | Steel | Brushed Satin | 154 | 1000 | Yes | Red, White or Yellow | 17 | Root Fixed |
| RS150 Bollard Ø154 Surface Mount | Steel | Brushed Satin | 154 | 1000 | Yes | Red, White or Yellow | 11 | Surface Mounted |
rs150 bollard