Open and here to support you.
All businesses in the Marshalls group are open.
We are working safely to manufacture products, take new orders and fulfill existing ones.
Find out more
Service Yard Bollard
The Service Yard Bollard is designed to provide perimeter protection and greater security to all areas of industrial and commercial sites, including loading bays, storage tanks, substations.The bollard protects against the risk of damage from forklifts and HGVs in, protects the workforce of commercial sites and demarcates zoning for fork lift trucks and HGVs. A circular bollard, it is manufactured from steel and galvanised with a powder-coated black finish for durability, strength and resistance to corrosion to lower maintenance requirements. Class 2 reflective yellow tapes come as standard, extensively increasing visibility. It has 2 fixing options - root fixing or surface mount. Available in 2 standard diameters - 168mm and 194mm.
Manufactured from galvanised steel
Black powder-coated finish
Class 2 reflective tapes
Root fixing or base plate fixing
Available in 4 standard heights plus others on request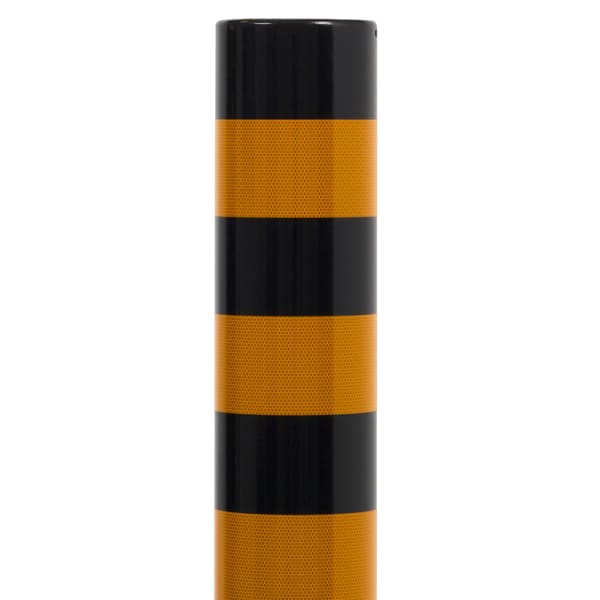 service yard bollard
Certification Logos and Accreditations
| Product Name | Material | Finish | Diameter (mm) | Height (mm) | Reflective Tape Available | Reflective Tape Colours | Weight (kg) | Fixing Method |
| --- | --- | --- | --- | --- | --- | --- | --- | --- |
| Service Yard Bollard Root Fixed | Steel | Galvanised and Powder Coated | 168 | 1000 | Yes | Yellow | 30 | Root Fixed |
| Service Yard Bollard Surface Mount Ø168mm H1200mm | Steel | Galvanised and Powder Coated | 168 | 900 | Yes | Yellow | 24 | Surface Mounted |
| Service Yard Bollard Surface Mount Ø194mm H1200mm | Steel | Galvanised and Powder Coated | 194 | 1000 | Yes | Yellow | 28 | Surface Mounted |
| Service Yard Bollard Surface Mount Ø194mm H1500mm | Steel | Galvanised and Powder Coated | 194 | 1000 | Yes | Yellow | 30 | Surface Mounted |
service yard bollard