Open and here to support you.
All businesses in the Marshalls group are open.
We are working safely to manufacture products, take new orders and fulfill existing ones.
Find out more
Square Pyramid Top Timber Bollard
Designed to provide effective perimeter security and to control the flow of pedestrians and vehicles through a scheme, the Square Pyramid Top Timber bollard is suitable for a wide range of projects and environments, from urban to rural projects. The bollard is manufactured in Opepe timber, an attractive hardwood that offers enhance durability through decay resistance, finished with a natural coloured protective treatment which also provides UV resistance and protection against water, fungus and insect damage.This bollard is available in different sizes - 125mm, 150mm, 200mm and 250mm, and different heights above and below ground, which adds to the versatility of this classic bollard. This versatile timber bollard also has a 50mm rebate near the top, perfect for a reflective band for added visibility and reflectiveness. Bollards are available with 3 types of fixing - root fixing, surface mounted and removable.
Range of sizes available
UV and decay resistant treatment
Manufactured from Opepe timber
3 types of fixing
Suitable for trafficked areas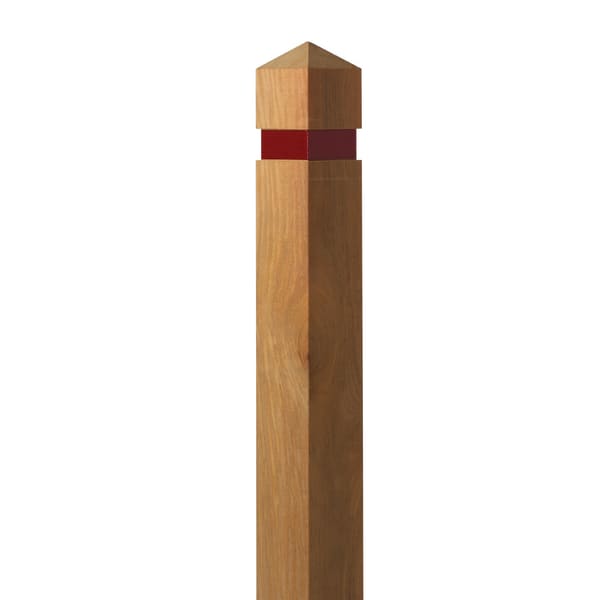 square timber bollard with pyramid top
Certification Logos and Accreditations
| Product Name | Material | Finish | Diameter (mm) | Height (mm) | Width (mm) | Reflective Tape Available | Reflective Tape Colours | Weight (kg) | Fixing Method |
| --- | --- | --- | --- | --- | --- | --- | --- | --- | --- |
| Square Pyramid Top Timber Bollard 125 x 1000 | Timber | Natural Coloured Protective Treatment | 125 | 700 | 125 | Yes | Red, White or Yellow | 13 | Root Fixed |
| Square Pyramid Top Timber Bollard 150x1000 | Timber | Natural Coloured Protective Treatment | 150 | 700 | 150 | Yes | Red, White or Yellow | 18 | Root Fixed |
| Square Pyramid Top Timber Bollard 150x1500 | Timber | Natural Coloured Protective Treatment | 150 | 1000 | 150 | Yes | Red, White or Yellow | 13 | Root Fixed |
| Square Pyramid Top Timber Bollard 200x1500 | Timber | Natural Coloured Protective Treatment | 200 | 1000 | 200 | Yes | Red, White or Yellow | 13 | Root Fixed |
| Square Pyramid Top Timber Bollard 250x1500 | Timber | Natural Coloured Protective Treatment | 250 | 1000 | 250 | Yes | Red, White or Yellow | 13 | Root Fixed |
square timber bollard with pyramid top