Tactile Blister Paving
Created to aid visually impaired and blind people as they navigate towns and cities on foot, Blister Tactile Flag Paving makes it easier to identify where drop kerbs and appropriate road-crossing places are located.
The raised blister pattern can be felt underfoot, while those with less severe sight loss can also use the product's colour coding to access extra information about their surroundings.
Red Blister Tactile Flag Paving is laid at controlled crossing points, while the same product in buff is found at uncontrolled crossing points. Alternatively, natural and charcoal units are permitted in some types of conservation areas.
Designed to aid the blind and visually impaired
Delivers an extra safety measure at crossing points
Available in a comprehensive range of 4 colour options
BS EN 1339:2003 and DDA compliant
Maximum Loading Classification
Category 6 - 10 large goods vehicles per week (0.15 msa)
NBSPlus Codes
Q25 31
Q25 320
Carbon Footprint
From 13 kg CO2 per m²
Ethical Risk Index
This Radar diagram illustrates the level of ethical risk associated with a specific stone. Ethical risk is plotted against the 10 ten measures of the ERI, with each value drawn from reports produced by independent ethical auditors, engaged by Marshalls to provide non-biased and honest reporting into levels of risk in that supply chain.
Each of the 10 measure is designed to recognise different and discrete sources of ethical risk. This produces a bespoke, fit for purpose framework designed specifically for the requirements of the stone industry. The radar diagram itself also compares the Marshalls supply chain to the wider industry in that stone, giving users a working comparison of Marshalls supply chain to the industry average, in the opinion of the auditor.
Modern Slavery Act Awareness
Supply Chain Visibility
Income and Employment Security
Health & Safety
Social-Wellbeing
Employment Freely Chosen
Empowerment
Environmental
Governance
Corruption and Bribery
View More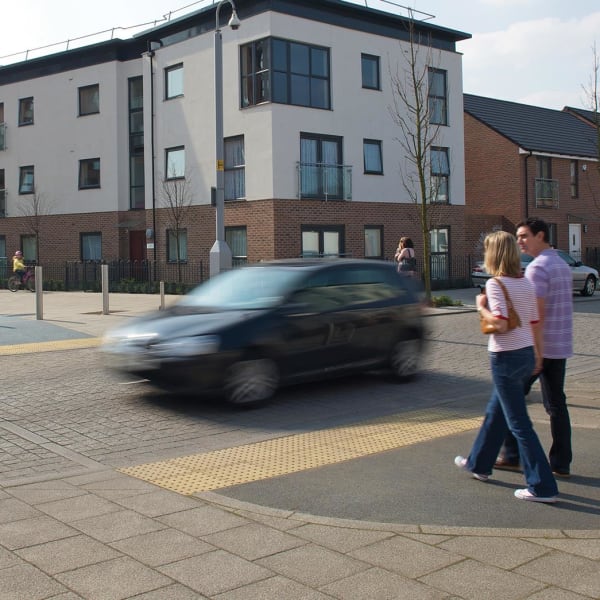 blister concrete tactile paving
Certification Logos and Accreditations
| Product Name | id | Plan Size (mm) | Length (mm) | Width (mm) | Depth (mm) | Approx Unit Weight (kg) | Approx Pack Weight (kg) | Pack Size (m²) | Finish | Made to Stock / Made to Order | Carbon Footprint |
| --- | --- | --- | --- | --- | --- | --- | --- | --- | --- | --- | --- |
| Tactile Blister 400 x 400 x 50 Natural | FL6080500 | 400 x 400 x 50 | 400 | 400 | 50 | 19 | 684 | 5.8 | Smooth | Made To Stock | 13 kg CO2 m² |
| Tactile Blister 400 x 400 x 50 Buff | FL6081000 | 400 x 400 x 50 | 400 | 400 | 50 | 19 | 684 | 5.8 | Smooth | Made To Stock | 13 kg CO2 m² |
| Tactile Blister 400 x 400 x 50 Red | FL6081500 | 400 x 400 x 50 | 400 | 400 | 50 | 19 | 684 | 5.8 | Smooth | Made To Stock | 13 kg CO2 m² |
| Tactile Blister 400 x 400 x 50 Charcoal | FL6082500 | 400 x 400 x 50 | 400 | 400 | 50 | 19 | 684 | 5.8 | Smooth | Made To Stock | 13 kg CO2 m² |
| Tactile Blister 400 x 400 x 65 Natural | FL6100500 | 400 x 400 | 400 | 400 | 65 | 24 | 672 | 4.5 | Smooth | Made To Stock | 17 kg CO2 m² |
| Tactile Blister 400 x 400 x 65 Buff | FL6101000 | 400 x 400 x 65 | 400 | 400 | 65 | 24 | 672 | 4.5 | Smooth | Made To Stock | 17 kg CO2 m² |
| Tactile Blister 400 x 400 x 65 Red | FL6101500 | 400 x 400 x 65 | 400 | 400 | 65 | 24 | 672 | 4.5 | Smooth | Made To Stock | 17 kg CO2 m² |
| Tactile Blister 400 x 400 x 65 Charcoal | FL6102500 | 400 x 400 x 65 | 400 | 400 | 65 | 24 | 672 | 4.5 | Smooth | Made To Stock | 17 kg CO2 m² |
| Tactile Blister 450 x 450 x 50 Buff | FL6001000 | 450 x 450 x 50 | 450 | 450 | 50 | 23 | 828 | 7.3 | Smooth | Made To Stock | 13 kg CO2 m² |
| Tactile Blister 450 x 450 x 50 Red | FL6001500 | 450 x 450 x 50 | 450 | 450 | 50 | 23 | 828 | 7.3 | Smooth | Made To Stock | 13 kg CO2 m² |
| Tactile Blister 450 x 450 x 70 Red | FL6031500 | 450 x 450 x 70 | 450 | 450 | 70 | 33 | 858 | 5.3 | Smooth | Made To Stock | 19 kg CO2 m² |
| Tactile Blister 450 x 450 x 70 Buff | FL6031000 | 450 x 450 | 450 | 450 | 70 | 33 | 858 | 5.3 | Smooth | Made To Stock | 19 kg CO2 m² |