Laying paving would be easy if roads and pavements were all one long straight line, but as we know, in the UK this is rarely the case. Pavements need to bend around corners, include tactile paving at junctions and have access points for utility companies. In real life terms this means that block paving often needs to be cut to size in order to properly fill the area and giving a good finish.
As a member of the Marshalls Design Team, I often see examples of projects where a contractor has cuts slivers of block paving on site to fill the space. This can be difficult to do, leads to waste and can look quite ugly. Not only that, but block paving can become structurally weaker when used in small pieces, making it more likely to fail quickly.
Changing the laying pattern to fit the space
If pavement laying patterns are thought through before they reach the site and contractors utilise inboard cutting, these issues can be avoided. Inboard cutting is a technique which eliminates small cut pieces at the edge of pavements that may be structurally weak and replaces them with larger cut pieces. This usually means making slight alterations to a laying pattern which can sometimes cause issues when a design is particularly tight. We often collaborate with designers to explain the structural benefits of laying patterns and suggest changes that can benefit the contractor and the finished scheme.
How inboard cutting works in practice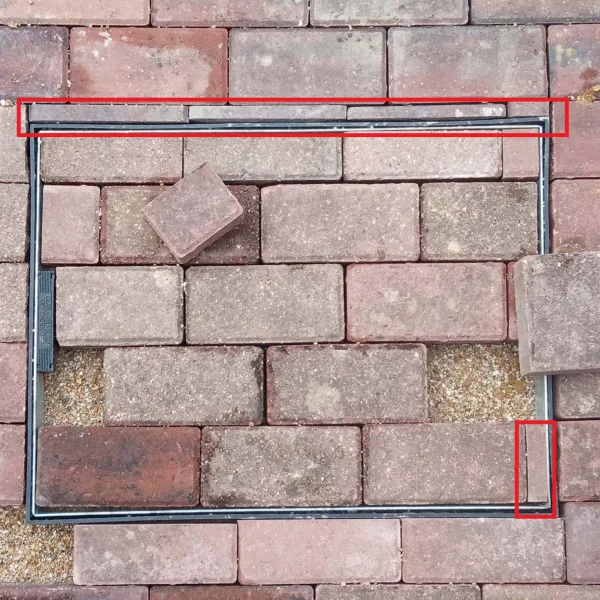 In the photo above, you can see where paving has had to be cut into small slivers to fit around the access point. We advise contractors that paving blocks should not be cut to less than ¼ of their original size, so rather than cutting a sliver in order to meet the edge, a contractor should use a half-block in the bond just before meeting the edge, this avoids having to cut small fractions of a block to properly fill in a block paved area.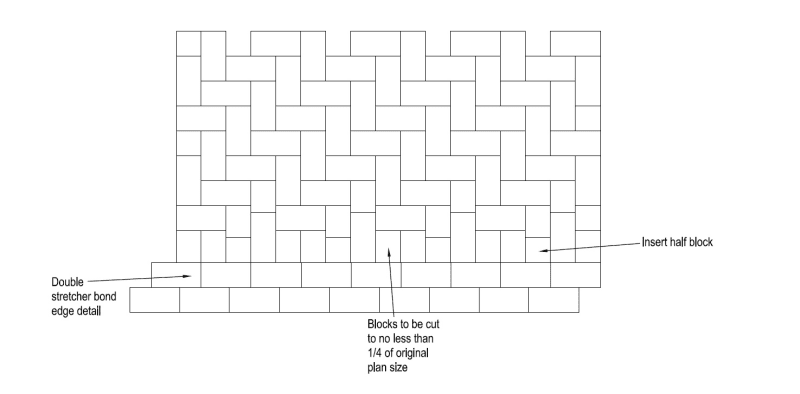 Our drawing patterns above highlight these areas and this real life example shows how inboard cutting creates a better environment for the contractor and the public space.
This principle can, and should be used in all paving projects, it's not just limited to commercial projects but domestic as well. Whether you're contractor building a few thousand sq. meter car park or a homeowner creating a path, the principles of good design remain the same.
The Design Team at Marshalls work with Landscape Architects, engineers and contractors to create better spaces that work, and continue to work, in the real world.