Marshalls have partnered with the UKs leading sustainable building materials group Tarmac, to develop Marshalls Bedding System, a range of products to install natural stone paving. Available to purchase alongside our commercial natural stone, these products enable a rigid installation, the most effective method to use to install natural stone paving.
The new range helps to simplify the ordering process for contractors, giving them the chance to purchase everything they need to install natural stone from a single supplier.
Dave Stanger, Trading Director, Natural Stone for Marshalls said: "We're delighted to have built a partnership with Tarmac in order to help bring these products to market. We wanted to deliver a quality system solution to our customers and help with the specification and installation of our materials. These products complement our natural stone beautifully. Instead of buying the paving from us and sourcing bedding concrete, slurry primer and jointing grout elsewhere, contractors can now purchase everything they need in one call with the assurance of both brands in support"
As you'd expect from two of the UKs leading brands in their field, the products have been rigorously tested and trialed on a number of projects.
All products are designed, manufactured and tested to British Standard – BS7533, which promotes results that can give a construction life in excess of 40 years, compared to a non-compliant system which cannot offer any minimum life expectancy.
Alex Wright, Product Line Director, Packed & Specialist Products for Tarmac said: "Working with Marshalls has been a great collaboration helping us to knit together our collective knowledge, expertise and distribution. Giving this great suite of materials the joint backing of both companies will breed a confidence to the customer base. I'm really excited about what the future holds for us all and look forward to the successful launch of the products."
Each product is easy to use and comes as a single component that simply needs water adding. Maintaining our high standards when it comes to lowering our impact on the environment, the packaging is made of 30% recycled content and is fully recyclable at the end of its life.
Read on for details on each of the three products in Marshalls Bedding System.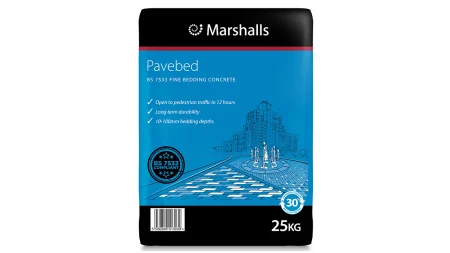 Pavebed is a fine bedding concrete, which is open to foot traffic in 12 hours and vehicle traffic in 24 hours. It is available in a choice of 25kg bag or bulk bag (bulk bag is usually around 1 tonne).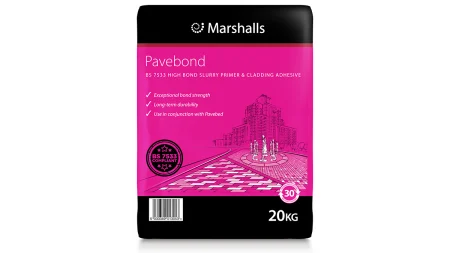 Pavebond is a dual purpose product – slurry primer which you paint on the back of the paving flag which provides adhesion to the bedding mortar, and cladding adhesive for low level walling. This product has exceptional bond strength and particle dispersion.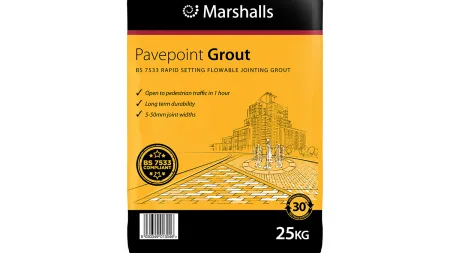 Pavepoint is available in a choice of two colours and finishes, the smooth finish is made with recycled glass beads. Used for joint widths – 5-75mm, it is open to foot traffic in one hour and vehicle traffic after four hours.
To make an enquiry please call:
Marshalls Natural Stone: 0370 411 2266
Natstone.sales@marshalls.co.uk