BBC Gardeners World Live is a great event for people looking for inspiration for their outdoor spaces and we're proud to have taken part in it for six successful years. Our involvement includes donating products to the show gardens and having our own trade stand where we meet with customers and share ideas and inspiration.
In 2021 we created a sustainable garden, designed to give people ideas of features and products that would help them have an eco-friendly and beautiful outdoor space. In this article, our Head of Design Johanna talks about her inspiration for the design and how she used bricks to help create an eco-friendly garden.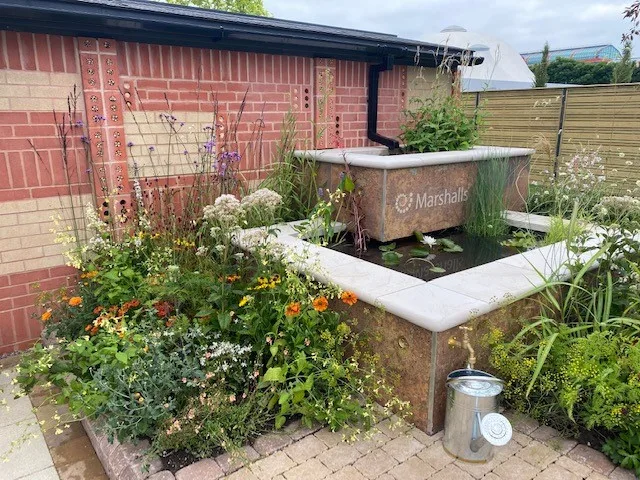 One word - 'Sustainability', a single word with so much importance and so many possibilities!
Why create a sustainable garden?
Data from the Office for National Statistics shows that 29.5% of urban space in Great Britain is private gardens, according to land use data this is around 521,872 Hectares, which is roughly the same as 522,000 rugby pitches/ . This means that if we design and create gardens with sustainability in mind, it can have a big impact on carbon, material usage and biodiversity.
Our sustainable garden design was developed by looking at the ways a garden could maximise its environmental benefits, and how this could be used to increase biodiversity. Analysis by the Natural History Museum shows that the UK has lost almost half of its biodiversity (47%) since the Industrial era. This staggering fact shows the importance of the consideration of biodiversity in any garden design.
First, I assessed the area I was working with to make sure I could incorporate natural benefits where possible. A few questions needed to be answered here in order to make this as sustainable as possible.
Starting with the soil. This is a no dig garden, which is an ideal way to ensure you do not disrupt the soil life, and creates a rich, weed free growing area.
The hard landscaping that we plan to use would need to be of a low carbon footprint.
Where is the best place to source the plants that I want to use?
How can we incorporate natural habitats into the space?
Something I would strongly recommend when designing a larger area is looking at at ecology reports, local B.A.P (biodiversity action plans) to see what species are in an area before putting a plan together for habitat provision. I would also recommend Having a look at Defra's magic map as a good starting point.
I decided to support mainly pollinators, insects and invertebrates, which creates food sources for bats, birds etc...
This obviously dictated plant choice (flowering trees, plants with high nectar yields, including native food plants for caterpillar species etc). Now, providing food is arguably the most important intervention you can make, but providing habitats which, by definition, includes shelter, hibernacula and reproduction spaces is also incredibly important, this is one reason for the inclusion of an outbuilding in the design – I needed a wall.
Creating a home for bees in the garden
I particularly wanted to include habitat provision for our native bees, the wool carders, leaf cutters, carpenters, masonry and tawny mining, the buff tailed and the furry footed, all of which have seen declining numbers over past years.
Making use of the holes in engineering bricks, facing them outwards and filling some of them with tubes of bamboo, others with 65mmØ roundels of softwood, and drilling holes in the masonry, are examples of providing nesting opportunities for the aerial nesters, these were incorporated from 1m upwards.
Facing the bricks out, and using a mix of full bricks and facing bricks meant there were protrusions – good surfaces for spider's webs and handy ground level corners to be filled with leaf fall, providing shelter for insects, the lower down holes, not high enough for bee nesting, were filled with seed heads, leaves, wood chippings, pebbles, to be occupied by woodlice, beetles, spiders etc.
For the ground nesting Mining, Carders, Buff and White Tailed bees, large sand filled joints were used between the flags in the patio and a south facing patch of compacted fine soil, clear from plants, was included in the design.
Rainwater harvesting
The outbuilding wall provided a further opportunity – to have a roof, gutter and downpipe to allow for rainwater harvesting.
Many gardeners store rainwater run-off in water butts to use for irrigation, but rainwater harvesting can provide benefits from a biodiversity angle too. Another feature for the design was to be a rain box planter, with any run-off being contained within a garden nature pond, which incorporated a tap and overflow. The overflow would flow onto a patch of permeable paving, the high level tap used to fill the watering can.
The sustainability of the product used for the wall was of high importance (as it was for all of the hard landscaping). I chose to use concrete bricks, as their carbon footprint is less than 28% lower than that of than clay bricks. We're continuing to provide sustainable products within all aspects of our business, and with our locally sourced concrete facing bricks, we use low cement content with minimal water consumption to keep a low carbon footprint.
People visiting our garden told us that it felt like a 'real garden' and something they could replicate at home. The wall in particular made visitors think about how something similar could be achieved in their space at home.
For more information on how Marshalls are creating better futures for everyone please take look at our sustainability pages.