cromwell pitched stone walling - weathered
Cromwell Walling
For the appearance of natural stone walling, Cromwell Stone Walling from Marshalls is a premium product at an affordable price. A reconstructed walling stone, it uses Yorkstone aggregates quarried from the same natural sources as those used for natural stone walling to closely replicate the visual and textured characteristics of natural stone.

Suitable for load-bearing and non-load-bearing use, the hydraulic press manufacturing process results in low water absorption, ensuring the high-quality appearance is maintained over a long-term period.

The pressing process also delivers dimensional accuracy for time savings on site, while still achieving the visual impact of random and variably sized natural stone walling.

Cromwell is available in three distinct styles - Pitched Face, Split Face or Rustic.
Cromwell Pitched Face Walling has a rough effect, with each block displaying a distinctive raised centre. Split Face Walling is perfect for applications where a flatter, less prominent texture than a pitched face is required. Rustic Walling gives finished walling a rounded, softer and less defined finish. Choose from four colour options in each style - Buff, Weathered, Brown and Ash.

Download the EPD for Cromwell Walling here.
Appearance of natural stone walling
Rustic, pitched face and split face styles available
4 colour options
Available in three course heights
Conforms to BS EN 771-5 : 2011 + A1 : 2015
NBSPlus Codes
F10 20
F10 290
Carbon Footprint
From 32 kg CO2 per m²
Division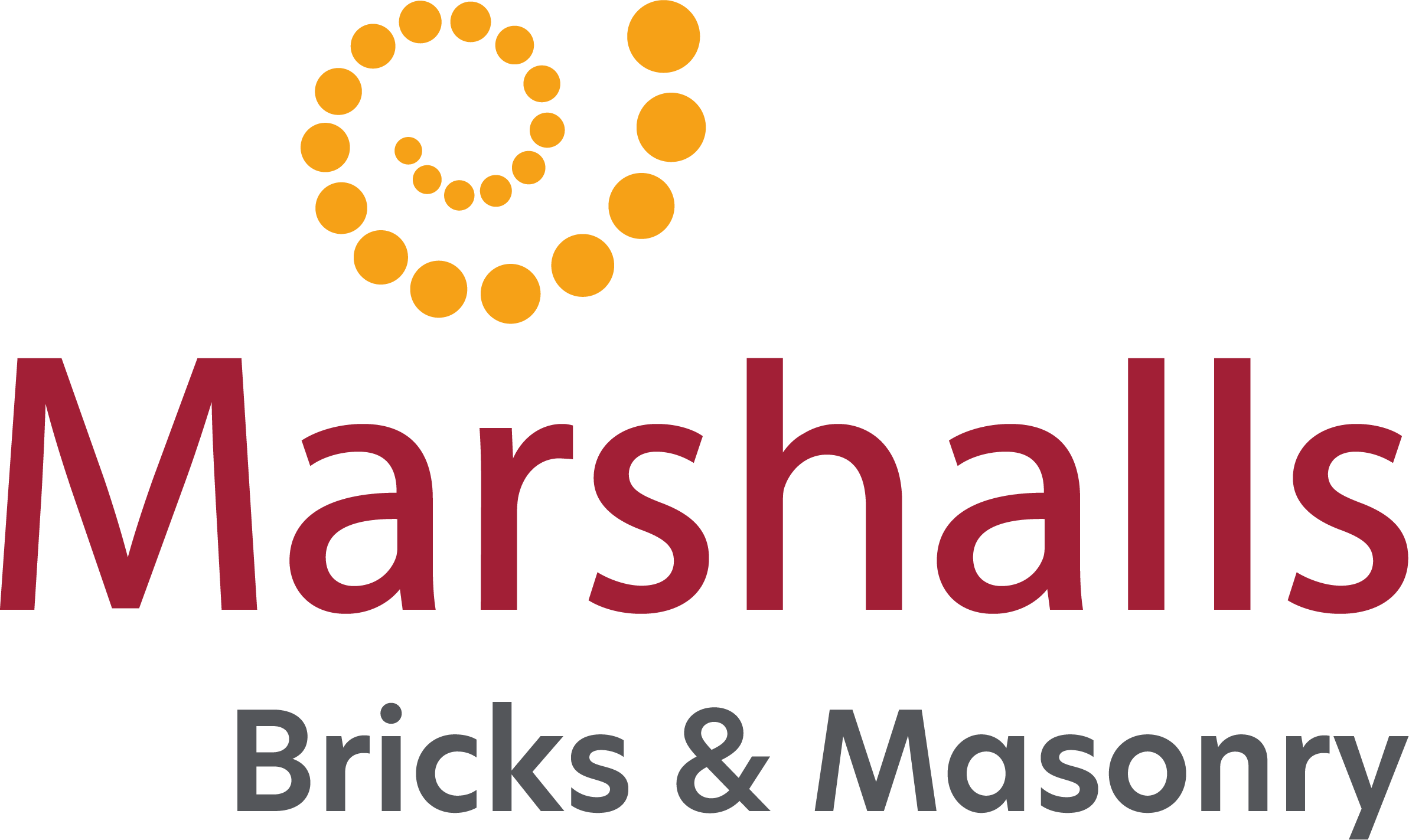 Certifications, Accreditations & Credentials
| Product Name | Colour | Finish | Length (mm) | Width (mm) | Height (mm) | Pack Size (m²) |
| --- | --- | --- | --- | --- | --- | --- |
| Cromwell Walling Pitched Face 220 x 100 x 65 Buff | Buff | Pitched Face | 220 | 100 | 65 | 6.2 |
| Cromwell Walling Pitched Face 220 x 100 x 65 Ash | Ash | Pitched Face | 220 | 100 | 65 | 6.2 |
| Cromwell Walling Pitched Face 220 x 100 x 65 Brown | Brown | Pitched Face | 220 | 100 | 65 | 6.2 |
| Cromwell Walling Pitched Face 220 x 100 x 65 Weathered | Weathered | Pitched Face | 220 | 100 | 65 | 6.2 |
| Cromwell Walling Pitched Face 300 x 100 x 140 Buff | Buff | Pitched Face | 300 | 100 | 140 | 6.3 |
| Cromwell Walling Pitched Face 300 x 100 x 140 Ash | Ash | Pitched Face | 300 | 100 | 140 | 6.3 |
| Cromwell Walling Pitched Face 300 x 100 x 140 Brown | Brown | Pitched Face | 300 | 100 | 140 | 6.3 |
| Cromwell Walling Pitched Face 300 x 100 x 140 Weathered | Weathered | Pitched Face | 300 | 100 | 140 | 6.3 |
| Cromwell Walling Pitched Face 365 x 100 x 140 Buff | Buff | Pitched Face | 365 | 100 | 140 | 5.6 |
| Cromwell Walling Pitched Face 365 x 100 x 140 Ash | Ash | Pitched Face | 365 | 100 | 140 | 5.6 |
| Cromwell Walling Pitched Face 365 x 100 x 140 Brown | Brown | Pitched Face | 365 | 100 | 140 | 5.6 |
| Cromwell Walling Pitched Face 365 x 100 x 140 Weathered | Weathered | Pitched Face | 365 | 100 | 140 | 5.6 |
| Cromwell Walling Pitched Face 440 x 100 x 140 Buff | Buff | Pitched Face | 440 | 100 | 140 | 6.1 |
| Cromwell Walling Pitched Face 440 x 100 x 140 Ash | Ash | Pitched Face | 440 | 100 | 140 | 6.1 |
| Cromwell Walling Pitched Face 440 x 100 x 140 Brown | Brown | Pitched Face | 440 | 100 | 140 | 6.1 |
| Cromwell Walling Pitched Face 440 x 100 x 140 Weathered | Weathered | Pitched Face | 440 | 100 | 140 | 6.1 |
| Cromwell Walling Rustic 220 x 100 x 65 Buff | Buff | Rustic | 220 | 100 | 65 | 5.5 |
| Cromwell Walling Rustic 220 x 100 x 65 Brown | Brown | Rustic | 220 | 100 | 65 | 5.5 |
| Cromwell Walling Rustic 220 x 100 x 65 Weathered | Weathered | Rustic | 220 | 100 | 65 | 5.5 |
| Cromwell Walling Rustic 220 x 100 x 65 Ash | Ash | Rustic | 220 | 100 | 65 | 5.5 |
| Cromwell Walling Rustic 300 x 100 x 140 Buff | Buff | Rustic | 300 | 100 | 140 | 5.5 |
| Cromwell Walling Rustic 300 x 100 x 140 Brown | Brown | Rustic | 300 | 100 | 140 | 5.5 |
| Cromwell Walling Rustic 300 x 100 x 140 Weathered | Weathered | Rustic | 300 | 100 | 140 | 5.5 |
| Cromwell Walling Rustic 300 x 100 x 140 Ash | Ash | Rustic | 300 | 100 | 140 | 5.5 |
| Cromwell Walling Rustic 365 x 100 x 140 Buff | Buff | Rustic | 365 | 100 | 140 | 5 |
| Cromwell Walling Rustic 365 x 100 x 140 Brown | Brown | Rustic | 365 | 100 | 140 | 5 |
| Cromwell Walling Rustic 365 x 100 x 140 Weathered | Weathered | Rustic | 365 | 100 | 140 | 5 |
| Cromwell Walling Rustic 365 x 100 x 140 Ash | Ash | Rustic | 365 | 100 | 140 | 5 |
| Cromwell Walling Rustic 440 x 100 x 140 Buff | Buff | Rustic | 440 | 100 | 140 | 5.4 |
| Cromwell Walling Rustic 440 x 100 x 140 Brown | Brown | Rustic | 440 | 100 | 140 | 5.4 |
| Cromwell Walling Rustic 440 x 100 x 140 Weathered | Weathered | Rustic | 440 | 100 | 140 | 5.4 |
| Cromwell Walling Rustic 440 x 100 x 140 Ash | Ash | Rustic | 440 | 100 | 140 | 5.4 |
| Cromwell Walling Split Face 220 x 100 x 65 Buff | Buff | Split Face | 220 | 100 | 65 | 6.2 |
| Cromwell Walling Split Face 220 x 100 x 65 Brown | Brown | Split Face | 220 | 100 | 65 | 6.2 |
| Cromwell Walling Split Face 220 x 100 x 65 Weathered | Weathered | Split Face | 220 | 100 | 65 | 6.2 |
| Cromwell Walling Split Face 220 x 100 x 65 Ash | Ash | Split Face | 220 | 100 | 65 | 6.2 |
| Cromwell Walling Split Face 300 x 100 x 140 Weathered | Weathered | Split Face | 300 | 100 | 140 | 5.5 |
| Cromwell Walling Split Face 300 x 100 x 140 Ash | Ash | Split Face | 300 | 100 | 140 | 5.5 |
| Cromwell Walling Split Face 300 x 100 x 140 Buff | Buff | Split Face | 300 | 100 | 140 | 5.2 |
| Cromwell Walling Split Face 365 x 100 x 140 Weathered | Weathered | Split Face | 365 | 100 | 140 | 5.6 |
| Cromwell Walling Split Face 365 x 100 x 140 Ash | Ash | Split Face | 365 | 100 | 140 | 5.6 |
| Cromwell Walling Split Face 365 x 100 x 140 Buff | Buff | Split Face | 365 | 100 | 140 | 5.6 |
| Cromwell Walling Split Face 440 x 100 x 140 Buff | Buff | Split Face | 440 | 100 | 140 | 6.1 |
| Cromwell Walling Split Face 440 x 100 x 140 Weathered | Weathered | Split Face | 440 | 100 | 140 | 6.1 |
| Cromwell Walling Split Face 440 x 100 x 140 Ash | Ash | Split Face | 440 | 100 | 140 | 6.1 |