Impact Recovery Bollard
The Impact Recovery bollard is available in three heights and has been designed to provide high visibility separation between cycle and traffic lanes whilst allowing semi-segregated protection that cyclists can easily exit in an emergency.
The reflex material will withstand multiple impacts and return to an upright position without damage, thereby saving on expensive replacement costs.
The bollards can also be combined with traffic calming islands should these be required. Please get in touch for more information.
Effective Cycle Segregation Bollard
Available in 3 heights
High visibility
Reflex material
Withstands multiple impacts
Returns to upright position following impact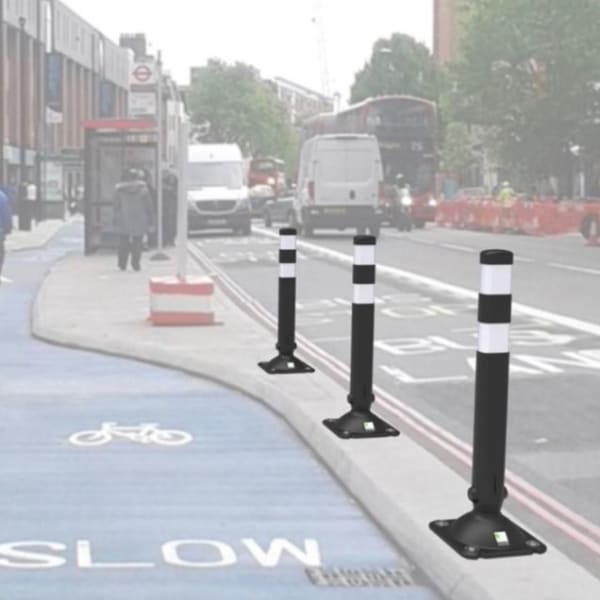 impact recovery bollard
Certification Logos and Accreditations
| Product Name | Material | Height Above Ground (mm) | Width (mm) | Depth (mm) | Reflective Tape Available | Weight (kg) | Fixing Method |
| --- | --- | --- | --- | --- | --- | --- | --- |
| Impact Recovery Bollard 1030 | Speciality base material with MDPE upper post (UV stabilised Medium Density Polyethylene) | 1030 | 110 | 71 | Yes | 2.5 | Shield anchor |
| Impact Recovery Bollard 1000 | Speciality base material with MDPE upper post (UV stabilised Medium Density Polyethylene) | 1000 | 110 | 71 | Yes | 2.5 | Asphalt anchor |
| Impact Recovery Bollard 800 | Speciality base material with MDPE upper post (UV stabilised Medium Density Polyethylene) | 800 | 110 | 71 | Yes | 2.3 | Concrete in anchor |