Trying to order Marshalls products, but your local Merchant Yard is shut?
Give us a call on 0345 302 0600 (select option 2) or email to keyaccount@marshalls.co.uk
We'll give you a quote, deliver direct, and help you find a branch that will transact your order.
Click Here for Our Full Covid-19 Statement
Keykerb
A range of units designed to perfectly complement Keyblok, the UK's most popular concrete block paving, on schemes where sharp detailing cannot be compromised.

As well as providing a perfect colour match, a full range of ancillary shapes is available including radii, droppers and angle stones, to ensure that each landscape is fully functional as well as visually appealing
Keykerb units are available in 3 different sizes Keykerb Large (KL), Keykerb Medium (KM) and Keykerb Small (KS)
Ethical Risk Index
This Radar diagram illustrates the level of ethical risk associated with a specific stone. Ethical risk is plotted against the 10 ten measures of the ERI, with each value drawn from reports produced by independent ethical auditors, engaged by Marshalls to provide non-biased and honest reporting into levels of risk in that supply chain.
Each of the 10 measure is designed to recognise different and discrete sources of ethical risk. This produces a bespoke, fit for purpose framework designed specifically for the requirements of the stone industry. The radar diagram itself also compares the Marshalls supply chain to the wider industry in that stone, giving users a working comparison of Marshalls supply chain to the industry average, in the opinion of the auditor.
Modern Slavery Act Awareness
Supply Chain Visibility
Income and Employment Security
Health & Safety
Social-Wellbeing
Employment Freely Chosen
Empowerment
Environmental
Governance
Corruption and Bribery
View More
Certification Logos and Accreditations
| Product Name | id | Height (mm) | Width (mm) | Approx Unit Weight (kg) | Finish | Made to Stock / Made to Order | Carbon Footprint |
| --- | --- | --- | --- | --- | --- | --- | --- |
| Keykerb KL HB Radius Charcoal | PV7070500 | 200 | 127 | 5.3 | Standard | Made To Stock | 6.5 kg CO2 lin m |
| Keykerb KL HB Radius Brindle | PV7071750 | 200 | 127 | 5.3 | Standard | Made To Order | 6.5 kg CO2 lin m |
| Keykerb KL HB Internal Angle Charcoal | PV7100500 | 200 | 127 | 6.8 | Standard | Made To Stock | 6.5 kg CO2 lin m |
| Keykerb KL HB Internal Angle Brindle | PV7101750 | 200 | 127 | 7.7 | Standard | Made To Stock | 6.5 kg CO2 lin m |
| Keykerb KL HB External Angle Charcoal | PV7100510 | 200 | 127 | 6.6 | Standard | Made To Stock | 6.5 kg CO2 lin m |
| Keykerb KL HB External Angle Brindle | PV7101760 | 200 | 127 | 6.6 | Standard | Made To Stock | 6.5 kg CO2 lin m |
| Keykerb KL HB Flat Int Angle Brindle | | 127 | 200 | | Standard | Made To Order | |
| Keykerb KL HB Flat Internal Angle Charcoal | | 127 | 200 | | Standard | Made To Order | |
| Keykerb KL HB to KS SP Transition/Drop LH Brindle | PV8051750 | 200 | 127 | | Standard | Made To Order | 6.5 kg CO2 lin m |
| Keykerb KL HB to KS SP Transition/Drop RH Brindle | | | | | Standard | Made To Order | |
| Keykerb KL HB or BN Brindle | PV7001750 | 200 | 130 | 5.6 | Standard | Made To Stock | 6.5 kg CO2 lin m |
| Keykerb KL HB or BN Charcoal | PV7000500 | 200 | 128 | 5.6 | Standard | Made To Stock | 6.5 kg CO2 lin m |
| Keykerb KL BN Radius Charcoal | PV7150500 | 200 | 127 | 5.5 | Standard | Made To Order | 6.5 kg CO2 lin m |
| Keykerb KL BN Radius Brindle | PV7151750 | 200 | 127 | 5.5 | Standard | Made To Order | 6.5 kg CO2 lin m |
| Keykerb KL BN Ext Angle Brindle | PV7201760 | 200 | 127 | 7 | Standard | Made To Order | 6.5 kg CO2 lin m |
| Keykerb KL BN External Angle Charcoal | PV7200510 | 200 | 127 | 7 | Standard | Made To Stock | 6.5 kg CO2 lin m |
| Keykerb KL HB to KS BN 2 Stone Transition/Drop LH Brindle | | 200 | 127 | | Standard | Made To Order | |
| Keykerb KL HB to KS BN 2 Stone Transition/Drop LH Charcoal | | 200 | 127 | | Standard | Made To Order | |
| Keykerb KL HB to KS BN 2 Stone Transition/Drop RH Brindle | | 200 | 127 | | Standard | Made To Order | 0 kg CO2 |
| Keykerb KL HB to KS BN 2 Stone Transition/Drop RH Charcoal | | 200 | 127 | | Standard | Made To Order | 0 kg CO2 lin m |
| Keykerb KL HB Flat External Angle Brindle | PV7401760 | 127 | 200 | | Standard | Made To Order | 0 kg CO2 |
| Keykerb KL HB Flat External Angle Charcoal | PV7400510 | 127 | 200 | | Standard | Made To Order | 0 kg CO2 |
| Product Name | id | Height (mm) | Width (mm) | Approx Unit Weight (kg) | Finish | Made to Stock / Made to Order | Carbon Footprint |
| --- | --- | --- | --- | --- | --- | --- | --- |
| Keykerb KM SP Charcoal | PV7750500 | 160 | 150 | 5 | Standard | Made To Stock | 6.5 kg CO2 lin m |
| Keykerb KM SP Brindle | PV7751750 | 160 | 150 | 5 | Standard | Made To Order | 6.5 kg CO2 lin m |
| Keykerb KM SP Transition LH Charcoal | PV8000500 | 160 | 150 | | Standard | Made To Order | 6.5 kg CO2 lin m |
| Keykerb KM SP Transition RH Charcoal | PV8000510 | 160 | 150 | | Standard | Made To Order | 6.5 kg CO2 lin m |
| Keykerb KM SP Transition LH Brindle | PV8001750 | 160 | 150 | | Standard | Made To Order | 6.5 kg CO2 lin m |
| Keykerb KM SP Transition RH Brindle | PV8001760 | 160 | 150 | | Standard | Made To Order | 6.5 kg CO2 lin m |
| Keykerb KM SP Radius Charcoal | | | | | Standard | Made To Order | |
| Keykerb KM SP Radius Brindle | | | | | Standard | Made To Order | |
| Keykerb KM SP Int Angle Brindle | | | | | Standard | Made To Order | |
| Keykerb KM SP Int Angle Charcoal | | | | | Standard | Made To Order | |
| Keykerb KM SP Ext Angle Charcoal | | | | | Standard | Made To Order | |
| Keykerb KM SP External Angle Brindle | | | | | Standard | Made To Order | |
| Product Name | id | Height (mm) | Width (mm) | Approx Unit Weight (kg) | Finish | Made to Stock / Made to Order | Carbon Footprint |
| --- | --- | --- | --- | --- | --- | --- | --- |
| Keykerb KS BN Int Angle Charcoal | PV7700500 | 125 | 127 | | Standard | Made To Stock | 4 kg CO2 lin m |
| Keykerb KS BN Int Angle Brindle | PV7701750 | 125 | 127 | | Standard | Made To Order | 4 kg CO2 lin m |
| Keykerb KS SP or BN Brindle | PV7501750 | 125 | 127 | 3.5 | Standard | Made To Stock | 4 kg CO2 lin m |
| Keykerb KS SP or BN Charcoal | PV7500500 | 125 | 127 | 3.5 | Standard | Made To Stock | 4 kg CO2 lin m |
| Keykerb KS SP Radius Charcoal | PV7570500 | 125 | 127 | 4.5 | Standard | Made To Order | 4 kg CO2 lin m |
| Keykerb KS SP Radius Brindle | PV7571750 | 125 | 127 | 4.5 | Standard | Made To Order | 4 kg CO2 lin m |
| Keykerb KS SP Int Angle Brindle | PV7601750 | 125 | 127 | 4.3 | Standard | Made To Order | 4 kg CO2 lin m |
| Keykerb KS SP Int Angle Charcoal | PV7600500 | 125 | 127 | 4.3 | Standard | Made To Stock | 4 kg CO2 lin m |
| Keykerb KS SP Ext Angle Charcoal | PV7600510 | 125 | 127 | 4 | Standard | Made To Stock | 4 kg CO2 lin m |
| Keykerb KS SP Ext Angle Brindle | PV7601760 | 125 | 127 | 4 | Standard | Made To Stock | 4 kg CO2 lin m |
| Keykerb KS BN Radius Brindle | PV7651750 | 125 | 127 | | Standard | Made To Order | 4 kg CO2 lin m |
| Keykerb KS BN Radius Charcoal | PV7650500 | 125 | 127 | | Standard | Made To Order | 4 kg CO2 lin m |
| Keykerb KS BN Ext Angle Charcoal | PV7700510 | 125 | 127 | 4 | Standard | Made To Stock | 4 kg CO2 lin m |
| Keykerb KS BN Ext Angle Brindle | PV7701760 | 125 | 127 | 4 | Standard | Made To Order | 4 kg CO2 lin m |
keykerb - charcoal keyblok - red/charcoal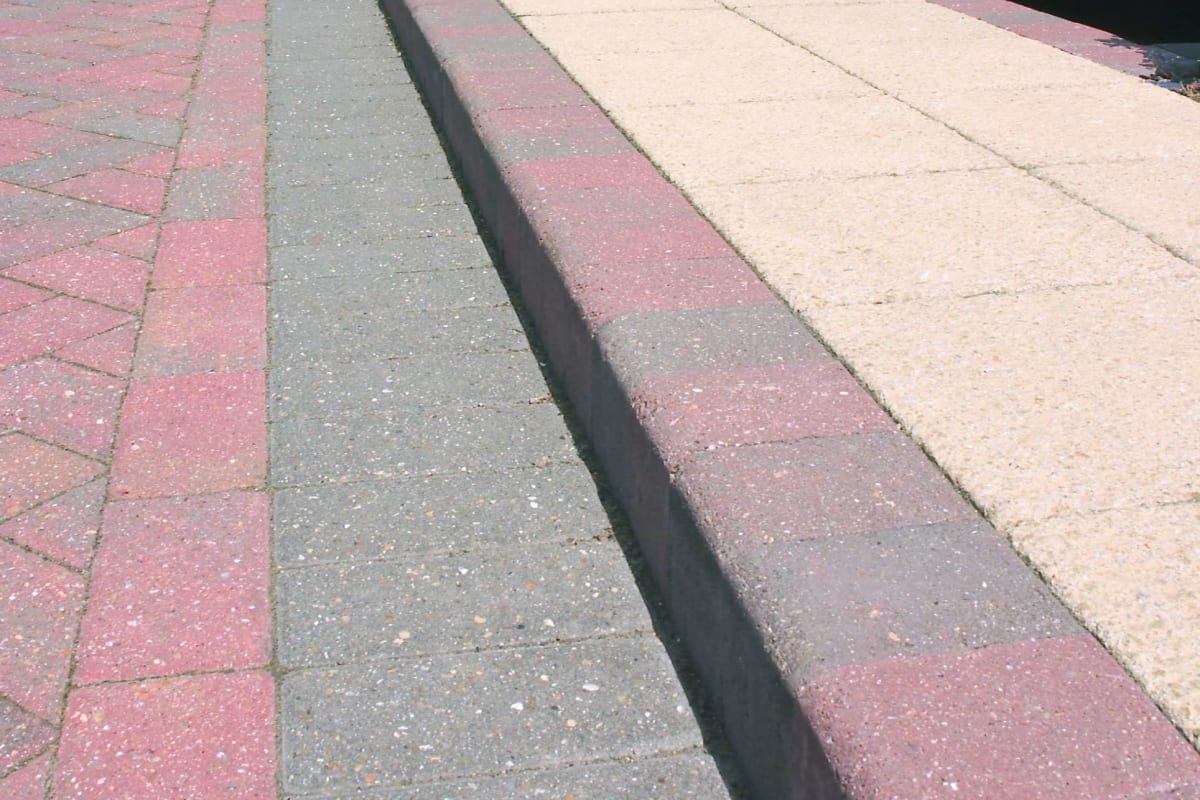 keykerb with driveline channel