Verso 1200 Block
The Verso street furniture range allows for a mix of protective and non-protective seating and planter elements to be used in unison across a single project.
Combining clean lines and an unobtrusive low height profile, the Verso 1200 Block can be used as a standalone product or combined with other elements from the Verso range to create attractive schemes where people can relax and spend time.
Manufactured in Britain using precast concrete, Verso is available in three timeless concrete colour options to complement any urban design. The longevity of the concrete material reduces maintenance costs and lowers carbon footprint over its life cycle. Optional seating additions, such as bench tops, seat tops and arm rests are available to coordinate with this module and come in a choice of FSC®-certified timber or recycled Wood Plastic Composite.
The Verso 1200 Block is also available with integrated RhinoGuard® technology. For more information on the protective variant please see here.
Helps create attractive schemes
Also available with protective RhinoGuard® technology
Can be used in unison, across one project, mixed with rated and unrated modules or as a standalone block
Once installed, protective and non protective units are indistinguishable
Low level height
Visually unobtrusive
Available in three versatile concrete colour options
The longevity of concrete means that Verso can be enjoyed for years to come
Available with optional seating and planter additions in FSC®-certified timber or recycled Wood Plastic Composite
Made in Britain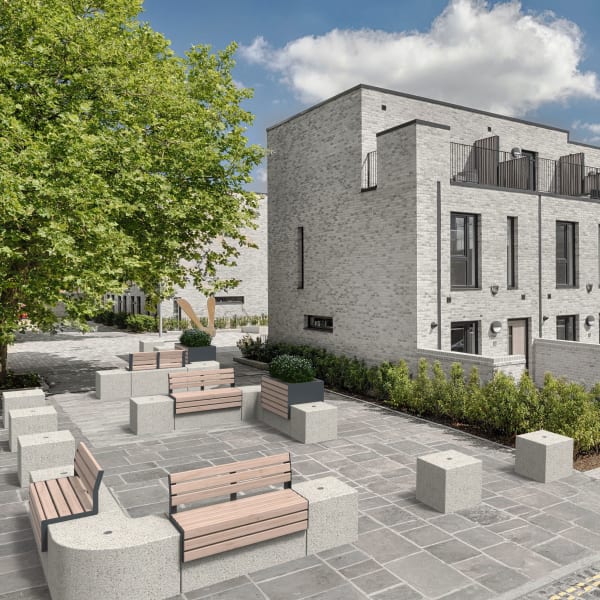 verso timber insitu
Certification Logos and Accreditations
| Product Name | Frame Material/Finish | Body/Frame Colour | Length (mm) | Width (mm) | Overall Height (mm) | Seat Height (mm) | Weight (kg) | Fixing Method | Core Weight (kg) | Overall Module Weight (kg) |
| --- | --- | --- | --- | --- | --- | --- | --- | --- | --- | --- |
| Verso 1200 Block | Precast Concrete | Available in City Grey, Silver Grey or Anthracite | 1200 | 600 | 600 | 550 | 1000 | Sub-surface mounted | | 1000 |
| 1200 Bench Top (timber & mild steel) | Powder Coated or Corten Effect Steel Frame and FSC®-certified Red Grandis | Red Grandis FSC®-certified timber with the option of powder coating the mild steel frame in any standard RAL or corten effect finish | 1200 | 440 | 292 | n/a | 30 | n/a | n/a | 1030 |
| 1200 Double Bench Top (timber & mild steel) | Powder Coated or Corten Effect Steel Frame and FSC®-certified Red Grandis | Red Grandis FSC®-certified timber with the option of powder coating the mild steel frame in any standard RAL or corten effect finish | 1200 | 694 | 292 | n/a | 50 | n/a | n/a | 1050 |
| 1200 Seat Top (timber & mild steel) | Powder Coated or Corten Effect Steel Frame and FSC®-certified Red Grandis | Red Grandis FSC®-certified timber with the option of powder coating the mild steel frame in any standard RAL or corten effect finish | 1200 | 499 | 664 | 967 | 40 | n/a | n/a | 1040 |
| 1200 Block-mounted Planter (timber & mild steel) | Powder Coated or Corten Effect Steel Frame and FSC®-certified Red Grandis | Red Grandis FSC®-certified timber with the option of powder coating the mild steel frame in any standard RAL or corten effect finish | 1200 | 693 | 606 | n/a | 185 | n/a | n/a | 1185 |
| 1200 Bench Top (WPC & mild steel) | Powder Coated or Corten Effect Steel Frame and Recyclable Wood Plastic Composite | Available in Black, Slate Grey, Pebble Grey, Light Brown and Dark Brown WPC with the option of powder coating the mild steel frame in any standard RAL or corten effect finish | 1200 | 440 | 1030 | n/a | 30 | n/a | n/a | 1030 |
| 1200 Double Bench Top (WPC & mild steel) | Powder Coated or Corten Effect Steel Frame and Recyclable Wood Plastic Composite | Available in Black, Slate Grey, Pebble Grey, Light Brown and Dark Brown WPC with the option of powder coating the mild steel frame in any standard RAL or corten effect finish | 1200 | 694 | 292 | n/a | 50 | n/a | n/a | 1050 |
| 1200 Seat Top (WPC & mild steel) | Powder Coated or Corten Effect Steel Frame and Recyclable Wood Plastic Composite | Available in Black, Slate Grey, Pebble Grey, Light Brown and Dark Brown WPC with the option of powder coating the mild steel frame in any standard RAL or corten effect finish | 1200 | 499 | 664 | 967 | 40 | n/a | n/a | 1040 |
| 1200 Block-mounted Planter (WPC & mild steel) | Powder Coated or Corten Effect Steel Frame and Recyclable Wood Plastic Composite | Available in Black, Slate Grey, Pebble Grey, Light Brown and Dark Brown WPC with the option of powder coating the mild steel frame in any standard RAL or corten effect finish | 1200 | 693 | 606 | n/a | 185 | n/a | n/a | 1185 |