Waste Management
Marshalls Civils & Drainage is able to offer precast concrete landfill shaft sections for waste management systems and landfills that successfully overcome the issue of high lateral forces and frictional drag within landfill sites.
Marshalls Civils & Drainage developed a Leachate monitoring and extraction shaft system, as waste landfill sites produce high lateral forces and frictional drag, which has proved problematic for existing traditional style shafts.
The development of a precast concrete landfill shafts has overcome the unique problems encountered due to its high strength and jointing system. Additionally being a wet cast product, the smooth exterior finish reduces frictional drag.
The standard shaft, 1200mm in diameter, can be constructed in traditional chimney style or by the caisson sinking method, with the units having a 120mm wall. Being thicker than standard precast concrete manhole units, they are jointed using 3 No 20mm diameter high tensile bars. The bars run vertically through the shaft wall with sequential units being bolted on as the landfill proceeds.
Additionally in order to reduce punching shear on the formation a telescopic base section can be utilised. The base units are generally perforated for Leachate percolation and subsequent pumping. Complete with fittings, the base slab can be factory produced to suit the client's requirement and have fittings attached to a template ready for in-situ casting into the base slab which is available on request. TA200 sealant and bolts for placing in-situ slab and fixing to shaft section are also available on request
Advantages of the system include:
Speedy erection by site personnel.
Restricted joints.
Shaft system designed for purpose.
Sealed watertight joints.
Construction to any depth.
Sections can be perforated with 75mm diameter holes.
Bottom sections can be supplied with fittings to connect to either an in-situ base or to a manufactured precast base slab.
Cover slabs can be supplied with or without access to suit client's requirement, with the option of fittings to fix the slab to the top section.
Base slabs can be manufactured with shaft fixings and sized to suit client's requirements.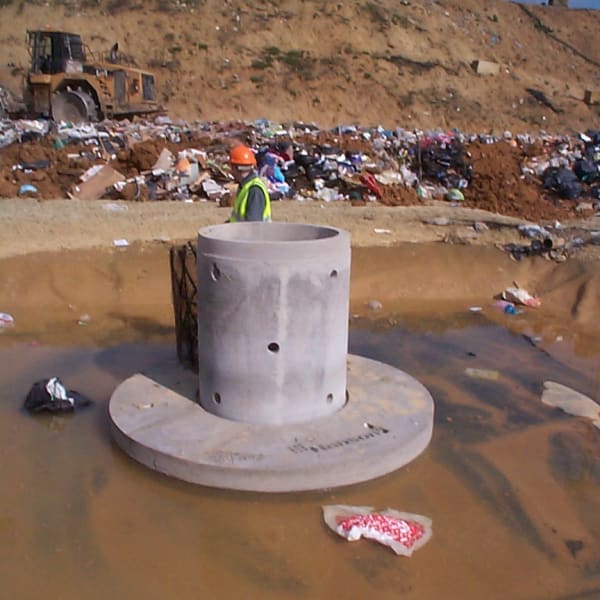 waste management systems