Aesthetically pleasing, crash-tested solutions are becoming increasingly sought after in the landscape protection market. In this blog, Roger Knight, Head of New Product Development and Engineering at Marshalls Landscape Protection, offers a guide to these solutions and shows how urban planners can find the right design to suit their space.
In the past, many urban planners have been forced to prioritise function over style when designing safety measures for crowded spaces such as shopping centres, plazas and sports stadia. Fortunately, new solutions can now offer an aesthetically pleasing alternative, whilst still delivering the same great safety results.
Finding your style
Recent developments in design, manufacture and technology are allowing urban planners to specify more aesthetically pleasing landscape protection solutions. In fact, suppliers like us are now able to provide solutions in an increasingly wide array of materials and styles, as well as in a number of bespoke options. Regardless of the task in hand, our extensive range of solutions is sure to contain what you need.
In the past, on account of budgetary restrictions, some urban landscape designers have overlooked the importance of aesthetics when choosing landscape protection products. However, by considering design goals at an early stage of development, those in the trade can ensure installations feel more welcoming, functional and safe. In doing so, landscape designers can maximise their return on investment across installations and increase footfall within areas.
At Marshalls Landscape Protection, we supply solutions ideal for this purpose. For example, our RhinoGuard® product range can offer effective protection against hostile vehicle attacks, but can also be designed bespoke in any colour, shape or size to suit your project.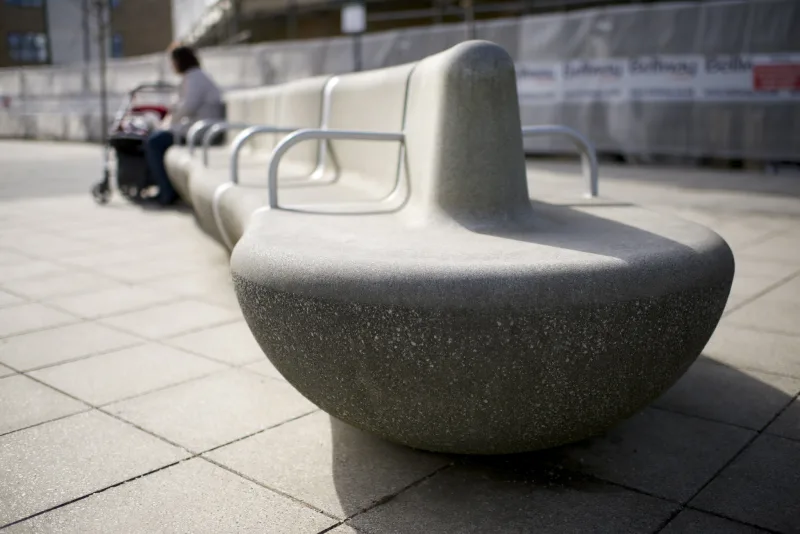 Uplifting urban spaces
The increase in vehicular attacks in recent years has led to an uptake in the number of projects, which require perimeter protection solutions. During this same period, there has been a growing recognition of the adverse psychological ramifications caused by installing imposing protective barriers within public spaces. As a result, urban planners are now looking for high-performing solutions that combine function with style.
In making this shift, urban planners are able to avoid creating built environments that feel homogenised and bland. Instead, our design-led RhinoGuard® ranges offer a highly stylised, security solution fit for any type of project. Comprising a range of attractive planters, seating and security systems, we are able to offer different styles and finishes, with a number of decorative post and cap options.
Preserving heritage
When working to secure heritage sites, the importance of aesthetics must not be overlooked by urban design planners. In taking up this challenge, landscape planners must consider specifying solutions with multiple design options, such as our RhinoGuard® EOS Protective seat system. Part of our Made in Britain collection, the multipurpose solution can be specified in a range of materials and from a palette of RAL colours to fit to a desired aesthetic. Bespoke designs are available on request.
In addition to its expansive design variety, the RhinoGuard® EOS Protective Seat boasts exceptional defensive credentials. Having been successful in three separate crash tests, the seating system has achieved the PAS 68 standard and is capable of withstanding a 7.5 tonne vehicle travelling at 30mph.
The RhinoGuard® EOS Protective Seat is one of many products within the RhinoGuard® collection – which comprises of all our protective solutions. RhinoGuard® products can be specified in a range of ratings, capable of withstanding vehicles weighing up to 7.5 tonnes, travelling at up to 50mph. This means that for each individual situation, the most appropriate level of protection can be introduced.
As well as the options available regarding protection ratings, RhinoGuard® products are largely customisable and are available in a wide variety of material choices. Therefore, a wider scope of budgets and desired aesthetics can be catered for. For instance, materials such as our Ferrocast® polyurethane offer a more cost-effective solution and require less maintenance than cast iron options, making it well-suited to those on a tighter budget.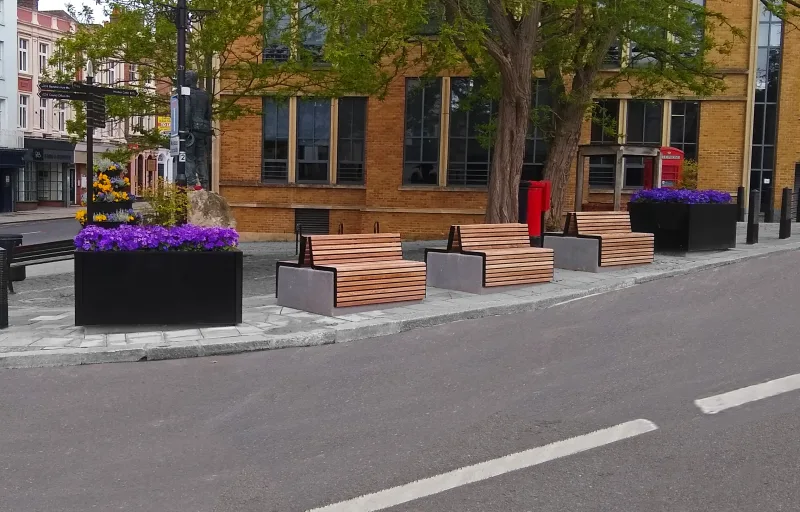 RhinoGuard® RhinoBlok Protective Planter
Eye for the future
Moving forward, it's highly likely the protective street solution market will continue to evolve. At Marshalls Landscape Protection, we're expecting to see the continued growth of stylized security solutions. It's likely that solutions, which combine security with functionality, such as our RhinoGuard® Igneo Protective Seat, will become more popular.
Similarly, new solutions, such as Verso, our flexible street furniture range are able to provide a new and innovative option for those designing public spaces. Manufactured in Britain using high-quality precast concrete at its core, the seating collection includes benches, seating and planters in a variety of configurations and is helping landscape architects, councils and specifiers to protect public spaces without compromising on design or aesthetics. Furthermore, the beauty of the Verso range is that it can be produced as protective or non-protective modules. Meaning that in instances where HVM is required, RhinoGuard® Verso products can provide both stunning aesthetics and exceptional protection.
Our Verso collection is one of many products that offer style and protection in equal measure. Providing inner strength and outer beauty, the RhinoGuard® RhinoBlok is another protective solution in which design doesn't waiver. Made in Britain and available in a choice of concrete colourways with the additional FSC®-certified timber seating and bench additions, the system has been fully crash tested and meets the IWA 14-1 standard. The system provides the perfect solution to protect people, places and infrastructure without compromising on the appearance of the space.
Are you involved in urban planning? If so, we're able to offer one of the most comprehensive collections of protective street solutions. To find out more about our extensive range, please visit our dedicated webpage: https://www.marshalls.co.uk/commercial/landscape-protection