With 86% of the UK population now living in urban areas, and streets accounting for 80% of the public realm space, streetscape design has never been more critical. But what are the must-haves for sustainable streetscapes, and what are the features of a vibrant streetscape design?
Whilst often overlooked, streetscape elements such as pavements, pathways, roads and street furniture play a key role in placemaking. A street is not just a means of getting from A to B - as well as giving access to local businesses, transport hubs and residential properties; it also provides places to stop, rest or play.
Crafting this perfect balance requires a holistic design approach, focusing on both the natural and built fabric of the street, seeking to improve the overall quality of the space and its visual effect. A world-class urban streetscape successfully balances the needs of all users, particularly pedestrians, factoring-in accessibility, inclusivity, safety, vibrancy, and resilience.
So, what makes an excellent streetscape design? And how do landscape planners and designers achieve that perfect balance between form and function to create streets that enable easy passage through and access to amenities, allowing for any vehicles to move with ease and pedestrians to stop and pause?
Creating vibrant streets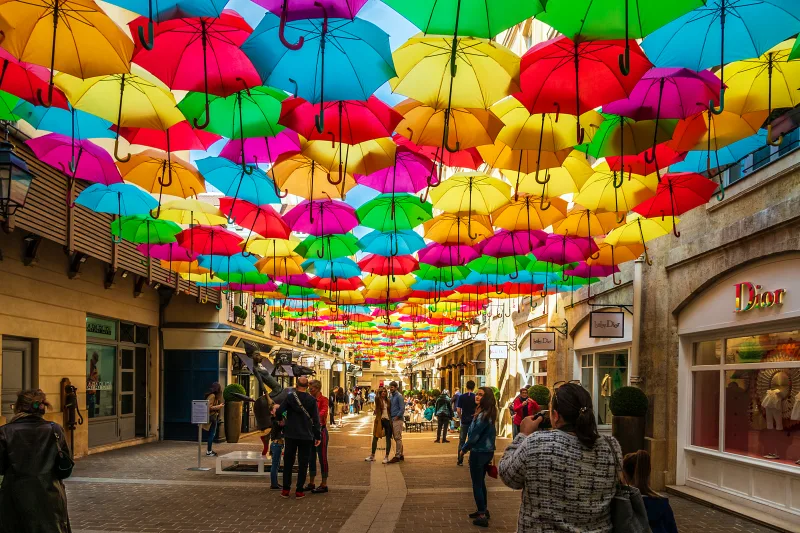 Caption: The Berryer Pass in Paris. Copyright: Shutterstock
Designing vibrant streetscapes warrants particular consideration at the design stage, or, if it is a regeneration project, specific interventions may be needed. The concept of 'opening' streets comes into its own here, helping to create welcoming places that support local communities.
Ideal spatial characteristics include wide pavements and pedestrian-only zones, often allowing businesses to extend their footprint through outdoor seating or a parklet approach to outdoor socialising. From Paris to Rome, Europe's most visited cities adopt this approach, where outdoor stalls or seating for cafes add 'buzz', colour and texture to the urban landscape.
Adding a unique character to a streetscape can be done using art installations and creative street furniture and decoration; Carnaby Street in London is an excellent example of how a street becomes a destination in itself by doing this – which in turn brings economic benefits to the area and a rise in footfall.
Designing accessible streetscapes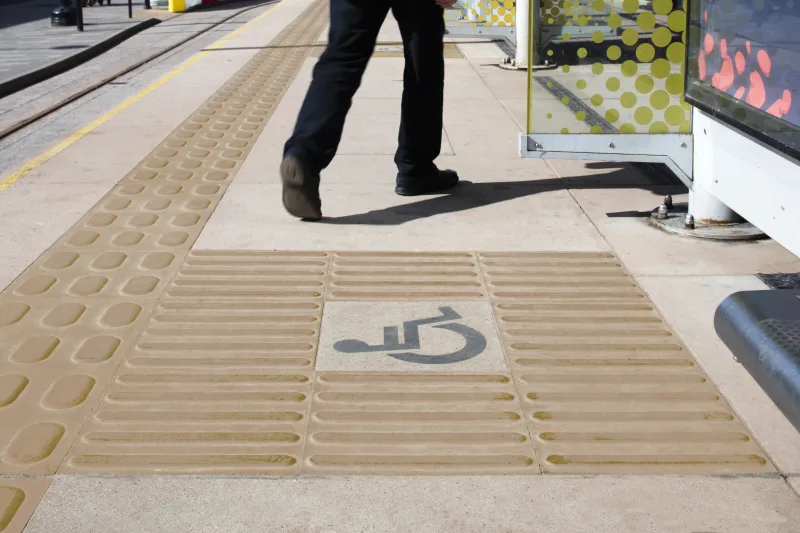 Tactile paving supports those with visual impairments to get around public spaces
Streets should be accessible to all prospective users, from pedestrians and wheelchair users to runners and cyclists alike.
The charity Living Streets has carried out much work in this area, recognising that well-designed streets work for everyone, and spaces that work for people with additional access needs also work for everyone else. Their position paper on inclusivity suggests re-focusing on people's needs and reducing the dominance of vehicles. This starts with planners and designers considering individual needs, especially those with protected characteristics, who might be directly disadvantaged by poor physical infrastructure.
Inclusive streetscapes could include wider pavements, tactile paving to aid blind or partially sighted people and drop kerbs for wheelchair and bike accessibility. Regular resting places are a great design feature for inclusivity and vibrancy. Street furniture seating at intervals of between 50 to 100 metres can add character to a space, such as outside the Alhambra Theatre in Bradford pictured below and documented in our case study.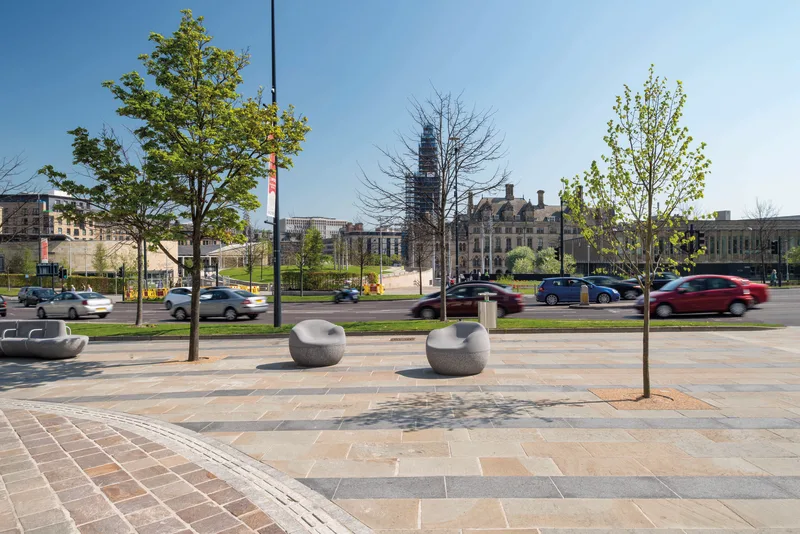 Stylish street furniture can add character to a streetscape
Alternatively, seating that is built-into the landscape can be a great way to keep design and material consistency whilst also providing regular points to rest. The regeneration of the area around Oldham Town Hall includes granite planters set at a suitable height for seating and celebrating the town's textile heritage with bespoke artwork. See below for a photo, and visit our case study for more images and detail.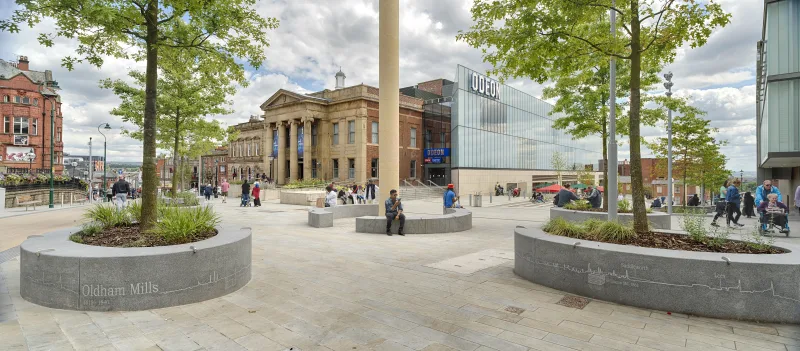 Public seating can be built-into the landscape, and tell the story of an area
Designing safer streets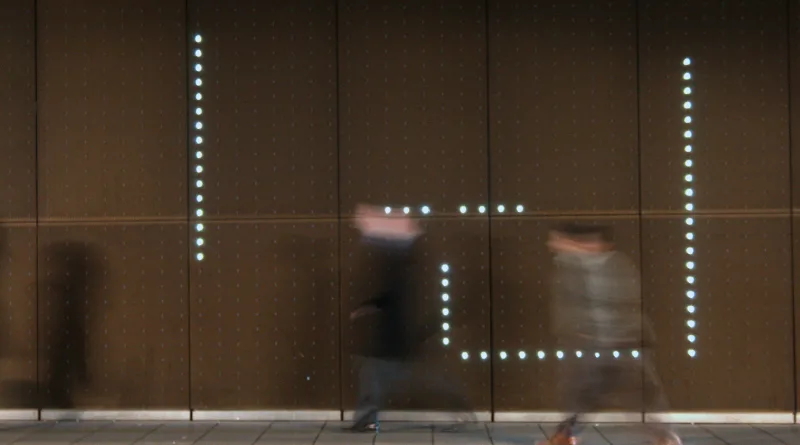 Light Neville Street, Leeds. Image copyright: Arup.
We all live, work and move through streets in our day to day lives, and we should feel secure in doing so. Key factors that help people feel safer when using public streets include vision and wayfinding – which is not just about spaces being well lit, but also clearly signposted, with good sight lines into surrounding areas and access to places of refuge.
Technology plays a role too, and consideration should be given as to what extent CCTV and other security measures integrate into a design, especially in areas with high crime rates.
Barriers, bollards and hostile vehicle mitigation measures should be considered where there is a need to protect pedestrians from vehicular threats.
A less considered safety concern is streetscape acoustics and the importance of sound in creating a sense of familiarity and social presence in public spaces, offering reassurance.
Light Neville Street in Leeds is a great example of this, with a specific sound and light intervention implemented to improve the accessibility and safety of what had previously been a dark and unwelcoming arterial gateway to the city centre.
Designing resilient streets

Permeable paving helps landscapes to cope with heavy rainfall
Sustainable streetscapes are those that stand the test of time, both in the physical sense - by using weather and wear-resistant materials – and also from a visual perspective, in that they stay looking good and remain places where people want to spend time.
A resilient and adaptable design supports the ever-changing ebb and flow of local community use.
From a climate perspective, streets for today (and tomorrow) must be designed to deal with increasingly extreme weather events. A good SuDS design builds in green infrastructure, robust drainage and permeable paving elements to ensure the streetscape can withstand increasingly extreme weather events, such as excess surface water and strong UV light.
Best practice design
For more information, there are many great guides on the practical elements of streetscape design.
The Manual for Streets is a must-read for the design of lightly trafficked spaces. Whilst created with London in mind, the TFL guide is particularly comprehensive, setting the standards for materials selection, installation and ongoing maintenance of any quality place.
For further reading on best practice SuDS design, see our blog on the role of sustainable drainage systems.