Collaborative digital design helps customers take control of their build, make better informed decisions and reduce the costs of change.
Previously, we've looked at how architects and engineers make their design ideas a reality using digital visualisation. Our pavement engineers ensure that a project performs on site correctly, CAD technicians create buildable, bespoke structures from natural stone. But we also offer a collaborative digital design service that you can take advantage of during the concept stages of your project to help win funding and reduce risk.
Make better decisions using digital design
The most obvious reasons for using digital design services are the same as they are for any new technology, it's quicker and cheaper than traditional methods. Digital designs are quicker to create, easier to change and simpler to share. But, an often overlooked benefit is 'design optioneering', the ability to provide and work with multiple design options almost simultaneously.
Using digital design processes, a variety of product choices can be presented and interchanged quickly; swiftly comparing and contrasting products and project ideas to meet a desired specification. Designs can be adapted and changes made easily. Informed design decisions can be made earlier in the process, when changes are quick and cheap to make, reducing the risk of costly changes later in the project or even after completion.
Adopting Building Smart principles to hard landscaping
The benefit of digital design collaboration on the decision making process is clear and has been heavily reported on in the AEC industry, but less so in hard landscaping. Looking at the MacLeamy curve1, which is heavily linked to Building Information Modelling (BIM), you can see how the cost of design changes increases the further along the project timeline you are. In the earlier stages of a project it is easy to make impactful project changes with little impact on project cost. The further you are into the project the greater the cost of change, with additional effort required from multiple stakeholders. Leave changes too late, or even retrospective changes after construction has started, these can be prohibitively large.
Adopting digital collaboration earlier in the project, where the cost of change is easier to control, can save thousands of pounds and hours of stress when compared to the more traditional methods or simply bringing digital tools in at technical design or manufacturing stages.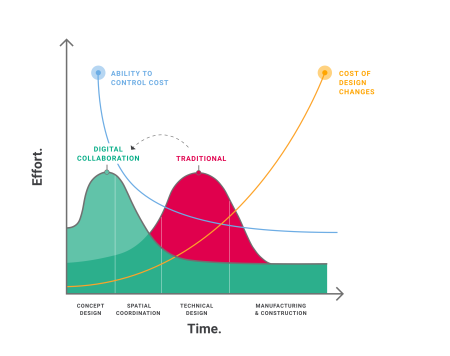 MacLeamy Curve
Using Marshalls Design team as your digital design partner
More accessible design options, better informed decisions, reduced risk from the cost of change, it seems obvious to use digital design in a project build. However, digital design also requires additional resource, investment in specialist software, people and training. Some of our customers don't have this ability in-house, or may not have the capacity to take on more projects, this is where Marshalls Design Team can help.
As a co-source solution, we provide a consultative approach to every project we work on. We'll discuss your project requirements, accurately specify products and asses the tools, skills, time and information required for you to achieve the maximum impact.
Not restricted by, but using the RIBA plan of works as a guide, we work with customers to create a series of design options, from concept design (stage 2 and 3) through to technical designs (stage 4) ready for manufacturing and construction.
Depending on the stage you are at and your own in-house expertise there are two distinct levels of service to choose from. These aren't limited and we work with you to deliver the required level of service required as you move through the plan.
Downloadable BIM models
A popular self-service solution of downloadable product models to use in your own software. Digital product models give architects the flexibility and control they need to design, review and amend their own designs quickly and easily.
Simple to download, these models drop into compatible software such as Revit, making it easy to share and compare multiple design options quickly and easily. There's no additional cost, very little disruption and no chance of errors when sharing projects within your wider team.
Digital design project consultation
A more consultative approach, we work collaboratively with architects and engineers to get their designs approved and built. The service works best on large, complicated projects for customers with little to no design support, their own in-house design teams are already stretched or have limited relevant project experience; no project is the same and no customer is the same either.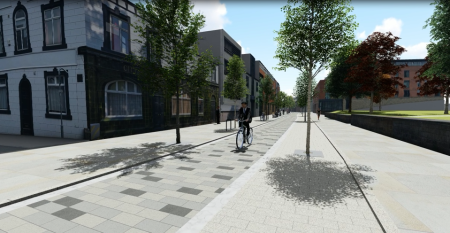 Mabgate Leeds
We know the best results come when we work closely with our customers to fully understand their specific requirements. As demonstrated above, the earlier we can get involved in a project the more we can provide the correct level of support using digital means.
We are happy to discuss the available options and any specific upcoming support you may need at the earliest concept stages. This could be as simple as providing design option advice up to full project visualisation creation including animated fly-throughs of streetscapes and virtual reality experiences to wow your customers.
Some options may be more suitable than others depending upon your project size and timescale, the complexity of your ideas and of course the availability of our team.
More accessible design options, better informed decisions, reduced risk from the cost of change, it seems obvious to use digital design in your next project build.
If you have an existing or upcoming project that you would like the Design Team to get involved with then contact your local project consultant or email design.team@marshalls.co.uk
Marshalls Design Team – Our team on your team.