Open and here to support you.
All businesses in the Marshalls group are open.
We are working safely to manufacture products, take new orders and fulfill existing ones.
Find out more
Darlstone Walling
We provide a broad range of reconstructed stone walling products that are often used in areas of traditional stone walling, as an alternative to quarried stone and is approved as such for use in National Parks and conservation areas.
Our Cromwell, Darlstone, Thistlestone and Epoch products are available in a variety of colours, from buffs, to browns, and a range of finishes to ensure our products blend easily with vernacular stonework, creating beautiful finished aesthetics for that all important kerb appeal. Bespoke colours can be developed and offered for specific schemes.
As well as housebuilding, our walling is suitable for, and used in a variety of landscaping commercial projects and applications.
Available from stock in full loads or mixed loads with bricks.
You can view our darlstone walling selector to view these products in 3D.
Division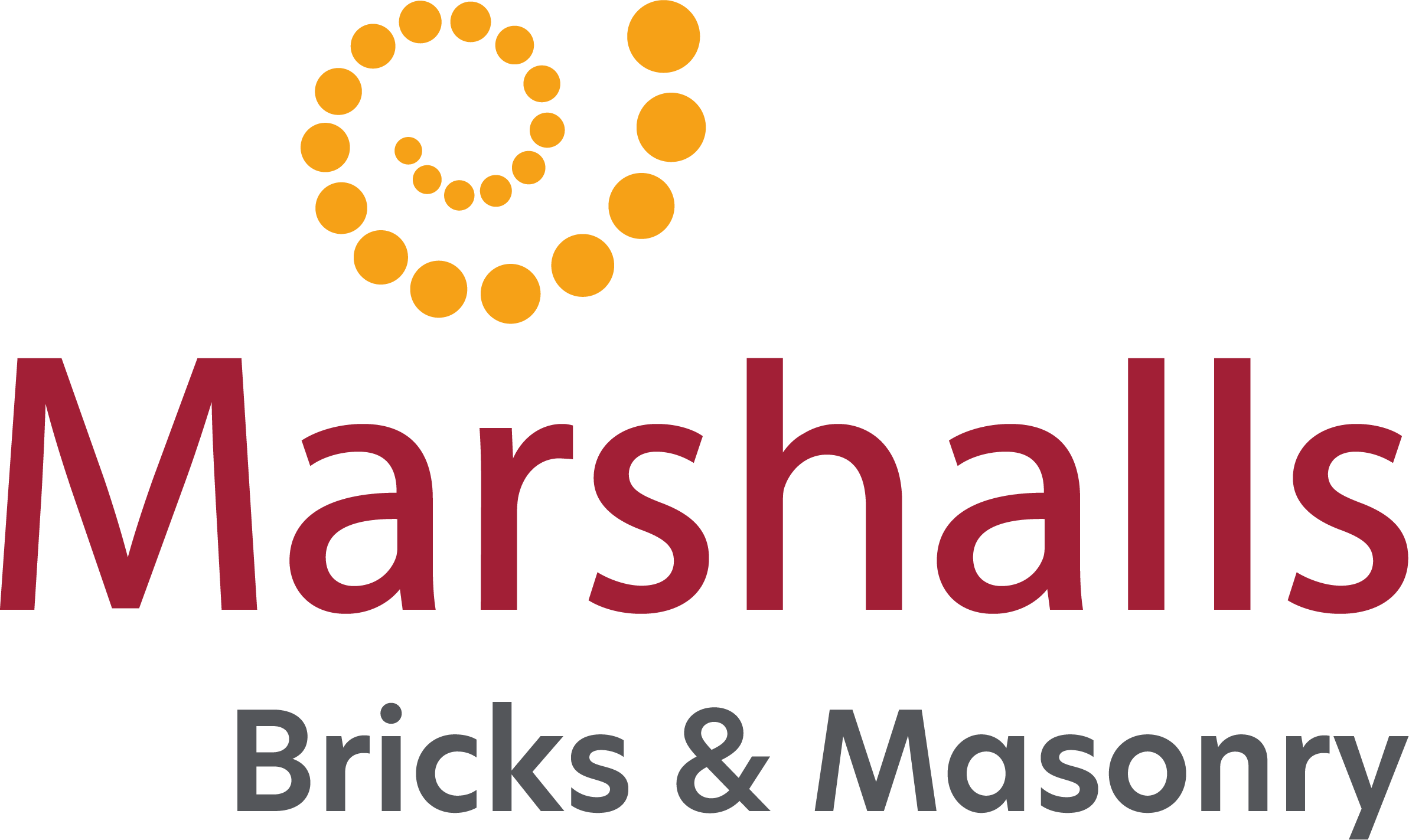 Certification Logos and Accreditations
| Product Name | Finish | Length (mm) | Width (mm) | Height (mm) | No. units per pack | Pack Size (m²) |
| --- | --- | --- | --- | --- | --- | --- |
| Darlstone Pitched 300 x 100 x 140 Buff | Pitched | 300 | 100 | 140 | 144 | 6.7 |
| Darlstone Pitched 300 x 100 x 140 Buff and Black | Pitched | 300 | 100 | 140 | 144 | 6.7 |
| Darlstone Pitched 300 x 100 x 140 Buff and Brown | Pitched | 300 | 100 | 140 | 144 | 6.7 |
| Darlstone Pitched 300 x 100 x 140 Natural | Pitched | 300 | 100 | 140 | 144 | 6.7 |
| Darlstone Pitched 300 x 100 x 65 Buff | Pitched | 300 | 100 | 65 | 288 | 6.7 |
| Darlstone Pitched 300 x 100 x 65 Buff and Black | Pitched | 300 | 100 | 65 | 288 | 6.7 |
| Darlstone Pitched 300 x 100 x 65 Buff and Brown | Pitched | 300 | 100 | 65 | 288 | 6.7 |
| Darlstone Pitched 300 x 100 x 65 Natural | Pitched | 300 | 100 | 65 | 288 | 6.7 |
| Darlstone Pitched 225 x 100 x 140 Buff | Pitched | 225 | 100 | 140 | 192 | 6.8 |
| Darlstone Pitched 225 x 100 x 140 Buff and Black | Pitched | 225 | 100 | 140 | 192 | 6.8 |
| Darlstone Pitched 225 x 100 x 140 Buff and Brown | Pitched | 225 | 100 | 140 | 192 | 6.8 |
| Darlstone Pitched 225 x 100 x 140 Natural | Pitched | 225 | 100 | 140 | 192 | 6.8 |
| Darlstone Pitched 450 x 100 x 65 Buff | Pitched | 450 | 100 | 65 | 192 | 6.62 |
| Darlstone Pitched 450 x 100 x 65 Buff and Black | Pitched | 450 | 100 | 65 | 192 | 6.62 |
| Darlstone Pitched 450 x 100 x 65 Buff and Brown | Pitched | 450 | 100 | 65 | 192 | 6.62 |
| Darlstone Pitched 450 x 100 x 65 Natural | Pitched | 450 | 100 | 65 | 192 | 6.62 |
| Darlstone Pitched 450 x 100 x 140 Buff | Pitched | 450 | 100 | 140 | 96 | 6.62 |
| Darlstone Pitched 450 x 100 x 140 Buff and Black | Pitched | 450 | 100 | 140 | 96 | 6.62 |
| Darlstone Pitched 450 x 100 x 140 Buff and Brown | Pitched | 450 | 100 | 140 | 96 | 6.62 |
| Darlstone Pitched 450 x 100 x 140 Natural | Pitched | 450 | 100 | 140 | 96 | 6.62 |
| Darlstone Pitched 300 x 100 x 215 Buff | Pitched | 300 | 100 | 215 | 96 | 6.7 |
| Darlstone Pitched 300 x 100 x 215 Buff and Black | Pitched | 300 | 100 | 215 | 96 | 6.7 |
| Darlstone Pitched 300 x 100 x 215 Buff and Brown | Pitched | 300 | 100 | 215 | 96 | 6.7 |
| Product Name | Finish | Length (mm) | Width (mm) | Height (mm) | No. units per pack | Pack Size (m²) |
| --- | --- | --- | --- | --- | --- | --- |
| Darlstone Rural 300 x 100 x 140 Buff | Rural | 300 | 100 | 140 | 144 | 6.7 |
| Darlstone Rural 300 x 100 x 140 Buff and Black | Rural | 300 | 100 | 140 | 144 | 6.7 |
| Darlstone Rural 300 x 100 x 140 Buff and Brown | Rural | 300 | 100 | 140 | 144 | 6.7 |
| Darlstone Rural 300 x 100 x 140 Natural | Rural | 300 | 100 | 140 | 144 | 6.7 |
| Darlstone Rural 300 x 100 x 65 Buff and Black | Rural | 300 | 100 | 65 | 288 | 6.7 |
| Darlstone Rural 300 x 100 x 65 Buff and Brown | Rural | 300 | 100 | 65 | 288 | 6.7 |
| Darlstone Rural 300 x 100 x 65 Natural | Rural | 300 | 100 | 65 | 288 | 6.7 |
| Darlstone Rural 225 x 100 x 140 Buff | Rural | 225 | 100 | 140 | 192 | 6.8 |
| Darlstone Rural 225 x 100 x 140 Buff and Black | Rural | 225 | 100 | 140 | 192 | 6.8 |
| Darlstone Rural 225 x 100 x 140 Buff and Brown | Rural | 225 | 100 | 140 | 192 | 6.8 |
| Darlstone Rural 225 x 100 x 140 Natural | Rural | 225 | 100 | 140 | 192 | 6.8 |
| Darlstone Rural 450 x 100 x 65 Buff | Rural | 450 | 100 | 65 | 192 | 6.62 |
| Darlstone Rural 450 x 100 x 65 Buff and Black | Rural | 450 | 100 | 65 | 192 | 6.62 |
| Darlstone Rural 450 x 100 x 65 Buff and Brown | Rural | 450 | 100 | 65 | 192 | 6.62 |
| Darlstone Rural 450 x 100 x 65 Natural | Rural | 450 | 100 | 65 | 192 | 6.62 |
| Darlstone Rural 450 x 100 x 140 Buff | Rural | 450 | 100 | 140 | 96 | 6.62 |
| Darlstone Rural 450 x 100 x 140 Buff and Black | Rural | 450 | 100 | 140 | 96 | 6.62 |
| Darlstone Rural 450 x 100 x 140 Buff and Brown | Rural | 450 | 100 | 140 | 96 | 6.62 |
| Darlstone Rural 300 x 100 x 215 Buff | Rural | 300 | 100 | 215 | 96 | 6.7 |
| Darlstone Rural 300 x 100 x 215 Buff and Black | Rural | 300 | 100 | 215 | 96 | 6.7 |
| Darlstone Rural 300 x 100 x 215 Buff and Brown | Rural | 300 | 100 | 215 | 96 | 6.7 |
| Darlstone Rural 300 x 100 x 215 Natural | Rural | 300 | 100 | 215 | 96 | 6.7 |
| Product Name | Finish | Length (mm) | Width (mm) | Height (mm) | No. units per pack | Pack Size (m²) |
| --- | --- | --- | --- | --- | --- | --- |
| Darlstone Split 300 x 100 x 140 Buff | Split | 300 | 100 | 140 | 144 | 6.7 |
| Darlstone Split 300 x 100 x 140 Buff and Black | Split | 300 | 100 | 140 | 144 | 6.7 |
| Darlstone Split 300 x 100 x 140 Buff and Brown | Split | 300 | 100 | 140 | 144 | 6.7 |
| Darlstone Split 300 x 100 x 140 Natural | Split | 300 | 100 | 140 | 144 | 6.7 |
| Darlstone Split 300 x 100 x 65 Buff | Split | 300 | 100 | 65 | 288 | 6.7 |
| Darlstone Split 300 x 100 x 65 Buff and Black | Split | 300 | 100 | 65 | 288 | 6.7 |
| Darlstone Split 300 x 100 x 65 Buff and Brown | Split | 300 | 100 | 65 | 288 | 6.7 |
| Darlstone Split 300 x 100 x 65 Natural | Split | 300 | 100 | 65 | 288 | 6.7 |
| Darlstone Split 225 x 100 x 140 Buff | Split | 225 | 100 | 140 | 192 | 6.8 |
| Darlstone Split 225 x 100 x 140 Buff and Black | Split | 225 | 100 | 140 | 192 | 6.8 |
| Darlstone Split 225 x 100 x 140 Buff and Brown | Split | 225 | 100 | 140 | 192 | 6.8 |
| Darlstone Split 225 x 100 x 140 Natural | Split | 225 | 100 | 140 | 192 | 6.8 |
| Darlstone Split 450 x 100 x 65 Buff | Split | 450 | 100 | 65 | 192 | 6.62 |
| Darlstone Split 450 x 100 x 65 Buff and Black | Split | 450 | 100 | 65 | 192 | 6.62 |
| Darlstone Split 450 x 100 x 65 Buff and Brown | Split | 450 | 100 | 65 | 192 | 6.62 |
| Darlstone Split 450 x 100 x 65 Natural | Split | 450 | 100 | 65 | 192 | 6.62 |
| Darlstone Split 450 x 100 x 140 Buff | Split | 450 | 100 | 140 | 96 | 6.62 |
| Darlstone Split 450 x 100 x 140 Buff and Black | Split | 450 | 100 | 140 | 96 | 6.62 |
| Darlstone Split 450 x 100 x 140 Buff and Brown | Split | 450 | 100 | 140 | 96 | 6.62 |
| Darlstone Split 450 x 100 x 140 Natural | Split | 450 | 100 | 140 | 96 | 6.62 |
| Darlstone Split 300 x 100 x 215 Buff | Split | 300 | 100 | 215 | 96 | 6.7 |
| Darlstone Split 300 x 100 x 215 Buff and Black | Split | 300 | 100 | 215 | 96 | 6.7 |
| Darlstone Split 300 x 100 x 215 Buff and Brown | Split | 300 | 100 | 215 | 96 | 6.7 |
| Darlstone Split 300 x 100 x 215 Natural | Split | 300 | 100 | 215 | 96 | 6.7 |