The Marshalls Ethical Risk Index (ERI) is the next step on the journey toward full supply chain transparency in the Natural Stone sector. Using a bespoke, independently reviewed scoring framework, customers are given a genuine insight into the multi-dimensional ethical challenges facing stone procurers; with the aim of apprising users of potential issues and with a clear rating system to allow for more informed decision making.
OUR OBJECTIVES
To distill the main frameworks driving ethical sourcing practice into a single bespoke framework, designed and tailored towards the challenges and issues specifically facing the imported stone industry. This includes the requirements of international law, the UN Global Compact principles, the Ethical Trading Initiative base code, and compliance with the Modern Slavery Act 2015.
To drive customer and stakeholder awareness of relative levels of ethical risk in stone supply; providing them with a more quantifiable view by scoring supply chains against key measures of ethical risk.
To better empower informed customer product selection by more clearly embedding ethical procurement considerations into the design and specification process.
To provide a benchmark for measuring improvements in standards going forward.
Marshalls lead the industry in ethical sourcing best practice and now invite stakeholders to learn more about the specific issues, risks and opportunities facing procurement in this area.
Risk Scoring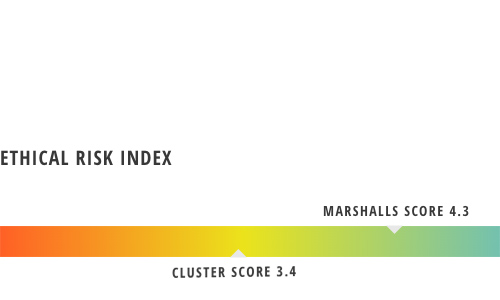 Scoring the ERI begins with an analysis at the Country-level, utilising various publicly available NGO-driven frameworks. From this, independent auditors, engaged to examine Marshalls supply chain, establish a baseline expectation of the cultural paradigm in that country. They can then delve into the supply chain and assess Marshalls' stone quarrying and processing operations; also contrasting it against the quarries and manufacturers supplying stone products to the wider stone industry. Thus the final ERI score for each stone type is always contrasted against the non-Marshalls supply chains for that material.
To illustrate the relative level of ethical risk, the Ethical Risk Index score is initially displayed using a basic Risk Indicator. This provides a quick, simple insight into the degree of ethical risk associated with that stone type, and how the Marshalls supply chain compares to the cluster. If users require a more in-depth perspective, they can access the Ethical Radar which clearly displays the scoring for that product against each of the 10 measures making up the ERI score.
Stone Types
Measure:1 Modern Slavery Act Awareness

This is a measure of the Marshalls journey on implementing the Modern Slavery Act and Marshalls declared actions from its Modern Slavery Statement.

The measure is scored on the suppliers "Awareness" of the Act, "Understanding" of the Act and "Implementation" of a Corrective Action Plan (CAP) where this has been deemed appropriate.

Note: this measure is not about the risk of modern slavery in the supply chain as this is assessed in the section "Employment Freely Chosen". It is about embedding the awareness of the UK legislation into the Marshalls supply chain. So, each supply chain will initially receive a low score here prior to any roll-out of the appropriate actions as declared in the Marshalls' Statement on Modern Slavery.

This reflects that the ERI scoring is dynamic and will be reviewed and change over time as the stone industry in each market develops.

Measure:2 Supply Chain Visibility

This is a measure of the transparency of the supply chain to raw material extraction. It is about how confident Marshalls can be that it knows how and where the product is extracted and processed into finished goods for re-sale. Supply chain visibility gives Marshalls the ability to be confident in assessing the ethical risks.

The measure is scored from "limited or no visibility" through having visited the supply chain, to ultimately having visited, audited and continuously monitored the supply chain.

Measure:3 Income & Employment Security

This is a measure of how the employees are paid and the contract of work. It is about how exploited the work force are and it gives some indication as to whether modern slavery may be present.

The measure has four issues against which it is scored, these are:

Wage levels

This measure is scored as to whether the wage being paid is below the National minimum or at or above a Living Wage. It may be that a proxy for a Living Wage is used where published rates are not available.

Payment of wages

This measure is scored from where wages are paid "in excess of every three months" or that "payment is within agreed time and through bank transfers".

Working Hours

This measure is scored from whether working hours are excessive, that being greater than twelve hours per day or if there are to best practice such as eight hours per day and five days per week and annual paid vacations.

Regular Employment

This measure is scored from whether the employee has no contract and is expected to work irregular work pattern through non-contracted but regular or seasonal work to the ultimate where the employ is directly employed and has a contract with the employer.

Measure:4 Health & Safety

This is a measure of health & safety precautions and the welfare of the workers. It is about the awareness of potential hazards and measure taken to prevent these.

The measure has four criteria relating to safe working conditions in the processing of natural stone; and two of welfare facilities:

Safe Working Conditions

Control of dust

Noise Level

Machine Safety: Personal Protection Compliance

with all these being measured from lack of awareness of the issue through some control and implementation to best practice systems, monitoring and reporting.

Welfare

On-site Facilities - Relates to the facilities on site such as toilets, rest areas, changing rooms etc including the provision of clean water.

Off-site Facilities - Facilities off site, which may actually be on site, of worker accommodation.

Both these issues are score from extremely limited through to acceptable. The provision and particularly the condition of the worker accommodation is another indicator that may lead to the concern of modern slavery however it must be recognised that living conditions whether provided by the employer of not, in many of the quarrying and processing district, may be very basic.

Measure:5 Social Well-being

This is a measure of how the supply chain treats its workers through harsh or inhumane treatment and how it engages with the wider community. The treatment of the workers in another potential sign of the potential of modern slavery in the supply chain.

The measure is scored for treatment on evidence for harsh or inhumane treatment through perceived treatment and finally exemplar treatment with good management systems.

The Corporate Social Responsibility program is score from none in place, through informal and limited up to embedded and exemplar.

Measure:6 Employment Freely Chosen

This is a measure that the workers freely chose to be employed at the location and is the true indicator of modern slavery.

The measure is scored by two issues, these being child labour and forced, bonded or prison labour.

Both issues are scored on a scale of evidence for employment not being freely chosen via perceived opinion to exemplar where formal management system are in place for each worker, documenting name, national reference number, contract of employment etc.

Measure:7 Empowerment

This is a measure of whether the worker has a voice with no consequences and whether they can join a labour organisation such as a Trade Union with the right to collective bargaining. Evidence of empowerment would suggest a very low risk of modern slavery.

The measure is split into two issues the first being Freedom of Association and the right to collective bargaining and the second is on levels of Discrimination.

Freedom of Association and Collection Bargaining

This is scored from "not permitted" by the management through some worker voice with the exemplar being that there is evidence of a recognised and independent trade union.

Discrimination

This refers to discrimination shown by the employer whether this is for example racial or religious, age, gender or disability. The score is derived from evidence of discrimination through "perceived" through to documentation indicating an understanding of the issue, to the highest level where policies and procedures with monitoring ensures there is no discrimination.

Measure:8 Environmental

This is a measure of the impact of the operation on the environment whether short or long term and what mitigation and future restoration is planned.

The measure is scored into two issues these being legal compliance and best practice engagement:

Legal Compliance

The legal is scored from not being legal through evidence of compliance, with the highest attainment being a full environmental management system such as ISO14001.

Best Practice

This is scored based on the supplier engaging voluntarily in issues of environmental impact reduction, specific examples in this industry may be water treatment and re-use, energy management or investment in renewables.

Measure:9 Governance

This is a measure of the overall transparency of the supplier; that it is a legal entity with ownership clearly defined and that it has management control with documentation and policies with management systems.

A lack of evidence in governance may indicate issues with employment rights and potentially modern slavery.

This measure is scored from "not legal" through some evidence of compliance to full business transparency with management systems and a suitable culture embedded in the supplier.

Measure:10 Corruption & Bribery

This is a measure of the supplier's awareness, understanding and implementation of standards on corruption and bribery.

This measure is scored from "accepted and the business norm" through acknowledgement and compliance with the Marshalls' Code of Conduct.

The highest level of compliance would be the supplier prohibiting these activities with documented evidence including such things as "whistle blowing" procedures.
ETHICAL RISK INDEX
Do you understand your natural stone supply chain?
The Ethical Risk Index is the next step towards full supply chain visibility in the Natural Stone sector. Marshalls' full commercial natural stone portfolio has been independently audited and scored based on ten ethical measures to gives customers the insight to make more informed decision making.
Read More