Distrikt®

Distrikt®
Customisable, free flowing seating
Let your imagination create something unique
Seating is an essential component of any public area, external and internal, whether used for sprawling open spaces or busy city centres.
Distrikt® is a linear, free flowing timber range designed to fit into a multitude of environments and is the perfect solution for projects requiring aesthetically pleasing practical seating. The collection is made up of a customisable seat and bench that truly offers unlimited combinations and choices.
Not limited to one constant direction, the interchangeable slats allow the units to swap between the seating styles and features.
The standard collection has been created for ease of selection and comprises of a straight or curved bench or seat with extra add-ons such as a table and armrest.
Distrikt® is manufactured in the UK and is created using FSC®- certified Iroko timber slats with a mild steel structure and loop legs.
Benefits include:
Customisable linear timber seating range
Unlimited customisation options such as colour, seating direction, armrests and backs
A free flowing seating range, that can be as long as the project requirements
The interchangeable slats mean that seating styles can change throughout one seating unit
Standard seating and a table available for ease of selection should it be required
Made in Britain from FSC®- certified Iroko timber with mild steel framework and loop legs
For more information download a copy of the Distrikt® Brochure
or select one of the product page links below to browse product information and place a quote.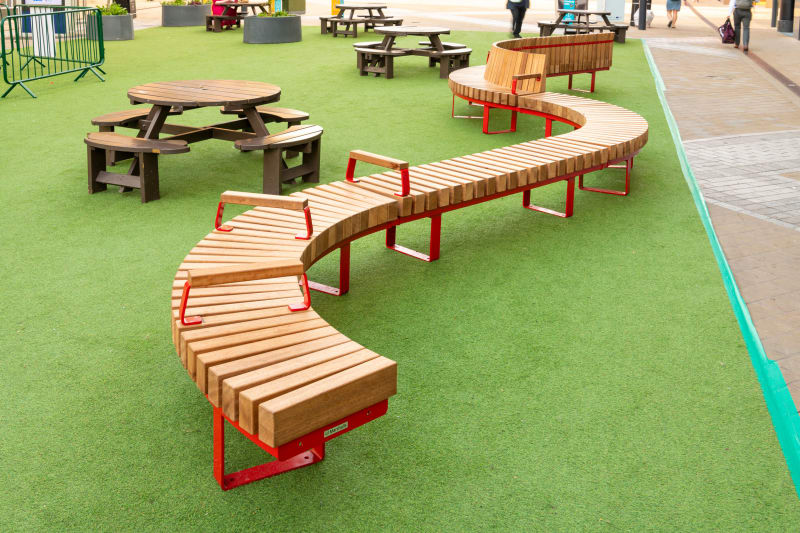 Case Study: Leeds
Distrikt® linear seating was chosen by Leeds City Council to be used in a pop-up park in the bustling centre of the city.

Located in Briggate, the busiest shopping street in Leeds, the seating area features a combination of curved benches and seats from the Distrikt® range combined together to create snaking curves.
Find out more