Date published 28 September 2021
We're really proud to have played a part in honouring Halifax heroine Anne Lister, with a plinth for a bespoke sculpture in the historic Piece Hall.The sculpture, by Diane Lawrenson, rests on a plinth crafted from Scoutmoor, a beautiful British sandstone unique to Marshalls, which was shaped and detailed just around the corner at our manufacturing site in Southowram.
The Piece Hall approached Marshalls earlier this month, not only for the ideal stone to complement the historic new installation but also to consult on the plinth design, ensuring it met the functional and practical needs of the courtyard where it would sit.
As the Piece Hall regularly hosts live music and events, the statue and plinth needed to be moveable and using Marshalls in-house expertise, they were able to achieve this.
With removable pieces to allow a forklift to easily pick up each 350kg section of the plinth, the sculpture can be placed elsewhere and the stone pieces returned to ensure the aesthetic integrity of the plinth remains.
Dave Stanger, Natural Stone Trading Director at Marshalls, said:
"As a Halifax-based company, it is a special kind of honour to be approached to mark an element of the town's history. We were delighted to donate our flagship natural stone, Scoutmoor which will stand the test of time in supporting this wonderful new statue."
The installation, named 'Contemplation' was unveiled by Suranne Jones, who plays the entrepreneur and landowner in the popular series Gentleman Jack, Sally Wainwright, who created the show and sculptor Diane Lawrenson on Sunday (26
th
September).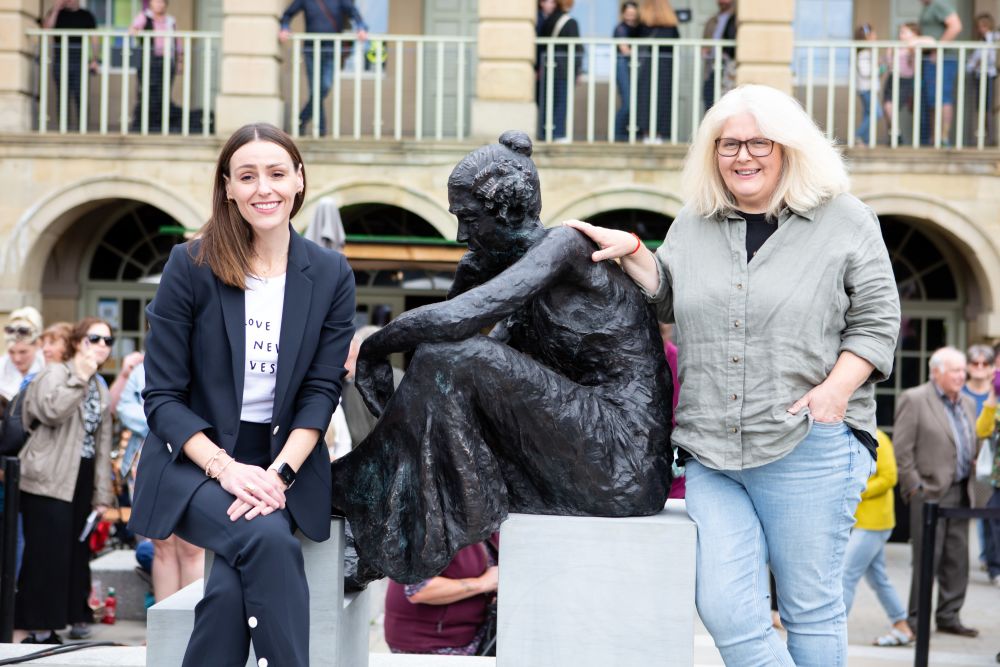 The stone plinth is made from Scoutmoor, a British sandstone, unique to Marshalls.
Chief Executive of The Piece Hall Trust, Nicky Chance-Thompson DL said:
"I'm so proud that The Piece Hall Trust has been able to support this stunning new piece of art which will permanently commemorate and celebrate the life of Anne Lister"
"She was a fascinating woman of her time, but is so much more than that; her story continues to hold so much resonance today and inspire women around the world.