Date published 16 May 2022
In a celebration of skill, talent and expertise, we held our annual Marshalls Register Awards in Chester on 13 May 2022.
After two years away, it was our pleasure to host over 200 guests at the prestigious awards at Carden Park Hotel. Over 450 projects from 156 different businesses were entered into our 10 award categories.
The big prize went to Dawson Landscapes based in Hartlepool, who were given the highly esteemed title of "Contractor of the Year 2021/22" for which they won a 1.5 Volvo excavator. They were also awarded 'Most creative use of a Marshalls product' for an incredible project which included a 3D Formula 1 car going into a tunnel, hand-cut using porcelain and granite.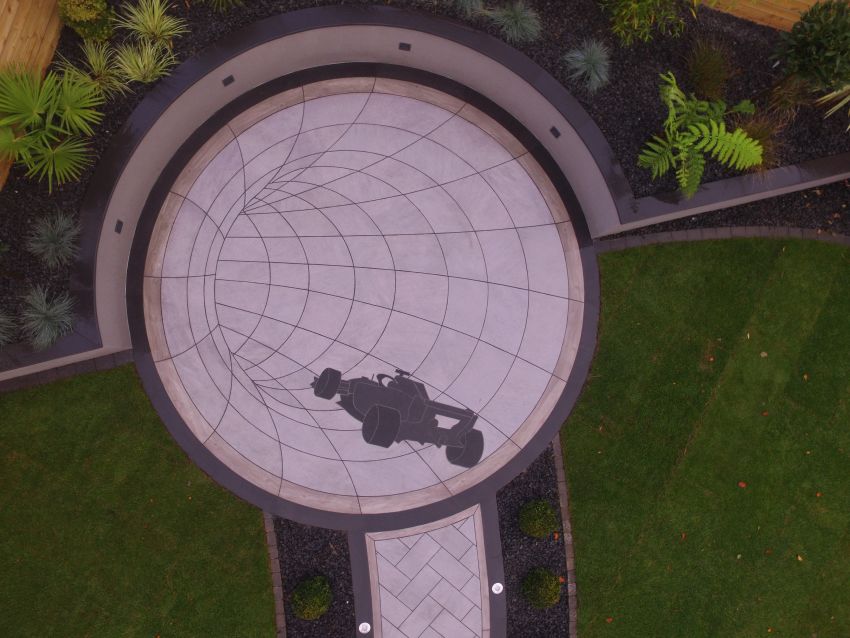 The Marshalls Register Awards invite contractors to vote for their peers, all projects are featured anonymously on our voting website, ensuring maximum credibility and integrity, which is a true marque of respect for all the winners.
Of their achievement, Andrew Dawson said: "I am so proud of the full team here at Dawson Landscapes, massive thank you to Marshalls for a brilliant award ceremony and an even bigger thank you to our fellow landscapers who voted for this project."
David Jessop, Operations Manager of the Marshalls Register said: "The awards are a fantastic opportunity to celebrate the talent within the industry and shine a light on some of the amazing spaces that have been created. The winning projects from Dawson Landscapes show huge amounts of creativity and skill, and it was no surprise that they were chosen by fellow members as the winner. Huge congratulations to all of our winners, and those that were successful in the regional awards too. It makes us proud to do what we do, and to work with the best in the business."

Special congratulations to this year's award winners which are as follows:
Best driveway transformation over 70m2 – CJ Paving
Best driveway transformation under 70m2 – Brockstone Landscape Construction
Best patio transformation over 40m2 – M Withall Landscapes
Best patio transformation under 40m2 – Signature Landscapes Design & Build
Best use of a new Marshalls product – Brighouse Driveways
Best engineering achievement – Walker Landscape and Design
Best use of Fairstone – Aura Landscapes
Most creative use of Marshalls product – Dawson Landscapes
Best project by a new entrant – Revolution Landscapes
Made in Britain Award – Waterdale Landscapes
Contractor of the Year – Dawson Landscapes
The Marshalls Register of Accredited Landscape Contractors and Driveway Installers is a national network of independent professional installers. All installers are strictly vetted and monitored by Marshalls to assess their levels of competence and performance.
People looking to
find a reputable garden or driveway installer
in their area can search on our website for a list of members. Contractors can also use the Marshalls website to
find out more about joining the Marshalls Register
.