5 trends from the 2018 garden shows
From sculptured seating to pastoral paradise, Marshalls highlights the top trends of the show season.
Show season is one of our favourite times of year. It's when gardening enthusiasts and top quality designers come together to create striking outdoor displays. From the minimalist to the magnificent, there's plenty out there to inspire anyone looking to bring some creativity to their own garden designs.
Marshalls attended some fantastic events this summer, supplying everything from paving to garden accessories for special gardens at the RHS Chelsea Flower Show and BBC Gardeners' World Live. Here, we break down the top trends for the 2018 garden show season.
BRINGING THE ROMANCE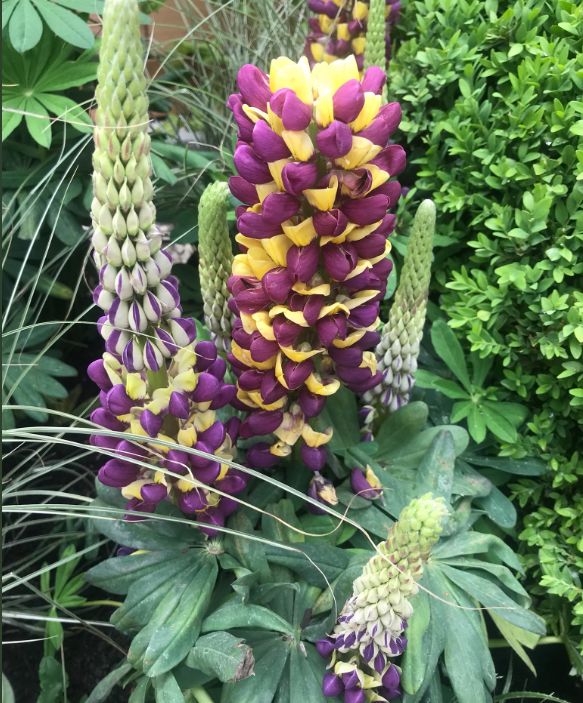 Nothing says romance more than fragrant flowers in full bloom. Traditional cottage favourites made a welcome return this year – with roses, geraniums and delphiniums charming attendees at several shows.
At the Chelsea Flower Show, Tom Massey's Middle Eastern garden was adorned with exotic fruit trees and herbs propped up on a building block wall. There were bursts of whites, purples and dark pinks in Lilly Gomm's enchanting 'The Family Garden' over at Hampton Court Flower Show.
At our garden at the RHS Chelsea Flower Show we showcased classic white foxgloves and bright purple lupins, creating a riot of colour as we imagined an outdoor space that was both practical and appealing.
DUG, SET AND TIERED
<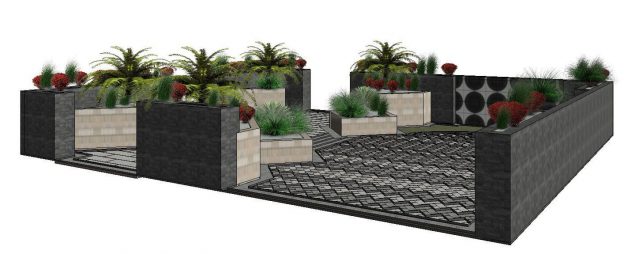 The warm weather didn't stop show gardens layering up this summer. Overlapping layers – both vertical and horizontal – were a major trend at the shows this year. This layering of plants, trees, paved layers and rockeries combine to create a gorgeous patchwork on any outdoor space.
In a garden, layering plants of varying sizes, colours and textures can create a sense of depth – and that's exactly what made BBC Countryfile's 30th Anniversary Garden such a success. Designed by Ann-Marie Powell, this display of over 12,000 plants – of 300 varieties – dazzled visitors at the Hampton Court Flower Show. The layered landscape of the garden represented the different terrains found across the UK and Ireland.
Layering was also reflected in the Marshalls' Front Garden at BBC Gardener's World Live this year. We positioned tiered planters at different levels, bringing colour, dimension and balance to our design, showing that a driveway can be a striking addition to your outdoor space when it's complimented by great planting and paving.
TEXTURE, TEXTURE AND MORE TEXTURE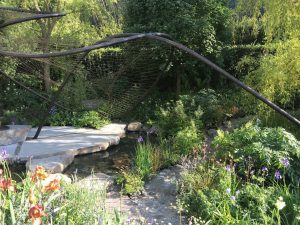 2018 was the year we brought back texture in garden design. Good use of texture relies on contrast – either between different types of paving and borders, or between natural elements like plants and pebbles. It can enhance the colours of plants and the shapes within a garden landscape, adding impact and interest to your garden.
We saw this in action at the Chelsea Flower Show in the gold medal-winning Wedgwood Garden. Texture was everything in this show-stopping entry intended to be a modern interpretation of an 18th century tea garden. In this sensory space, an almost undetectable path wound past rockeries and boulders along a stream.
It was here that our iconic Scoutmoor Yorkstone was used to great effect. Designer Jo Thompson cut the stone to create an elegant bench and table that embodied British luxury, while staying true to country garden roots.
OFF THE BEATEN PATH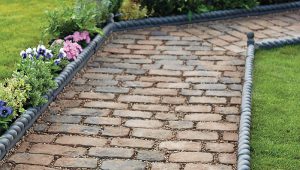 The Wedgwood Garden also nodded to another resurgent trend – cottage garden paths. Originally made from old bricks bedded into sand, these quaint garden paths can really bring out the vintage charms of a traditional setting. We saw many pastoral paradises making their cottage garden paths the centrepiece of their displays – promoted from the side-role they've played in years gone by.
There's something adorably quaint about flowers and herbs overhanging the boundaries of a garden path with ornate edging. When it comes to real-life inspiration, our Victorian Rope Top Garden Edging can help you achieve the ultimate rustic look. Available in two classic colours, the rope-top design of this form of edging pairs well with a traditional garden path. It looks right at home when bordered with shrubs and colourful flowers to create a true taste of a vintage cottage garden path.
SCULPTURAL CENTREPIECES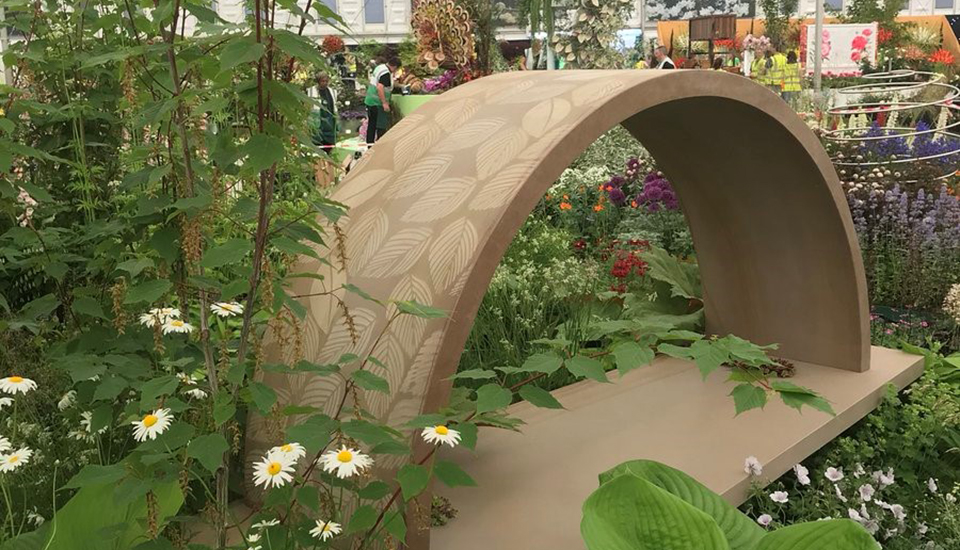 Dramatic sculptural forms make the perfect centrepiece in show season, and this year was no different. Seating in particular was used as an art form in many displays at the Chelsea Flower Show, combining aesthetics and practicality in an eye-catching focal point.
Two copper seats featured strongly in Kate Savill and Tamara Bridge's garden for Warner Edwards Distillery – inspired by the stills used to make gin. Then there was the MSGD garden by Nic Howard and Matt Keightley[1], who crafted a centrepiece double helix surrounded by striking planting.
Our Autumn Bronze sandstone was sculpted and hand finished to create the stunning statement piece pictured. Its subtle tones complemented the lush greenery and dainty white flowers of Hardy Plants' garden to gorgeous effect.
Looking for more inspiration? Browse our Garden Ideas for some great ideas for 2018.
[1] https://www.housebeautiful.com/uk/garden/g20889940/chelsea-flower-show-2018-plant-garden-design-trends/