Garden Walling
For homeowners across the UK, a garden is the perfect place for refuge and relaxation. As your own exclusive outdoor living space, it's somewhere to share with loved ones or take some time out from the hustle and bustle of the modern world. And what could be better than having your own landscaped garden that captures the very style and essence of who you are?
At Marshalls, our exceptional range of garden walling products is designed to help you create a cohesive outdoor area. From defining specific spaces to ensuring your privacy, our garden wall bricks will effortlessly complement our selection of driveway and garden paving. So, no matter how ambitious your project, let us help you create a space that you can take pride in.
From using ultra high-end smooth
Fairstone Sawn Walling
to create a beautiful sleek and contemporary stone wall to
Marshalite® Rustic Walling
for a more traditional setting, Marshalls have walling products to suit all tastes, styles and budgets. If you are looking for DIY walling, look no further than our
Croft Stone® Walling
for a simple, easy to install retaining wall system where no mortar is required.
Read more about our range of Garden Walling
Find an installer
Use your full postcode to find the nearest Marshalls Register accredited paving & driveway installer.


Garden Walls & Garden Walling
Take pride in creating a cohesive outdoor space and increase privacy around your home with Marshalls' range of garden walling products.
Contemporary and traditional options
Choice of natural stone or replica garden walling
Complementary steps, paving and edging
Copings and caps to match
What is garden walling?
An often-undervalued feature of any outdoor space, a brick or stone garden wall has the power to achieve incredible results. The right garden wall bricks can breathe new life into your garden – whether it's a fresh focal point, supporting structures or retaining parts of a sloped space.

It means that a garden wall can signify different things depending on the outcome you're hoping to achieve. But with the extensive choice of landscaping and retaining wall blocks that Marshalls has made available, you can be confident that we'll help you create the garden of your dreams.
Why do I need to build a garden wall?
From a practical retaining support to a decorative stone wall, the reasons for building a garden wall are unique to every homeowner. That's why the Marshalls range of garden wall bricks and blocks is designed to cater for every consideration.
Thinking about moving home soon? Half of people in Britain think a well-designed garden is as important (or more important) than a designer kitchen or bathroom when buying a new place. And garden walling is highly effective at achieving a design to help boost the value of a home.
But you don't have to sell a property to reap the benefits of premium garden walling. For 54% of homeowners, garden landscaping is one of the UK's most popular home improvements. So, why not transform your outdoor space into something that makes you feel truly at home?
Walling
Fairstone is an ethically-sourced sandstone walling that adds character and a quality finish to any project, while Stoneface Drystack Veneer walling comes in an array of colours for a distinctive look. For a more rustic retaining garden wall blocks choose Drivesett Tegula Walling.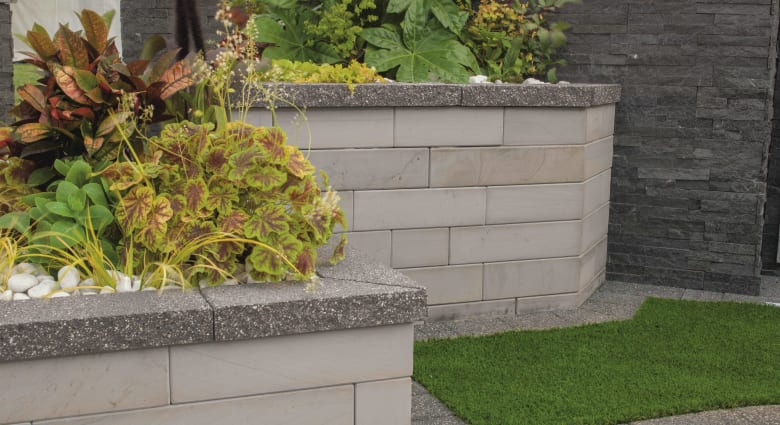 Why choose Marshalls for your garden walling?
By choosing Marshalls garden wall bricks for your project, you can be absolutely sure you'll get products that are designed and crafted to the very highest standards. For more than 120 years, our landscaping and retaining wall bricks have been at the centre of garden projects across the UK. No matter how original, creative or ambitious – you can trust our garden walling to deliver:
Unrivalled product range: Whatever the style of your home, our selection of premium garden walling offers contemporary and traditional options in the colours and finishes to suit any outdoor space.

Complete choice of extras: No chance of mis-matching materials in your garden with our choice of superb steps, paving and edging, as well as caps and copings to match.
Socially responsible walling: As a signed-up member of the Ethical Trading Initiative, Marshalls takes all reasonable measures to ensure our garden wall bricks come from ethical sources and involve no child labour.
Sustainable products: Marshalls was the first hard landscape supplier to carbon label our products – verified by The Carbon Trust.

Home Delivery Service: Not every local merchant will stock our garden wall products, so why not get what you need delivered direct to where you need it with our delivery service in no more than 3 days (minimum order quantity applies).

Quality and excellence: With 2,300+ personnel across 56 sites, Marshalls champions skills, craftsmanship and innovation in each product available to our customers.
For the best results from your project, we've also established the only fully vetted, nationwide landscape contractor scheme in the UK. Find a Marshalls-accredited installer local to you using our unique register and take one step closer to the garden of your dreams.
What garden walling products do I need?
At Marshalls, we aim to offer an exceptional choice of garden walling products to help you bring your ideas to life. With the range of options available to pick from, our garden wall blocks come in different materials – standing the test of time and making a beautiful addition to your home:
Add a touch of luxury to your garden by building a stone wall that guarantees a beautiful look – no matter the style and surroundings. All our garden wall stone products are ethically sourced.
For an easy-to-install veneer system for existing or purpose-built walls, look no further than our Stoneface Sawn and Drystack options. Our Fairstone collection, meanwhile, is available in three finishes and has the power to deliver a rustic or modern feel – whatever your designs demand.
From classic options with a modern twist to supreme traditional finishes, our reconstituted stone garden wall range could be ideal for your project.
Each option in this range complements many of our garden paving and driveway products. With Marshalite Pitched Walling, infuse your front garden wall with charm and character. And for that perfect DIY retaining wall solution, our Croft Stone Walling option is second-to-none.
Looking for the timeless appearance that only brick walls can achieve? This is the option for you – an authentic, hand-made garden walling option that creates a vintage, distinguished look.
Make no mistake, however. Our Old Mill Brick Walling comes with the same frost resistance and strength as any modern brick. It also comes guaranteed for 12 months for your peace of mind.
At Marshalls, we recommend using coping and caps with all our garden walling products to help protect walls against the staining effect of rain.
Our diverse range of coping and caps are designed to complement any garden wall design. You can even customise your choice too. When you choose from our pre-cast range, we'll work with you to create a bespoke solution that meets your requirements.
Where can I purchase Marshalls garden walling?
With hundreds of stockists around the UK, you won't be far from somewhere with your chosen Marshalls garden walling products. Let us help you to find your nearest stockist using your full postcode. Many of our stockists now have hard landscape displays to help you decide too.
Marshalls has a 48-hour delivery commitment with all our Builder Merchant Partners – even if your local merchant doesn't stock the exact garden wall blocks you want. Our Home Delivery Service lets you order through your local merchant – and we'll deliver to you within 2-3 days.
You can also buy online from our Web Trading Partners for even greater convenience.
Stay in touch
Subscribe to our newsletter now and keep up to date on our latest products, advice and helpful guides