Showing 12 of 63 Products
Why choose Marshalls paving slabs? videos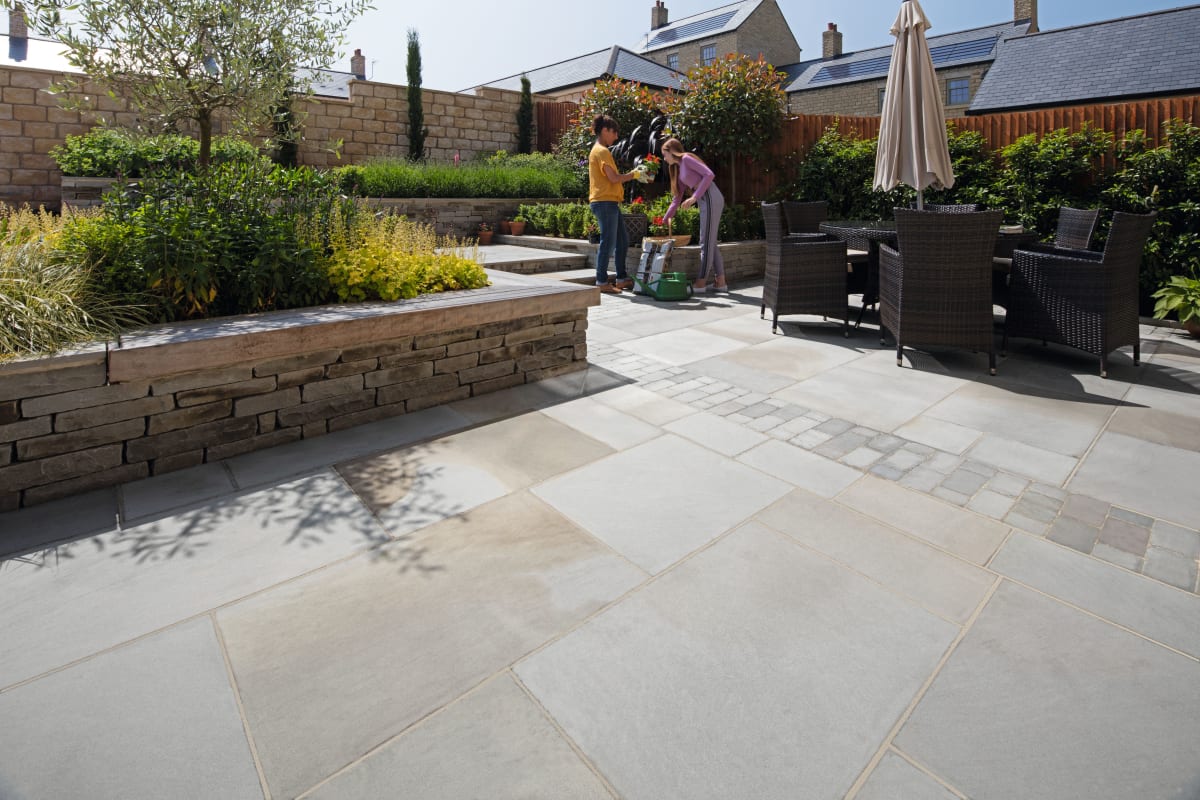 Why choose Marshalls paving slabs?
Product quality: We're committed to creating the highest quality products for any outdoor space. Our paving stones feature in homes and gardens nationwide – along with prestigious public projects including Trafalgar Square and Wembley Stadium.
Manufacturing: We employ 2,300+ workers across 56 sites – celebrating the best skills, craftsmanship and innovation under the Made in Britain marque.
Ethical sourcing: As an Ethical Trading Initiative member, we aim to adhere to the highest ethical standards. If you choose a product with the Fairstone mark, it means we've taken every reasonable precaution to ensure child labour has not been used.
Sustainability: We're the first heavy-side materials company from the UK to join the UN Global Compact – the world's largest citizenship and sustainability initiative.
Marshalls Stone Standard: To guarantee complete quality assurance of our products, we repeatedly and independently test all our sandstone to ensure low water absorption rates, high flexural strength and optimal frost resistance.
What are paving stones and slabs?
Paving stones (or slabs) are the definitive option for creating eye-catching, long-lasting patios and garden paths that will stand up to the elements and the test of time. While usually square or rectangular in shape, the Marshalls range also includes circular paving stones to add a focal point at the centre of any landscaped garden space.
What can paving and patio stones be used for?
Here at Marshalls, we offer a diverse and versatile range of garden paving and patio stones for anyone thinking about revitalising their outdoor spaces – even balconies and roof terraces.
Are you looking to replace an existing patio – or maybe lay a brand-new one? Our patio stones give you a wide choice of options for creating attractive paved areas and outdoor spaces. With a patio you can be proud of, how you use it is up to you – al fresco dining, summer entertaining or simply to be at one with nature. For more inspiration, explore our top 10 patio design ideas.
Our range of garden paving isn't just for creating patios, however. Paving stones are the ideal choice if you want to lay a path or stepping stones that contrast effortlessly with the other colours and styles in your garden. We can also supply steps for that finishing touch.


How do you choose the right paving slabs for your garden?
With paving slabs available in a variety of styles, colours and materials, it can be hard to decide which product(s) are right for your dream garden. But we can help you make your final decision on the type of garden and patio tiles that will enable you to achieve your vision.
Colours
Colour can be an important consideration when choosing the right paving slabs for your garden, patio or landscaping project. Even if you're unsure about textures or materials, many people do have a colour palette in mind – that's why we offer a full spectrum in our garden paving range.
Looking for something understated that brings more colour into your garden? Why not consider the warm, natural tones of Heritage Riven Garden Paving? Or for a bolder look that offsets your garden's greenery, Symphony Vitrified Classic paving slabs could be the ideal option for you.


Materials
At Marshalls, our garden and patio slabs are made from a variety of materials – meaning you'll be able to find the right style, texture and finish to create truly personal outdoor spaces.
Options include:
Scoutmoor: Our exclusive, premium British Yorkstone garden slabs are available in two finishes – flamed rustic surface texture or smooth diamond sawn.

Lazaro Marble: For unmistakable elegance, marble paving stones bring a timeless charm to any property. The sawn, tumbled effect delivers a subtle non-slip finish.
Sawn Vensuro: Ethically-sourced Quartzitic sandstone from India allows this garden paving option to meet the highest standards of style and durability.

Casarta Slate: High quality Brazilian slate is used in the creation of these luxurious paving slabs that are tailor-made for contemporary garden and patio projects.

Granite Eclipse: Modern, consistent and tough, a lightly-flamed surface texture also means these premium-grade granite patio tiles have superb non-slip properties.
For the look and feel that fits with your garden or patio project plans, explore the full range of Marshalls garden paving slabs – whether you're looking for inspiration or have already decided.
Wear
No product is completely maintenance-free. To keep your garden or patio looking its best for as long as possible, it can be worth thinking about these factors when choosing your garden slabs:
Use/purpose: What is the space you're creating for? If it's a heavy-use access path, you might prefer a more resilient material such as limestone or granite. It may also be worth considering a product with non-slip qualities.
Location: Where are you laying your garden paving? In some conditions, algae and moss growth can be a problem. But vitrified paving slabs can help reduce opportunities for organic growth. For swimming pool areas, consider concrete or natural stone paving.

Weather: For particularly cold or wet locations, it can be even more important to get the right patio slabs. Non-slip options are certainly advisable in rainy locations, while materials like Alverno stone are adept at withstanding cold or frosty conditions.
What sizes do garden slabs come in?
No dream garden is the same – it's unique to your ideas and imagination, as well as the space available. We recognise the individuality of each and every garden or patio project and provide paving slabs in several sizes to help you get the product and finish you want – from 275 x 275 x 22mm garden slabs up to our 1200 x 1200 x 22mm Sawn Versuro Jumbo patio tiles.
Where can I order Marshalls garden paving slabs?
Found the perfect garden paving slabs? Ready to make your purchase? Buy your Marshalls product online and receive free delivery on ALL orders over £500 or more.
Delivery lead time will be 5 working days. For more information about delivery, click here