Kerb & Path Edgings
Marshalls edging stones are the ideal solution to complete your driveway or path edging. Add value to your home and bring a lasting impression for visitors when you use garden edging.
View our high quality
Savanna Kerb
or
Drivesett Kerb
which are part of our concrete edging stones options. If you are after a classic finish then
Antique Rope Edging
is for you. All can be coordinated with other Marshalls product ranges.
With a large number of colour varieties and different finishes, we have the garden path edging for you.
Read more about our range of Kerbs and Edging
Find an installer
Use your full postcode to find the nearest Marshalls Register accredited paving & driveway installer.


Kerb and Path Edgings
Add a practical and stylish finishing touch to driveways and paving when you choose kerb products from Marshalls. Our wide selection of path edging is made from high-quality, ethically-sourced natural stone.
Provides a perfect finishing touch to your project
Choice of natural stone and replica
Range of colours and textures to suit any design
A practical and attractive detail
Why install kerb edging?
It is estimated that a new driveway can add 10% to the value of your average home – with that figure increasing in locations where parking is at a premium. Well maintained paving meanwhile is among the most beneficial garden features according to various property experts.
The pros of stone or brick edging extend beyond mere monetary value, however. They serve several key aesthetic and practical functions, both in guiding movement, and protecting your existing landscape features. These include:
creating separation and visual demarcation between distinct areas, helping to guide visitors in the directions you choose – whether on foot or by car
· maintaining the integrity and strength of the driveway or garden paving they border, keeping pavers in place and restricting the growth of roots or grass
· improving the final appearance of a project, either through complementing existing features such as furniture and ornaments, or creating eye-catching contrast
· aiding the direction of surface water runoff into drainage systems (sometimes when used in conjunction with a driveway channel), helping to prevent flood damage and related safety risks
Edging is an easily undervalued feature in any domestic landscaping project, but at Marshalls we believe it is an essential. Discover how these stones can add extra to your exterior.
Why choose Marshalls kerbs and path edging products?
As the nation's leading supplier of hard landscaping products, we have been helping UK homeowners create beautiful and practical outdoor spaces for over 120 years. The long-standing quality of our path and kerb edging is bolstered further by the range of design and installation services we've assembled to help turn your creative ideas into reality.
· Comprehensive product range: From textured finishes to natural stone or more specialist edging types, find the finishing touch for your home project in the Marshalls path and driveway edging range
· Built to last: All our stones are repeatedly tested by an independent, UKAS-approved laboratory to ensure long-term consistency and performance for the buyer
· Compatible with all driveway and pathway paving: Our edging products can be effortlessly coordinated with our other ranges to create a fully cohesive outdoor aesthetic
· Ethically sourced: Take peace of mind in the knowledge that we are a member of the Ethical Trading Initiative, taking all reasonable measures to ensure our products aren't the result of child labour
· Committed to sustainability: We were the first hard landscape supplier to carbon label our products, an act verified by The Carbon Trust
· Ideas and inspiration: Utilise our garden and driveway design tools to get creative, experiment and transform your outdoor space before your very eyes
· Home Delivery Service: Order the products you need to wherever you want them within 3-5 working days (minimum order quantity applies)
· Excellence and expertise: Marshalls employs over 2,300 talented personnel across 56 national locations, with craftsmanship and innovation driving everything we do
Need a little more guidance with your home project? You can use our register of Marshalls Accredited Installers – the only nationwide and fully vetted landscape contractor scheme in the UK – to enlist the help of a professional near you. They will be able to assist in selecting and installing your ideal paver edging.
What is path and driveway edging?
Garden path and driveway edging provide a visual and protective edge to the areas of the home it borders. These stones come in various shapes and materials, from concrete edging to natural stone and replica options, and can be found in both contemporary and traditional designs to suit the look you are aiming to achieve.
Whether you are updating the family home or carrying out a complete makeover of a new property, the right edging could add the finishing touch you have been looking for.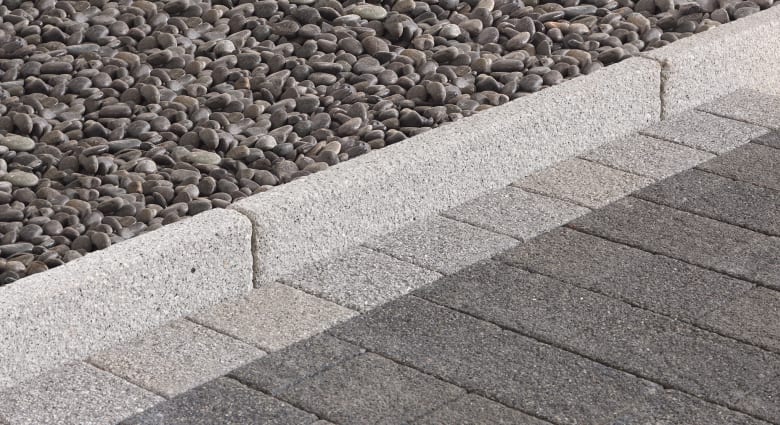 What kerb and path edging products do I need?
Are you focusing on a single element of your outdoor space, or tackling everything in one go? At Marshalls, our extensive range of edging products gives you everything you need to refresh your driveway, outdoor paving and garden paths, and secure them for years to come.
As the first sight that greets you when you return home and the focal point for guests and passers-by, a well-kept driveway is worth the effort and investment. Choose from contemporary and traditional concrete edging styles to add extra curb appeal to your property, while protecting your garden areas from stray car wheels and other hazards.
Available types include bull nosed, rounded, splayed and more. From the rustic appeal of our Drivesett 4 in 1 Kerb to the contemporary profile of the Driveline 4 in 1 Kerb or the granite-look textured finish of Drivesett Argent Edging, you have plenty of options available to round off your driveway design in style.
From functional routes providing access around your home to immaculate garden paths that guide feet and eyes to where you want them to be, paver edging provides distinct demarcation in every application. Our range features different shapes, colours, finishes and styles to satisfy the vision of every home landscaping enthusiast.
Complement your classic taste with our Victorian Rope Top Edging in traditional deep red, or add a contemporary touch with Argent Textured Edging in light or dark grey. Alternatively, create a natural stone effect with Hewnstone Edging.
Effective drainage is essential for all properties, and especially so if your outdoor space is prone to flooding or surface water pooling. Failure to give adequate consideration to drainage could render your driveway hazardous and leave your well-manicured garden vulnerable to water damage.
Thankfully, Marshalls Driveline Channels allow you to guide water to a soakaway within your property boundary. This functional range also blends seamlessly with block paving edging and other edging options.
With such extensive choice, it can be difficult to know where to start with your new project. For complete confidence from planning through to installation, speak to a Marshalls Accredited Installer to talk through your options and find the perfect products for your space.
Where can I buy Marshalls kerb and garden path edging?
Whether you'd prefer to pick your Marshalls edging products up yourself or have them delivered to your home, you can choose which of these options works for you.
If you opt for the former, you are bound to find a stockist near you. Simply enter your postcode and see which of the hundred-plus stockists across the country is most convenient. Many now feature Marshalls landscape displays in-store, allowing you to see the products in person before you make your decision.
You can also
buy online
from a Marshalls Approved online retailer. You'll be able to find all our products at a competitive price and choose a delivery day that suits your schedule. Our home delivery service allows you to order through your local merchant and receive your products within 3-5 working days.
Why choose a Marshalls Accredited Installer?
A landscape design only performs as well as its installation. Whether you opt for concrete path edging alone or a full outdoor makeover, we created the Marshalls Register of Accredited Installers to give you complete confidence in the excellence and durability of the projects you plan and invest in.
It is the UK's only fully vetted nationwide landscape contractor scheme, and each installer is approved by our regional assessors for their levels of competence and performance. You can rely on their advice, product knowledge and craftmanship to deliver the results you've dreamt of.
· Accredited and regularly monitored by Marshalls representatives
· Expertise in product selection and project design
· Specialist skills and high installation standards
Your chosen installer will also be able to provide you with the option of a Hard Landscape Guarantee of 10 years on your edging products, and five years on their installation – a level of cover unmatched by any other company. Get peace of mind over your path or driveway edging with a Marshalls Accredited Installer.
Stay in touch
Subscribe to our newsletter now and keep up to date on our latest products, advice and helpful guides