Driveways
A driveway is much more than just a practical, off-street place to park your car. An attractive, modern driveway can create a strong first impression. It also has the potential to increase the value of your home – especially if parking space is at a premium where you live.
At Marshalls, we offer a comprehensive range of driveway paving stones to help you achieve a premium, long-lasting look with your new drive. With multiple styles, finishes and colours from which to choose, you'll find the perfect paving products to shape the driveway of your dreams.
Read more about our range of Driveways
Find an installer
Use your full postcode to find the nearest Marshalls Register accredited paving & driveway installer.


Driveways
An attractive driveway gives a strong first impression and can even boost the value of your home. Marshalls has a range of driveway paving that can achieve a premium, long-lasting look.
Our driveway paving slabs come in many styles, finishes and colours – and are available in a selection of stone materials.
Many of our driveway paving products have coordinating kerbs, walling, edging and circle features to complete your driveway transformation with a stunning design.
Whatever style you're looking to emulate – whether it's a unique pattern using our Drivesett Tegula Block Paving Circles, or a uniform design with Fairstone Driveway Setts – at Marshalls you'll find the right driveway paving for you.
Explore our range and find out where to pick up the materials you need using our stockist search tool.
The biggest driveway paving range in the UK
Huge selection of natural and replica stone slabs
Coordinating kerbs, walling, edging and circle features for driveways
Permeable driveway paving available for better drainage
Project packs stocked
What is a driveway?
Creating a paved driveway has become a popular option for many homeowners across the UK. At least one in four front gardens nationwide are now paved. One reason for this is a surge in car ownership – more than 75% of households now own at least one car, according to figures from the government. But don't only look at your driveway as a personal parking space.
A premium paved driveway is the gateway that guides you back home every day. It's also the first focal point for guests arriving at the place where you live – and people passing by too.
Why should I get a new driveway or update an existing one?
By updating or creating a new driveway, you can frame the outside of your home in the style that you decide. With a wide range of driveway paving stones, setts and cobbles to pick from, Marshalls gives you the freedom to shape an outdoor space that reflects your personal tastes.
There are practical benefits to upgrading or laying a brand-new driveway too – not least given your vehicle will spend most of its life parked at home. Laying a new surface can create a safe space for your vehicle that reduces the risk of damage from parking on-street or a worn drive.
And what if you're thinking of moving home? A stunning driveway could help you get more for your property – with a parking space often one of the things homebuyers look for the most.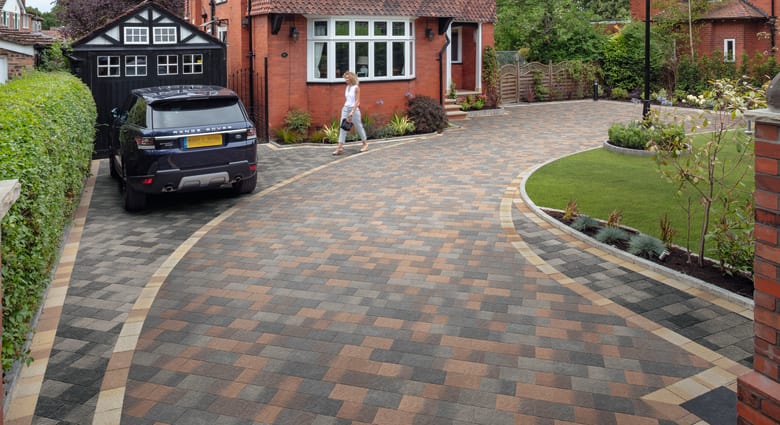 Choosing between concrete and natural stone driveway block paving
With the broad range of all our block paving products you may be faced with a huge amount of choice. It's helpful to understand the differences between stone and concrete driveways. Concrete can, basically, be anything you want – its handmade in the UK using moulds, which allows for the uniform look in terms of colour and texture. We also give it an authentic look by using real natural stone face profiles. Stone, on the other hand, has colours that have developed over years and therefore, give the most natural effect. As both stone and concrete block paving can be manipulated and processed to create something to your taste, the decision comes down to personal choice and budget when purchasing driveway paving.
Why buy Marshalls driveway block paving?
For more than 120 years, we've produced high quality driveway paving products to help people transform the outside of their homes. But, at Marshalls, it's not just supplying the products you need to create a unique, attractive driveway that we excel at. We also have an extensive range of services for you to use – enabling you to plan your new driveway with total confidence:
Huge product range: Find the style, colour and materials to help you achieve your dream driveway, whether you'd prefer a traditional look or a contemporary finish

Customer satisfaction: 99% of our customers recommend Marshalls products
Performance guaranteed: Marshalls driveway paving stones are guaranteed for a minimum of 10 years with our Hard Landscape Guarantee (Ts&Cs apply)
Ethical products: We're signed up to the Ethical Trading Initiative and also take all reasonable measures to make sure child labour isn't used to produce our products

Ideas and innovation: We have more than 2,300 expert personnel across 56 sites working towards the highest standards in skills, craftsmanship and innovation

Let us inspire you: Use our Driveway Visualiser to get a better idea of what you're able to create when you choose from our fantastic range of products

Delivered to your home: The products you want, delivered where you want within 2-3 days when you use our Home Delivery Service (minimum order quantity applies)
In addition, why not explore our unique register of Marshalls-accredited installers? You can find someone who'll understand what you're looking for and make sure you get the right products.
What types of driveway paving are there?
Marshalls is proud to offer the UK's largest range of driveway pavers. It means we can provide an unrivalled choice of stones, slabs, setts and cobbles – depending on the style or look you want.
But we know that such a wide range can make it hard to know exactly which product(s) will be the ideal fit for your project. So, here's an introduction to the driveway paving we can supply:
Block paving
From the distinctive shape of our streamlined Driveline Metro stones to the exquisite Victorian style of the Drivesett Deco block paving slabs, there's definitely something to suit all tastes or spaces. If it's a splash of colour you're after, look no further than Driveline 50 – available in a choice of 6 shades. It's no wonder it's one of our best-selling driveway paving options.
For a driveway with even more desire and distinction, don't forget our block paving circles too.
Permeable paving
A classic product with a sustainable twist – our permeable driveway paving stones are a must if you want your drive to withstand heavy or sustained rainfall. With our unique patented "Priora" nib, these driveway pavers let surface water pass through into a specially designed sub-base.
As a Sustainable Urban Design System (SUDS), you won't need to also think about a soakaway, tank or membrane. The rainfall is simply returned to the water table in an efficient, sustainable way – helping to future-proof the integrity and performance of your driveway for years to come.
Setts and Cobbles
Modern or traditional, our selection of setts and cobbles instantly add class to any driveway. In this prestigious range, you'll find our patented Drivesys systems – exclusive to Marshalls.
With our Drivesys range, the results you can achieve with your new driveway are truly sublime. Drivesys Original Cobble is ideal if it's a timeless classic to create a grand entry you need. Want something more contemporary? The smooth lines of the Drivesys Split Stone could be for you.
Our range of driveway setts and cobbles also includes ethically sourced Fairstone options.
Security and accessories
There's more to achieving your dream driveway than choosing the right paving stones. Kerbs or edging stones are essential to the look and performance of any project. At Marshalls, we offer a range of options to complement our driveway paving stones so no restraints look out of place.
For extra peace of mind, the Marshalls Driveway Security Post is a simple device for use in front of a garage or driveway entrance. And even if you have a gravel driveway, we can still help with Drivegrid – the permeable system designed to stabilise your drives and paths.
With this extensive choice, buy with confidence from Marshalls. Explore our driveway paving range – and find out where to get what you need with our stockist search tool.
Stay in touch
Subscribe to our newsletter now and keep up to date on our latest products, advice and helpful guides