Creating an award-winning family garden
Turning a garden on a hill into a luxurious family space is no mean feat but it's one that Paul Bate and his team at Signature Landscapes Design and Build achieved with amazing results. We asked Paul to tell us a little more about how he created this fantastic family garden, which won him the title of Marshalls Contractor of the Year in 2019.
I've been a landscaper for over 15 years, so I've worked on all types of gardens over the years. However, this project tested our skills in new ways. From extreme weather to building on a 3m incline, I'm proud to say we beat the odds and the customer got their dream garden.
Designing the garden
We were asked to design and build the customer's outdoor space, so I spent around a month backwards and forwards with the customer; sharing ideas, discussing plans and refining the design itself. The main criteria was to create a multi-levelled entertainment space which was safe for their three small children to grow in.
We looked at pictures online of the types of gardens they liked. From this created a mood board of ideas to refine and discuss, before I then went away with the difficult task of incorporating all these ideas into the space itself, which was on a 3m incline. My finished design included built in features such as a summer house, climbing wall, a seating area and a bio-ethanol fire.
Building the garden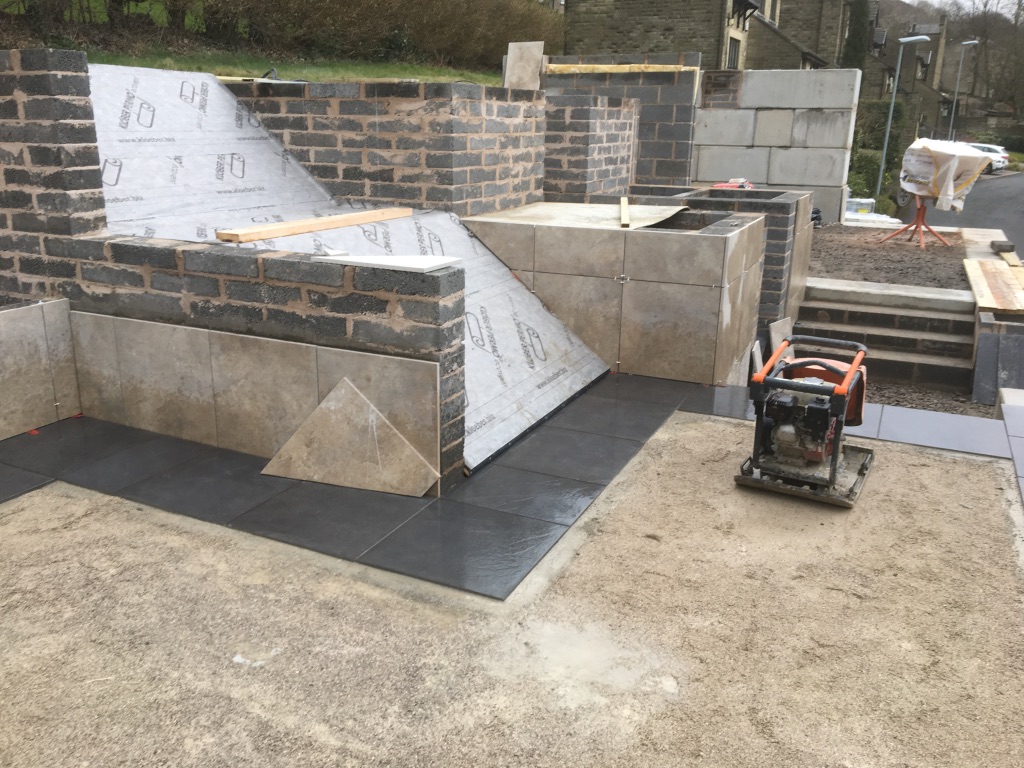 Dealing with the garden slope
The most obvious challenge with the build of this garden was the incline. With this garden, our starting point was to dig out the area and remove 420 tonnes of earth. This stage of the work began in winter 2018, unfortunately for us this was just as the Beast from the East struck. Excavating and building on a slope in these conditions was very hard going. In order to retain the banking and form the garden structure, 500x500x1200 concrete blocks were used weighing 1.5 tonnes, and were lifted into place using a city crane. We used additional blockwork to create planters, water features and steps.
The garden paving
As a
Marshalls Accredited Installer
, there was no question over our choice of supplier for this garden with all the paving sourced from Marshalls. I used
Symphony
Porcelain paving
throughout the garden. Blue Symphony was used for the general patio areas, walkways, steps and to clad the bespoke fire pit. The colours were chosen to complement the surrounding environment and to blend with the neighbouring houses. I also used Umba Symphony Porcelain alongside veneer walling
Harvest Stoneface
to clad the walls and the summer house.
Bespoke elements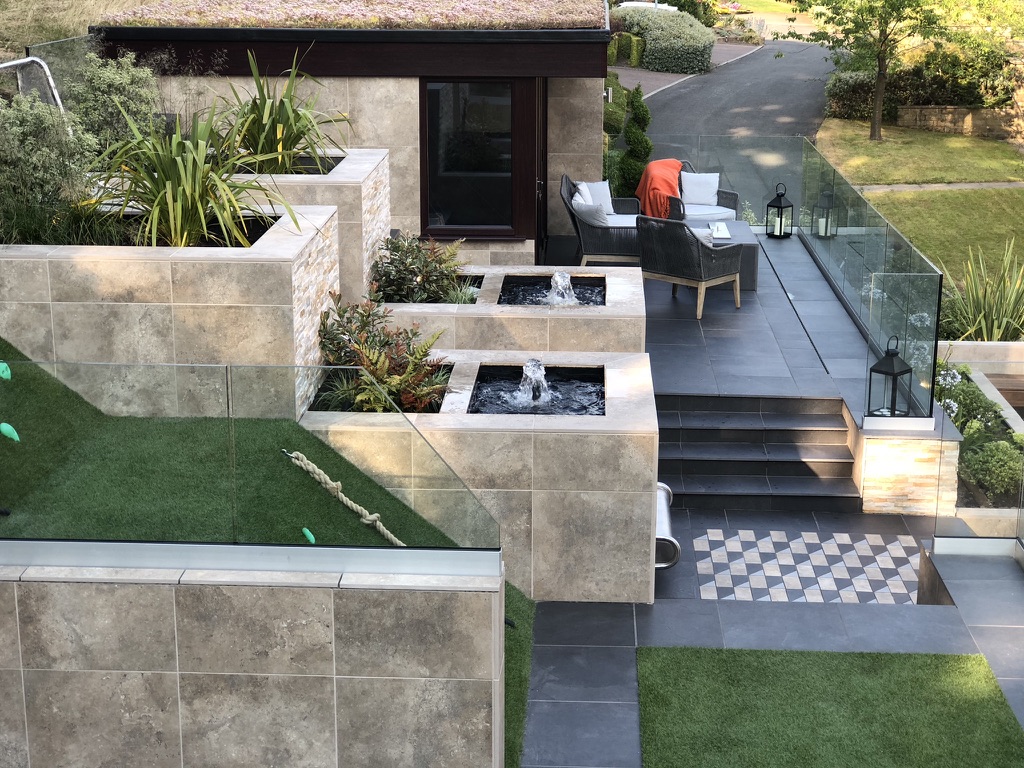 To truly make this a garden like no other, we created a bespoke pattern using Symphony paving. Designed to give the illusion of stacked cubes, the pattern was created by cutting down three different colours of the tiles to exact angle measurements, in order to fit together perfectly. The cuts themselves took two days alone for a total of 14m2 across two areas of the garden.
Bringing fun to the garden
Our customers really wanted their garden to be fun for the whole family so we installed a 1m by 2.5m high slide down the centre of two water features and planters. We also created a climbing wall using artificial grass, ropes and climbing holds and added an extra area of grass with a feature chalk board for creative play. All of these things were built strong enough for adults to use as well as children. In my view, when incorporating fun factors into the garden – don't be afraid of going big! This allows the adults to get involved; adding to the fun, as well as allowing the design features to grow with the family and stand the test of time.
Garden seating area and summer house
We built the seating into the garden using yellow balau hardwood timber and cedar red slatted screen fencing. Built in seating is a good way of maximising space and can create a key visual feature within any garden, alongside under planting and lighting to highlight this at night. The summer house was built into the hillside with seamless porcelain flooring and bifold doors linking to the outdoor balcony with in-built fire pit; giving the customers a beautiful view of the surrounding landscape to be enjoyed all year round. We covered the summer house roof in sedum to blend into the natural environment and to promote the conservation of bees and other local wildlife.
Planting and lighting
As we had made such a dramatic change to what was originally a very green hillside, it was vital that we used the planting to soften the hard landscape we had installed. Carefully selected planting not only had to fit in with the style and colours of the design, but also had to withstand the weather conditions that come with a hilltop garden.
When it came to lighting the garden, because it is across several different levels we needed to consider safety as well as aesthetics. We chose Ansell lighting to highlight the key garden features and LED light strips under the built-in seating area, highlighting the planting beneath.
The garden renovation timescales
From my experience, I'd consider this to be a major garden renovation; it took three people five months to build this garden from start to finish with few delays. This came within our estimated timescale of between 5 and 6 months. I would advise customers to treat the works as an extension of your living space rather than just a patio and lawn area.
Advice for landscapers
As garden designers and landscapers, we are used to being outside in all weather, but this project took us to the extremes in terms of cold and heat (the latter part was during the summer of 2018). What I'm most proud of is taking the clients brief, fulfilling it by utilising what started as such a blank canvas and providing them with a space that they can enjoy for many years to come. Since winning the Marshalls Contractor of the Year Award, I've had a few fellow landscapers ask me for advice on handling a job like this or creating bespoke elements for a smaller garden. My best advice is don't be scared about trying something different and try not to get overwhelmed by the scale of any larger projects.
Advice for people looking to renovate their garden
As I've mentioned, a sloping garden can present challenges and mean that excavation work is necessary. Whilst this adds to the cost of the whole job, it is worth doing as it will create a more useable space. You'd be amazed at how much more space can be created by levelling your garden. You can use the slope to your advantage by creating multi-levels which provides a lot more interest to the space visually and helps when creating different zones. My key advice to anyone looking at renovating their garden would be this - always think of your garden as an extension of your living space and link your interior design outwards, because anything is possible.