Garden Sculptures
Your home and its style reflect your personality. The colours you choose for your walls, the furniture you carefully select and all the smaller details, from the door handles to the picture frames, have something to say about who you are. Whether you're a minimalist with a craving for clean lines or a bohemian with a love for excess and frivolity, your environment should work in tandem with your character. This is also true for your outdoor space.
Garden accessories are a fantastic way to bring a touch of character and individuality to your garden. We've picked five different types of garden sculptures from around the world for inspiration – and also show you what we have in our garden.
Wood
Sculptors like Tim Burgess work with the most natural and warm of materials – wood. He uses a chainsaw to shape stunning depictions of wild animals, family pets and fairyland-inspired pieces from his base in Cheshire. If you like garden artwork that seems to be hewn from the very earth on which it stands, beautiful rustic pieces like these could be just your thing.
Contemporary
Extremely fashionable and exquisitely well-designed, sculptures created by artists like those managed by Terra Sculpture bring a fresh note of contemporary cool to the garden. The materials used are of a fantastically high quality and include powder-coated steel, stainless steel and weathered steel. Combining nature and art in a variety of settings to great effect, metal garden sculptures provide a real focus point in larger domestic gardens.
Warm and welcoming
Whimsical and charming, bronze sculptures suit an English country garden. Depicting adorable floppy-eared dogs, resting reindeers, sweet rabbits or other appealing animals, these garden ornaments will provide pleasure for years to come. In a similar vein, aged stone fountains and small statues also lend gardens an old-fashioned, gentle atmosphere.
Oriental elegance
A sense of zen-like calm and a deep respect for form is to be expected from a sculpture that takes its lead from the oriental style. Smooth-flowing curves, yielding materials and a passion for great design are all found in the work of artists like Kylo Chua. For some, a Buddha statue is the ultimate in Eastern sculpture, and with his radiant smile and tranquil pose, the sage does have an attractive aura of deep peace.
The Marshalls garden
We have some new additions to our garden in Elland, West Yorkshire, in the shape of six, two metre high stone sculptures. Created by sculptor Michael Disley, these sculptures were carved from Jaipur Sandstone, which is a warm durable stone from India.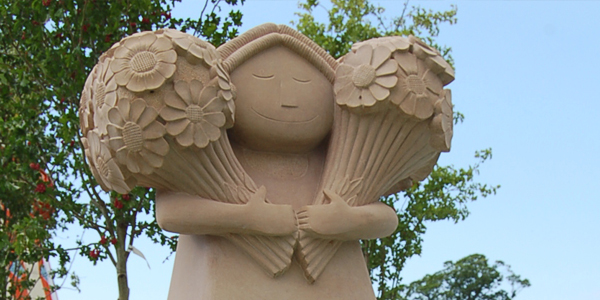 Whoever you are and whatever your personal style, expressing your own tastes in garden ornaments can be more satisfying than following trends. Your garden should be a place of retreat and reflection, creativity and joy. By choosing garden sculptures, ornaments and other accessories, you can add to this ambiance and take extra pleasure from your lovely garden