Small garden ideas
Beautifying your garden with luxurious ornaments, tropical planting and luxury paving is almost everyone's idea of an outdoor utopia.
If your garden happens to be on the smaller side, implementing these dreams can feel like a challenge. But with a little creative thinking, you can add a touch of flair regardless of the size you have available. Here are seven of our favourite small garden design ideas:
1. Use edging to create sharp garden boundaries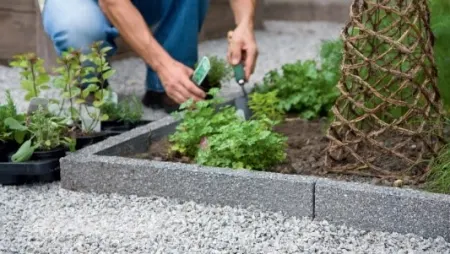 (source: https://www.marshalls.co.uk/homeowners/view-argent-textured-garden-edging)
Defined edges in a small garden not only create the illusion of a bigger outdoor space, but deliver an attractive look. If your garden has a small patio area with an adjacent lawn, this is the perfect opportunity to bring some order and hierarchy into play.
Start by digging flowerbeds along the sides of your lawn to open up the possibility of adding colourful flowers – an extra decoration for your garden. Then, create clear boundaries between bed and lawn by installing Argent Textured Edging. It will deliver a uniformed style that enhances your small outdoor space – and keeps your lawn in check, too.
2. Create a rustic paradise with wooden plank paving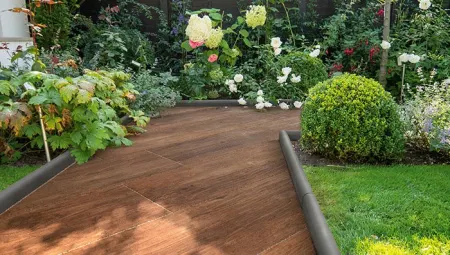 (source: https://www.marshalls.co.uk/homeowners/view-symphony-vitrified-plank-garden-paving)
The au naturale look is a winning style for many types of gardens. Best of all, you don't need room for a treehouse and raised decking to replicate this in your outdoor area. Simply introduce a small area of wooden plank paving to create a rustic appearance.
Symphony Vitrified Plank Paving has a beautiful natural texture and opens up the possibility of adding further decorative touches, such as additional planting and accompanying furniture. What's more, it doesn't warp over time – so it's a smart, long-lasting solution.
Adding plank paving is perfect if you're looking to host small gatherings in your garden, or even create a small alfresco dining area.
3. Introduce garden steps and line with plant pots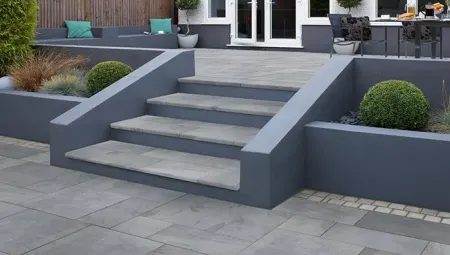 (source: https://www.marshalls.co.uk/homeowners/view-casarta-slate-steps)
If you can't expand your garden horizontally, why not try vertically? If you can squeeze some garden steps into your outdoor space, you have a ready-made canvas ready to decorate with planting. Casarta Slate Steps are a narrower option that offer a luxurious look for smaller gardens.
Steps can provide additional decorating space, which you could fill with plant pots. Choose different plant pot styles and a selection of flower varieties and colours to line the side edges of your steps – taking care to avoid putting them in the main gangway.
Opting for different coloured plant pots, flowers and leaf shapes can create a vivid colour palette – particularly effective in a small outdoor space.
4. Expand white space with lighter paving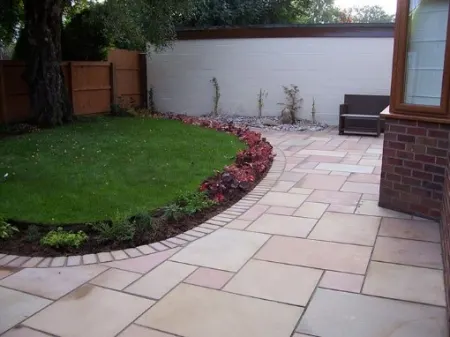 (source: https://www.marshalls.co.uk/homeowners/view-fairstone-sawn-sandstone-garden-paving)
Small gardens can suffer from a lack of natural light, but adding brighter paving can help negate this and make the space feel bigger. Options such as Fairstone Sawn Versuro sandstone paving – in a caramel cream colour – make the most of the sunshine your garden gets.
Increasing the amount of white space in your garden not only illuminates your surroundings but can create a slice of the Mediterranean in your outdoor space – a little piece of paradise.
Though you'll need to maintain the paving more frequently in the winter months due to its lighter colour, it's worth it to have a brighter colour scheme that defies the shorter days of winter.
5. Add a small section of brick walling
(source: https://www.marshalls.co.uk/homeowners/view-old-mill-brick-garden-walling)
Garden walling adds a new dimension to your garden – increasing its overall depth and providing a characterful backdrop. If your garden has room for a small walling section, this is definitely an avenue worth exploring.
What's also worth thinking about is the decorative elements you could add. Wall planters are available in a variety of shapes and sizes – complementing styles such as Old Mill Brick Walling perfectly.
To create a classic British summer garden, why not add single wall planters with a playful mix of geraniums? Or think outside the box by adding wooden shelving – similar to window planters – which can be easily fixed to brick walling of any height. When populated with colourful planting, it can add a lively aesthetic to your garden.
6. Use bright furniture to add a flourish of colour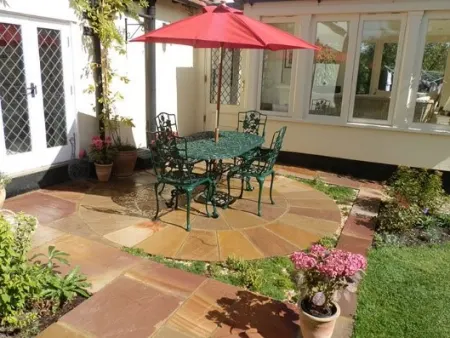 (source: https://www.marshalls.co.uk/homeowners/view-indian-sandstone-circle)
Adding colourful garden furniture can brighten up a small garden. Benches, chairs, stools and tables – in lighter tones – can add vibrancy to your garden and help create an outdoor space to while the hours away during the warmer months.
You don't necessarily need to buy new garden furniture to do this. Just giving your existing furniture a fresh coat of paint and protective varnish could breathe new life into your old garden fixtures.
Coloured outdoor furniture can complement circular patio designs, which usually demarcate where your décor should sit. Indian Sandstone Circles add to the charm and function of any small garden by creating a defined seating area.
7. Add new planting around small paved areas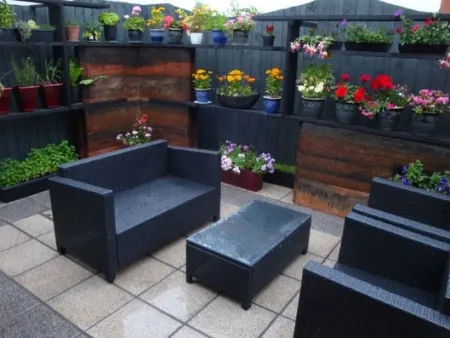 (source: https://www.marshalls.co.uk/homeowners/inspire-me)
If your garden consists of a small patio area, you may have empty channels of planting space. Filling these gaps with planting is a quick way of adding more character to an outdoor space of limited size.
You could introduce small flowers as a decorative element in plant pots, adding a burst of colour to contrast with paving like Argent Smooth – the grey tones of which contrast beautifully with lighter blooming flowers.
Or you could add climbing plants against parallel fences for a living wall-like effect. Alternatively, opt for towering plants in pots to add extra depth to your outdoor space.
If you're going for the towering plants option, choose planting that adds greenery. Bamboo, when in a plant pot, is easy to manage, and also adds height while creating a lush environment in your small garden.
Try implementing a few of these ideas in your own garden. If you're looking for more ideas, take a look at the edging, paving and walling products we have available – and find more inspiration on our blog for homeowners.