10 clever garden design ideas to transform your outdoor space
Award-winning garden designer Pip Probert spends her days creating beautiful garden designs and is one of the designers on hit BBC2 programme Your Garden Made Perfect. We asked Pip to share some of her wisdom with us, below she shares ten clever garden design ideas to help you transform your outdoor space.
With much more time spent at home in our own gardens, we are now more aware than ever of how the space needs to work for us. Here are ten garden design ideas that will help you to rethink your outdoor space. From DIY garden design ideas to larger projects where you'll want to involve the professionals, I hope this helps you to make your garden perfect for you and your family.
1. Altering the shape of your lawn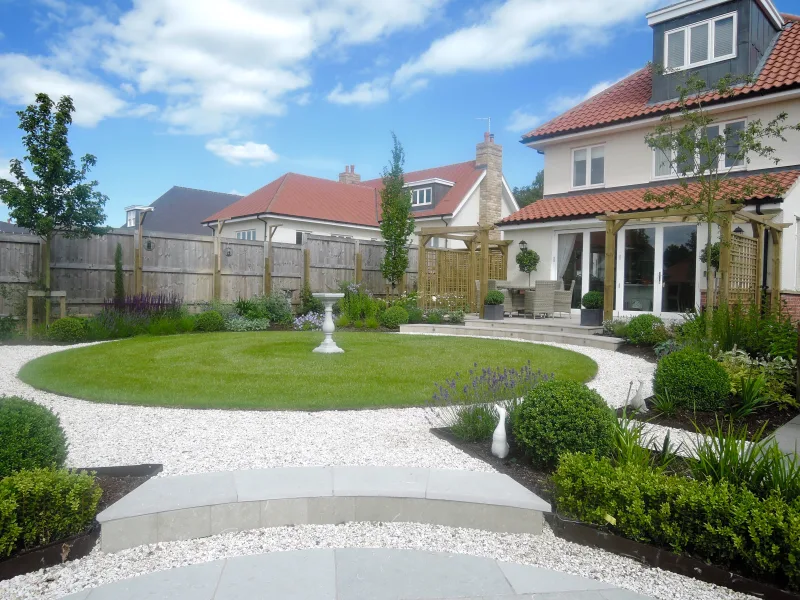 Garden design featuring circular lawn and Marshalls Symphony paving, by Waterdale Landscapes
So many of us have an outdoor space consisting of a lawn with fence surround. By being bold and reshaping your lawn to create a more defined shape (or pattern) you can instantly give a 'designed' feel. Less is more; a singular geometric shape can really give impact. You could also use stone setts or cobbles to enhance the lawn shape and tie the soft elements of the garden to the hard. This is a garden idea that works well for small, medium and large sized gardens.
2. Adding height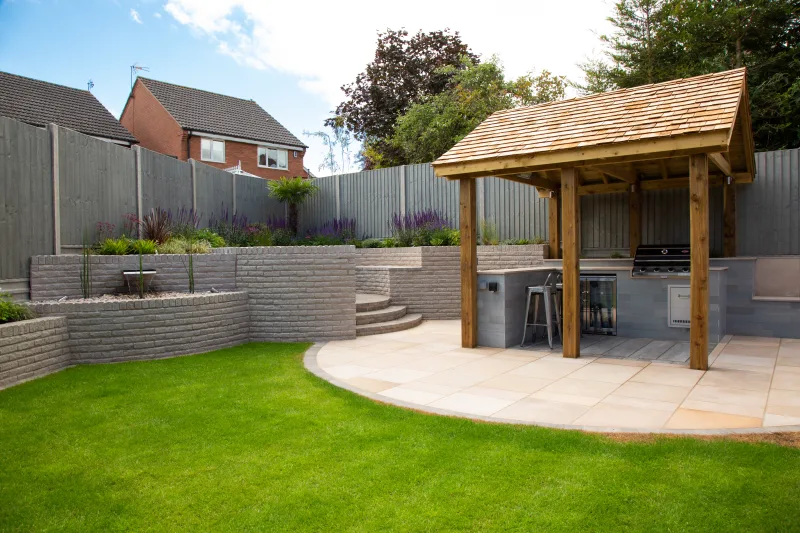 A multi-height garden design featuring Marshalite Walling, by the Garden Design Company
Introducing height into your garden creates instant interest. Add an arch, and all of sudden your flat garden design becomes 3D. There is a door to walk through, a framed, windowed view, or simply a structure that invites you to look in a certain direction – such as a sculpture positioned in the distance. Don't just focus on tall heights either, raised planters or built-in seating can also add height interest and are a great idea for small gardens as well as large. Planters can add a strong structural element, and the materials you use can enhance the feature further, such as decorative tiles or even paving stones fixed vertically to the structure.
3. Change the internal boundaries to create flow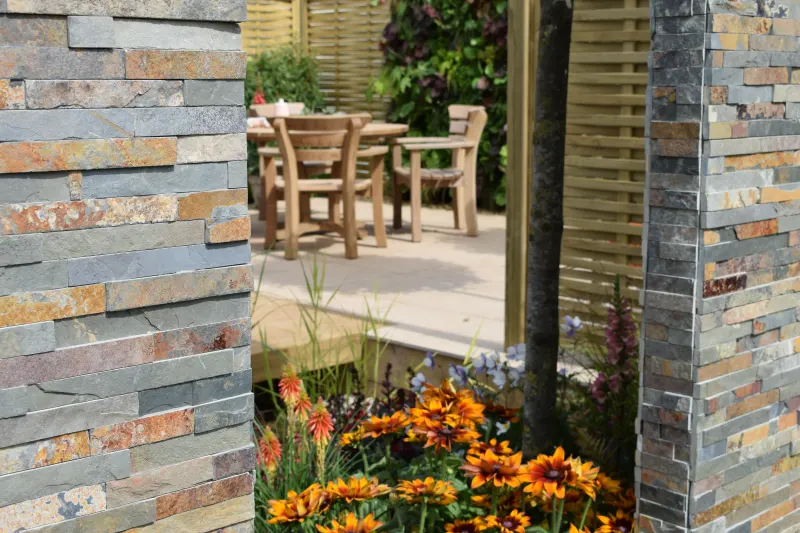 Marshalls Drystack Veneer Walling, used in a garden design by Pip Probert, Outer Spaces Landscapes Ltd
One thing I often tell my garden design clients is that if you can see your whole garden from the window, you are less likely to go out and walk around. Creating new and interesting internal boundaries helps you break the plot up into individual 'rooms', create intrigue and flow across the space. These boundaries could be decorative panels, trellis and climbing plants, solid structures like walling, or simply a planted border or featured multi-stem tree. They don't need to be solid! You could even create a 'transparent' boundary of more delicate plants such as Agapanthus, Verbena or various ornamental grasses. Anything which causes you to change direction in a garden will help you to keep exploring and make your space interesting all year round.
If you do prefer something more solid for a garden boundary, you could use sections of wall to create sculptural interest, height, and intrigue. The walls will become a focal point and integral part of the garden – they could be clad in decorative tiles such as Marshalls Drystack walling, which is beautiful but natural.
4. Stopping places in your garden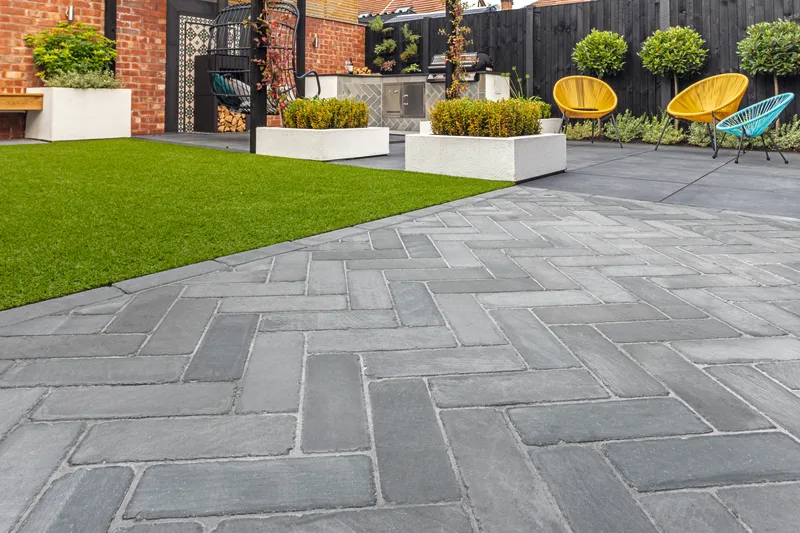 A modern garden design featuring several grey paving types including Marshalls Alvanley Pavers. Created by Signature Landscapes
A garden design which flows well will create various pockets within the overall plot. Once you've achieved this, you can elaborate on each space. It's lovely to explore and walk around a garden, but it's also nice to be able to sit and enjoy each individual area. Whether it be large feature stones you can sit on, a low wall you can lean and rest against or a purposely positioned bench, creating rest areas in your garden allows you to follow the sun (or shade), sit in peace away from the family or simply enjoy a good book and cup of tea in your own secret hideaway!
Your garden design should be unique to you, each of these individual areas could be unique to the purpose, or the individual that claims it for their own personal place. Why not try using different materials on the floor, to break up the monotony of a single material type. These punctuations on the route around the garden help to create the desire to stop and enjoy.
5. A 'wow-factor' feature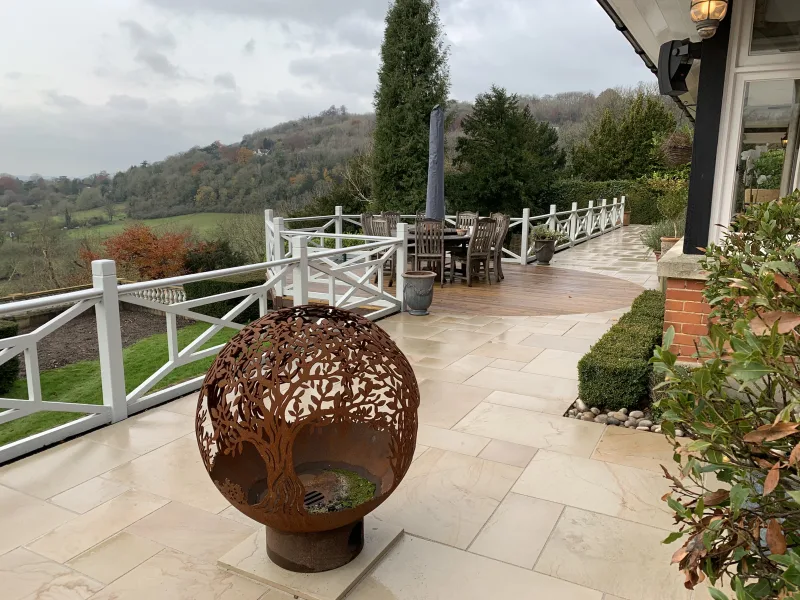 A beautiful patio featuring a unique cortern garden sculpture, garden created by Reigate paving Company
Even if you are looking for something simple, you can still create that 'wow factor' feature, and it doesn't have to be an expensive, bought item. One of my favourite garden design ideas is to use regular materials in a different way or finding something unique and making a feature out of it. Your wow factor is something that makes people look – a water rill cutting through your patio, or a sunken planter as opposed to a raised one. Or even an old piece of stone with a hole in from the reclamation yard, made into a water feature or a window to frame plants, back lit with warm lighting.
An intricate patio design can make a bold statement and a talented installer will have the skills to create the design and precision cut the paving. Using Marshalls bespoke laser cutting service you could create a stunning feature, unique to you and your garden – whether it be a pattern cut into the tile, and back lit or something engraved onto the stone and then positioned into the wall or floor?
6. Choice of material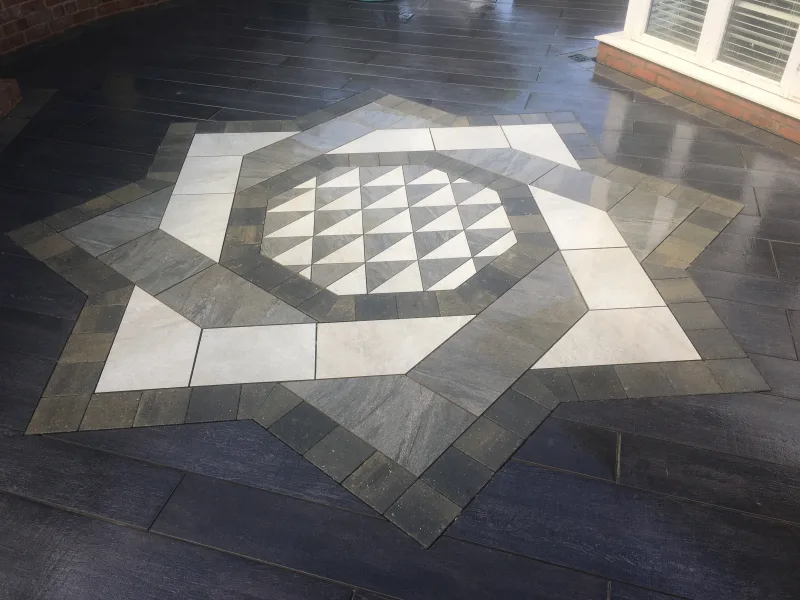 A one-off patio design created by Avant Gardens using Marshalls Symphony Classic in Barley and Drivesett Savanna block paving
It is easy to pick a single paving stone and use it for all the hard-landscaped areas in your garden design; but this can look a little heavy. Break it up and introduce other materials, adding further interest and creating sections. I like to use cobbles, setts or even gravel to change the feel and texture as you walk around a space. You can even use these items as a pattern within a larger paved area, which works just as well.
Combining large and small units, in either the same product or even an alternative colour in the range can bring a flat patio to life. Use the materials to define areas and make them more interesting. The shapes can even encourage you to keeping moving around the garden – for example long thin plank style paving could inspire you to move forward.
7. Soften with plants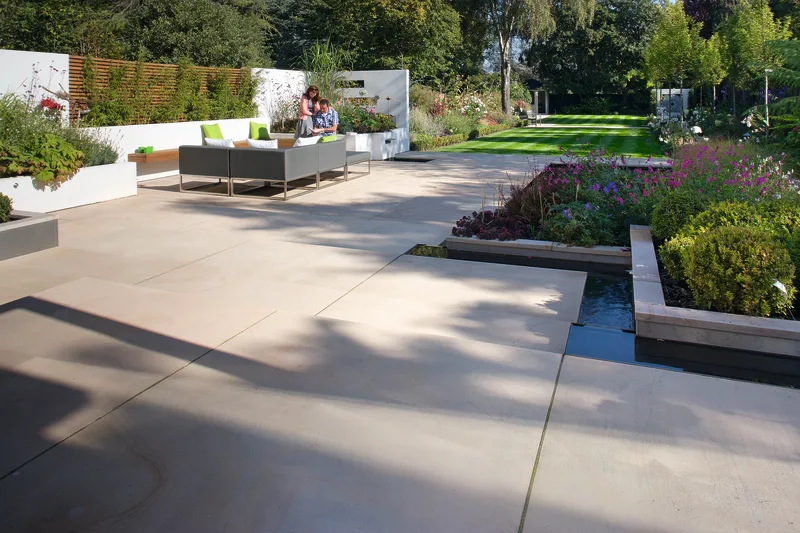 A modern garden design using planting to break up the paved areas, created using Marshalls Sawn Versuro Jumbo King Size paving
You need hard landscaping to form the structure within your garden, and the practical aspects that we all use every day. But try to avoid a concrete jungle – I like to soften my hard landscaped areas by adding planting to break things up. Graveled areas with planted clusters or raised beds as opposed to walls to enclose an area or you could go for climbing plants growing up against bare walls or fences. It is amazing what a little bit of green can do!
8. Structural plants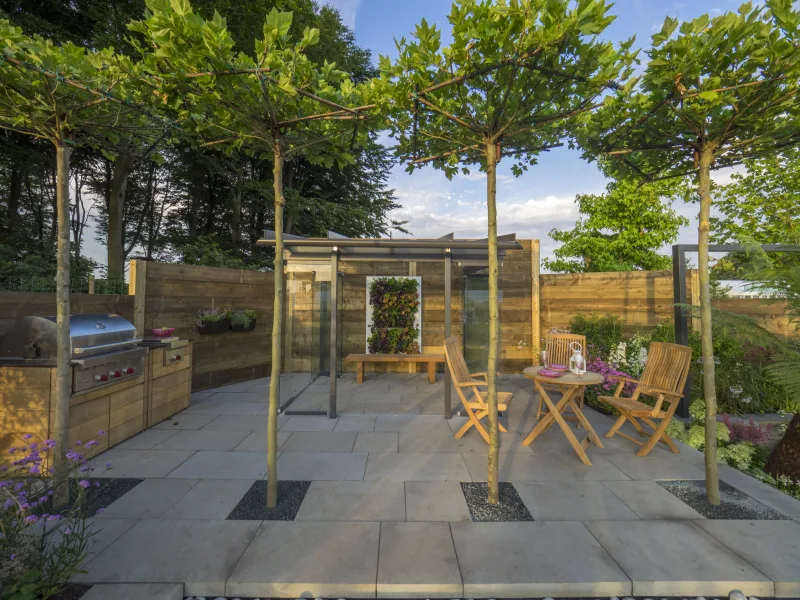 A garden design by Outer Spaces Landscapes Ltd which uses structural plants to create a focal point
Before you get stuck into your planting, you need to think about the key, feature specimens. When I'm creating garden designs, I tend to treat these as a separate item to the general planting. This may be the only tree or focal point within the garden, so take your time to choose what's best for you. Will you go for ever green or seasonal flowers? Consider what colour foliage will work well and what shape you would like. Take your time and research the right plant for the position, and for you!
9. Planting combinations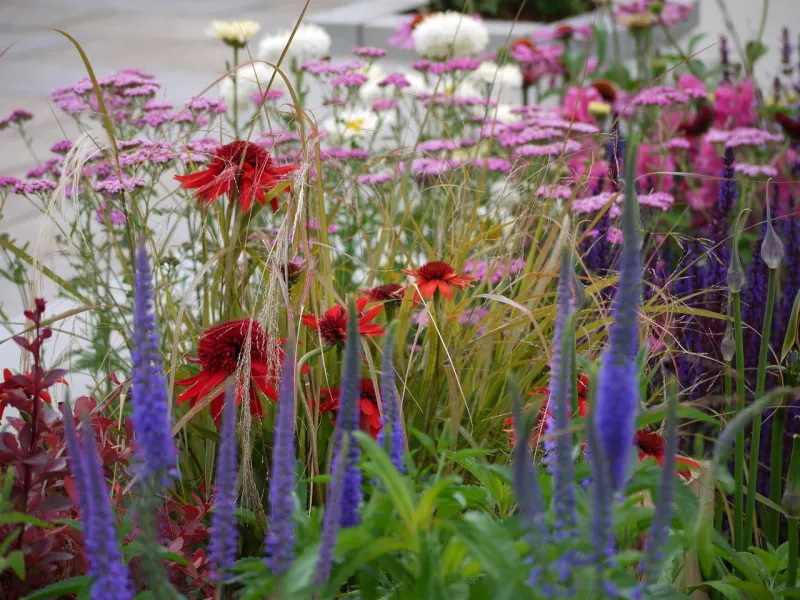 This is my favourite part of designing gardens! We are all guilty of buying plants because we fall in love with them at the garden centre. But the best way to shop for plants is to make a list of the things you like, then research and narrow that (very long) list down to a more realistic final version. Get the coloured pens out and start creating your combinations on paper. I love nothing more than working with a limited colour palette, and it really gives a 'designed' feel that shows you have thought about the position of every plant. Use repetition, linking the garden via specific combinations. Then, throw people a little, by changing that combination slightly… a favourite planting technique of mine!
10. Finishing details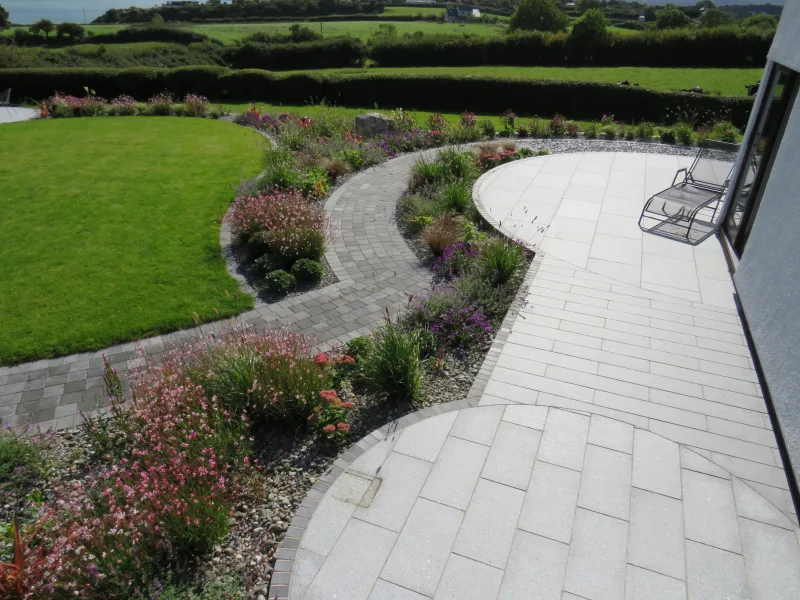 A patio design with grey edging detail by Eden Landscapes using Marshalls Granite Eclipse
Finishing touches are what makes the garden special. Think about how each item is going to look, for example your patio. Think about the paving stones you love and consider if they would look better with an edging stone or on their own. Are you adding a sculpture, do the materials match? If you have golden brown paving stones, a matching material such as a rusted, brown metal will work well… but opting for a blue slate monolith would introduce a whole new range of colours and textures, clashing with the rest of the garden. Take your time thinking about each choice you make.
So there you have ten of the garden design ideas I use when I'm working with clients and customers. Take your time to make the right decisions, and have fun with it!