Garden patio ideas for large spaces
A large patio is on the top of many wish lists. A good garden design can enhance a property, and provide a pleasing surrounding whether you're leisurely lounging or entertaining guests. Before you start planning, take inspiration from these award-winning garden patio ideas and think about the colours and materials you would like to use within your space. All of these patio designs are created by a Marshalls Register Member.
A large modern patio design with an outdoor kitchen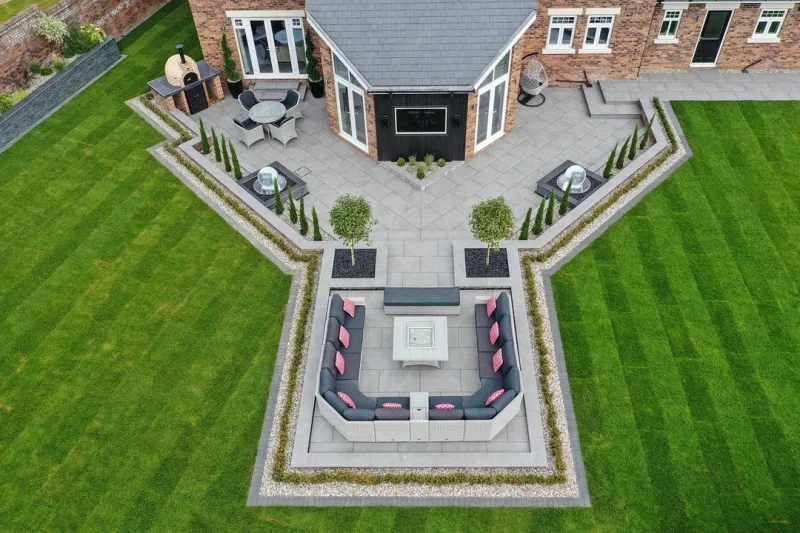 Created by All Seasons Bespoke Landscapes in Stockton-on -Tees, using Arrento porcelain paving in Silver
A stunning symmetrical patio area, complete with a large garden seating space with a fire pit, outdoor pizza oven and sculptures. Our porcelain paving was used throughout this project, leaving a modern finish which contrasts beautifully against the red bricked property.
A modern garden patio design to complement the house
Created by Urban Earth in East Devon, using Casarta Slate natural stone paving in Silver Grey
Clean lines and angles are popular patio design ideas for modern homes, and this is a great example. This garden was re-designed, with an outdoor kitchen, dining area and water features. Our Casarta Slate grey paving was used for the entirety of the patio area which leaves a contemporary finish which complements the property.
A multi-level patio design with a secret garden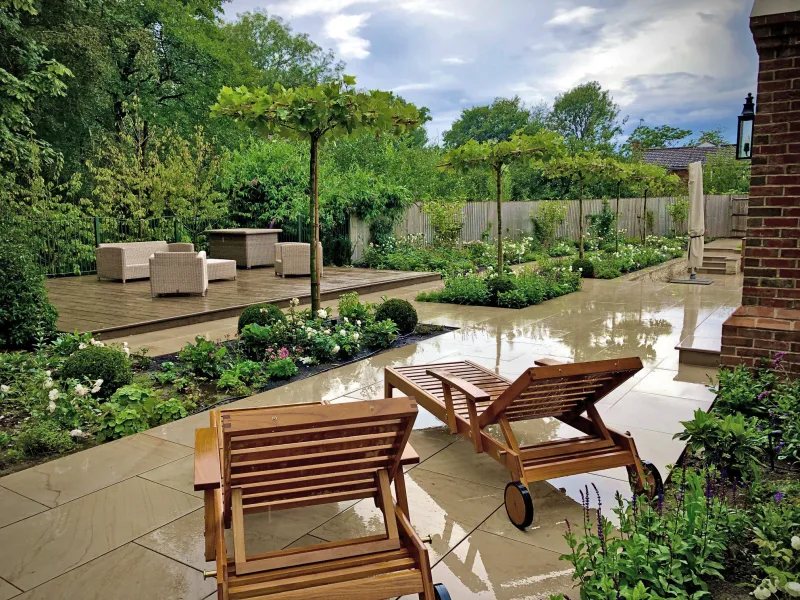 Created by Esse Landscapes in West Sussex, in collaboration with The Lovely Garden, using Fairstone Sawn Versuro natural stone paving in Caramel Cream
If you have a large outdoor space, the only limit when it comes to garden design ideas is your imagination. This multi-level garden was created with relaxing and entertaining in mind, within the garden is a hidden walkway surrounded by plants, which takes you to an oasis with a secret garden and outdoor kitchen area. All of the patio areas use our Sawn Versuro paving, which is popular in garden design where a luxury finish is on the wish-list.
A modern patio design with contemporary lighting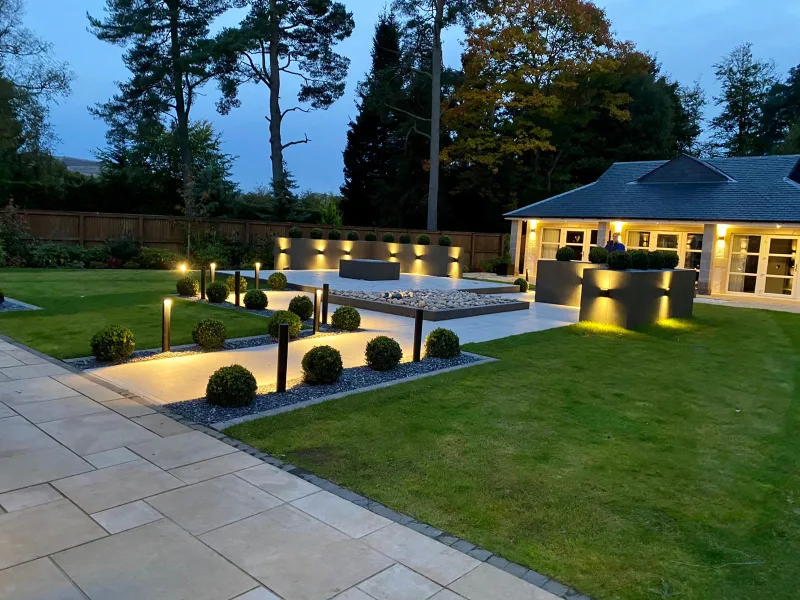 Created by Briarlea in Larkhall, using Symphony Urban in Ash and Symphony Matte porcelain paving in Graphite
Grey paving is currently most popular colour for garden and driveway paving, as it complements most houses. This modern garden design focuses on leading you through the space with angled garden paths and contemporary lighting. The homeowners chose to use porcelain paving, much-loved for the modern finish it gives, and the fact that it is a low maintenance patio option.. If you're unsure of what paving best suits your property, why not choose some samples from our website, or talk to an installer about the choices available.
A large garden patio with a sunken seating area and fire pit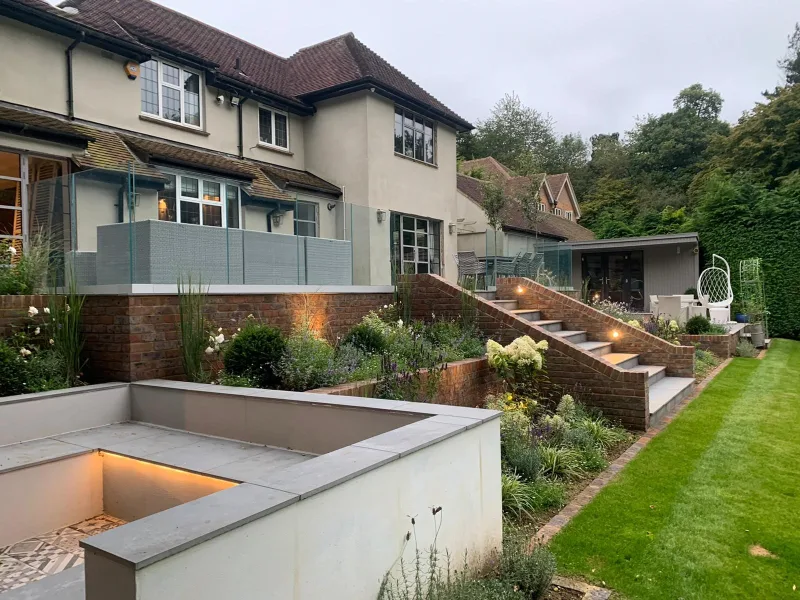 Created by The Landscape Group in Hertfordshire, using Symphony Classic porcelain paving in Grey
When it comes to garden design ideas, a common trend we see is seating areas with a fire pit. A great patio design idea to bring more character to a space is to create levels and specific areas for entertaining and relaxing. That's what the installer achieved here by creating cosy garden area with a fire pit, surrounded by a sunken seating area.
A natural stone patio design with undercover seating area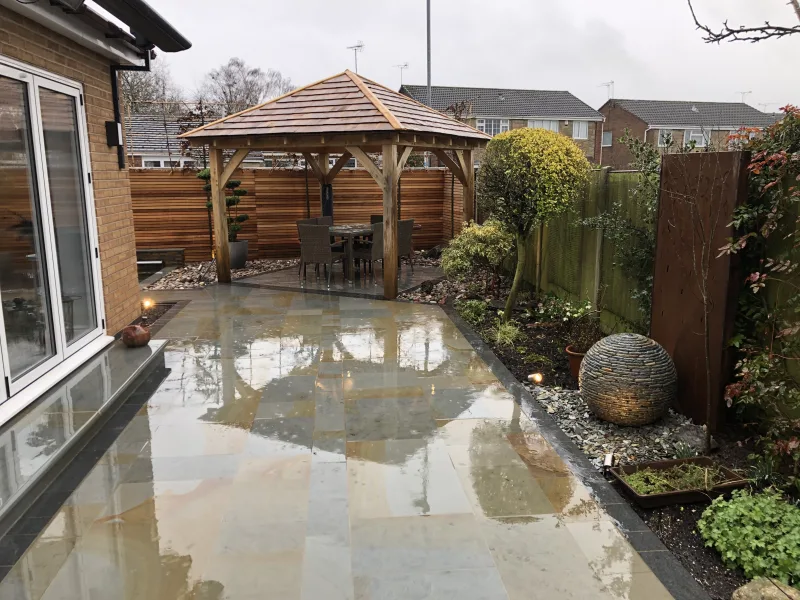 Created by Garden Grafters in Leicester, using Scoutmoor Yorkstone natural stone paving in Diamond Sawn
This bespoke patio design, and low maintenance courtyard garden, was achieved using various products, but predominantly British sourced natural stone paving. An undercover seating area is a great garden design idea to ensure your space is used regularly, this project includes an oak gazebo to match the patio style. Modern garden lighting was installed around the space, so the homeowners can enjoy it both day and night.
A low maintenance garden design with a unique shaped patio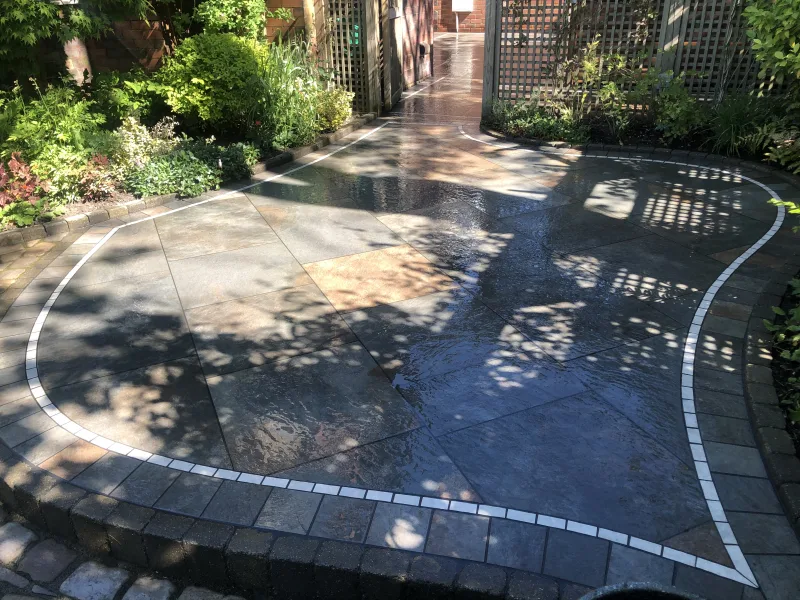 Created by Manor Prestige in Bacup, using Symphony Natural porcelain paving in Copper and Ivory
When it comes to your garden, make sure you thoroughly research patio design ideas to find a style that suits you. This garden features a unique shaped patio, with beautiful flower beds all around. Like many others on our list, this patio is made of porcelain paving which means it's easier to clean, resistant to stains and scratches and it's less prone to moss and algae. Porcelain paving is the perfect option if you're looking for a low maintenance garden.