Garden patio ideas on a budget
A garden can be enjoyed all year round if the design is right, and sometimes just the smallest of changes to your outdoor space can give you the freedom to enjoy it more. So whether your goal is to sip your morning coffee al fresco or fire up the barbecue on a Sunday afternoon, take a look at these budget patio ideas. Create an aspirational outdoor space without breaking the bank and you'll be able to make the most of your patio, whatever the weather.

SECRET SPACES
What could be better than whiling away a morning with a book or podcast in your very own secret space? Arbours and arches are increasingly popular, and for good reason. Cosy and romantic, they provide an excellent focal point without breaking the bank. They look their best covered with climbing roses or honeysuckle with a deep-scented bloom, and can be decked out a bench and outdoor cushions to make a great hideaway.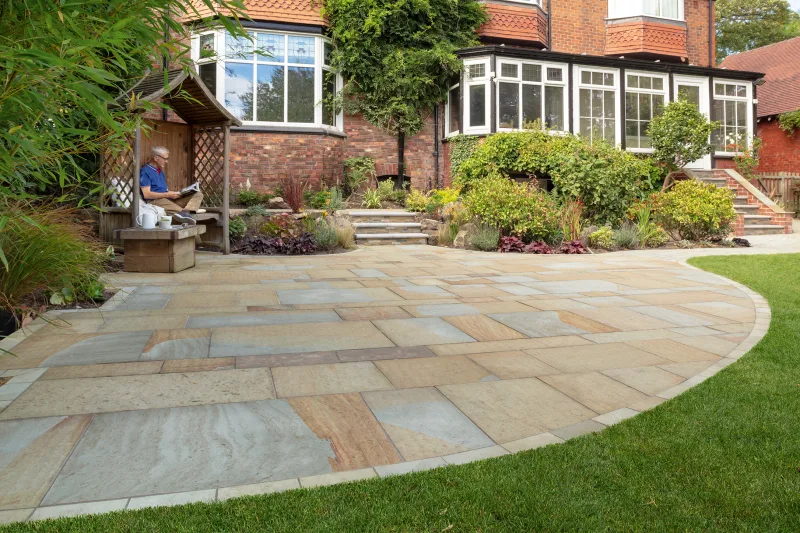 A POP OF COLOUR
Perhaps the easiest and cheapest way to give your patio a quick boost is to add new bedding plants for a pop or colour, they can look especially great against buff or natural coloured paving. Whether you go for pansies or you opt for swathes of violet lobelia, good old-fashioned begonias, prolific geraniums with their distinctive scent, or sweet busy lizzies, you'll enjoy a fast blast of vibrant colour to freshen up any patio. Our Perfecta Paving (shown below) is a great option if you want a cheaper paving option to contrast with your new florals.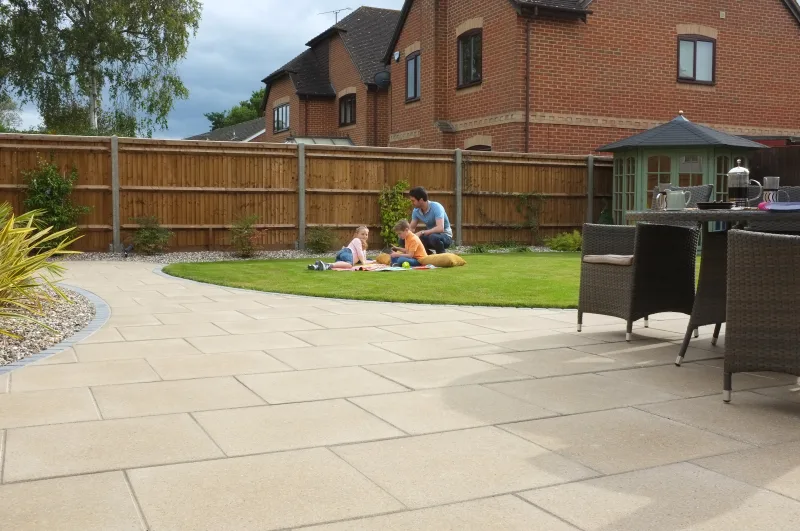 MAKE A FEATURE
An easy DIY makeover for your garden is to update the walls, and there are a number of different looks you can achieve. Planting succulents in gaps between bricks can be a great way to create a living wall that attracts wildlife and brings more greenery to your garden. Another great way to update a garden wall is to use outdoor veneer walling such as Stoneface ® Drystack Veneer Walling and create a feature garden wall. The pack comes complete with adhesive and primer, you simply stick the veneer over the existing walling to create a new, fresh surface.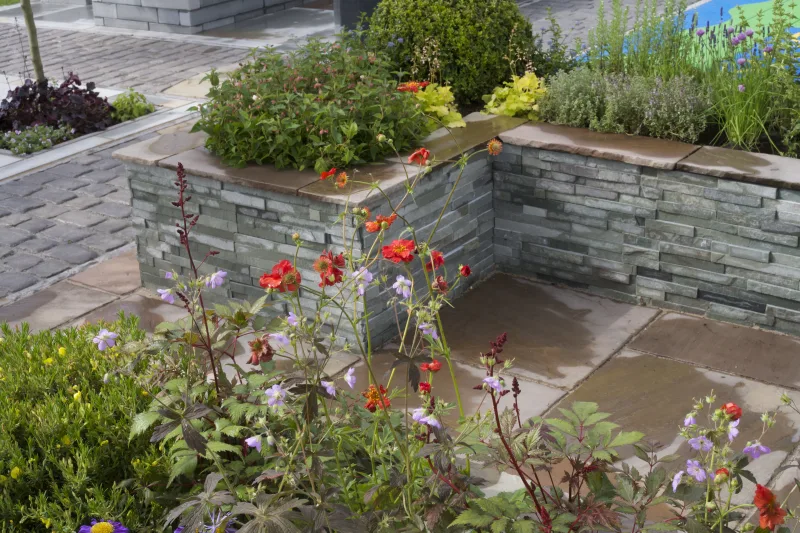 KEEP IT NEUTRAL
Natural stone paving and neutrals remain the most popular choices for garden patios and it's not hard to see why. Netural paving is a timeless classic that will stand the test of time and stay looking good for years to come, meaning you'll only have to spend once. Keep it current and stylish with accessories such as plant pots and outdoor cushions in on-trend colours and patterns. Natural stone paving options such as Towngate are at the lower end of the budget range but are still ethically sourced and meet the Stone Standard.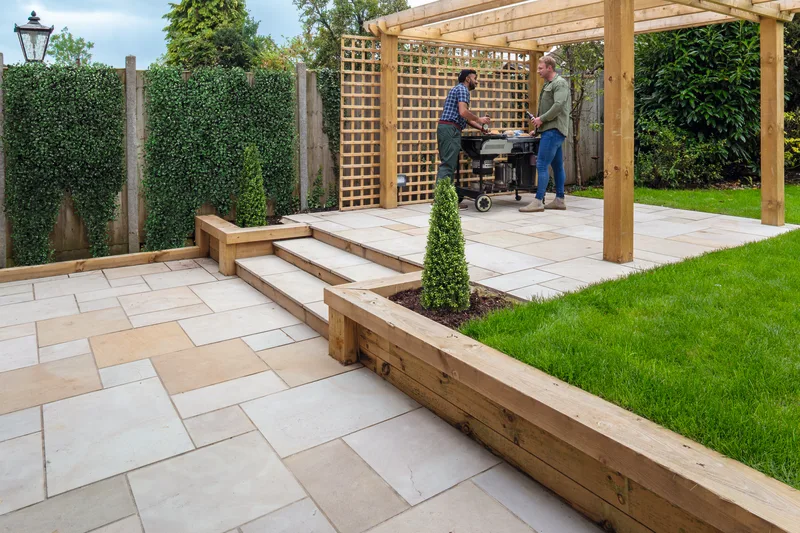 MIX AND MATCH
This energetic trend provides plenty to catch the eye. Planting at different levels and using a mix of paving sizes and colours in a clever composition with a bit of creative flair provides an impressive and affordable outdoor space. Choose a paving that's available in a variety of sizes and/or colours to create extra interest and contrast. Richmond Utility Paving is one affordable option that can be used to great effect in a mixed media patio, or Organa paving which is shown below.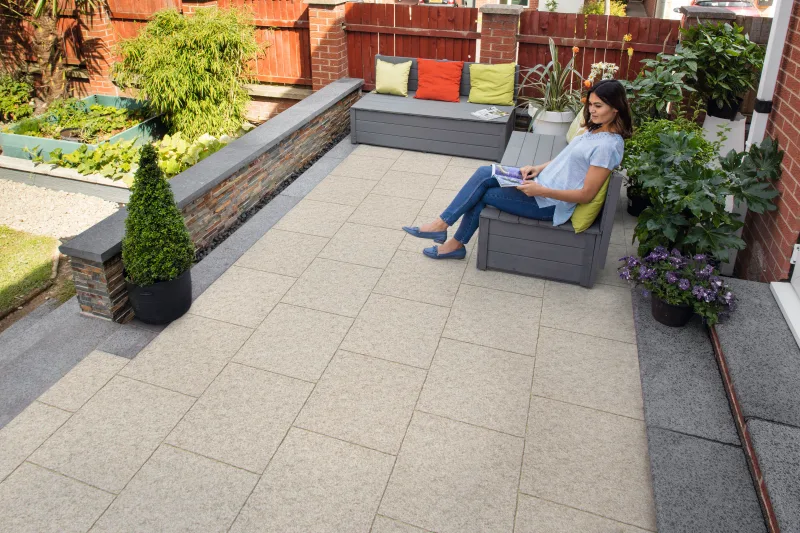 POTS OF INSPIRATION
When it comes to budget paving ideas, taking the simple approach can still deliver excellent impact. This elegant patio uses outsize plant pots to punctuate the space. Best of all, this is a versatile way to work with your outdoor space. Swap out blooming pink camellias for space-filling ferns, or formal topiary, as your mood shifts from one year to the next.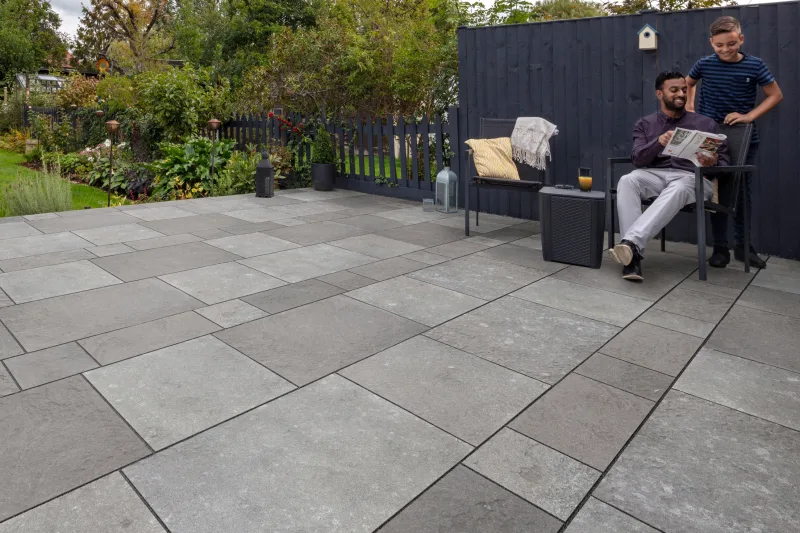 SITTING PRETTY
The right set of table and chairs can do wonders when you want to update your patio on a budget. Combined with affordable ground cover, such as Pendle Riven utility paving, it can really revitalise a space. Whether you plump for ornate wrought iron for an Italian terrace feel, understated modern furniture for a parred back look, or something chunky and bold with lots of cushions for laidback evenings, the choice is yours.
These budget patio ideas are simply a starting point for anyone hoping to beautify their garden this year. Whether you're looking for practical guidance on patio tasks like how to cut paving slabs, or garden path ideas on creating your best ever outdoor area, we've got it covered.