What is a living green wall?
Living green walls are becoming more and more popular across the UK, both in gardens and on the sides of commercial buildings and properties . This was reflected in a number of designs at this year's Cheslea Flower Show and BBC Gardeners World Live events. But what are they and why would you have one?
As more and more people get the gardening bug, the demand has risen for fresh ideas on how to make the best use of space. A living green wall, or vertical garden, is the perfect way to do this. They're as eye-catching as they are practical, and present a great canvas to play with. So here's a little more about the wonderful world of living green walls.
What are the benefits of living green walls?
Of course, the most obvious benefit of living walls, with their winding tendrils of foliage, thick layers of growth and slowly unfurling blooms, is that they look beautiful. In small gardens, they help make the most of the space available, and in larger gardens they can deflect attention from, or even cover, unsightly areas. One often unexpected advantage of a green wall is that it provides insulation for the building it's part of, reducing energy loss during colder months. Conversely, in the summer, a green wall will help the inside of your home stay cool. As well as keeping humans happy, living walls also provide a habitat for wildlife. Choose the right plants and you can create a bee, butterfly or even small bird friendly feature in your garden. Plus, in small urban gardens where the air isn't as clean as it might be, a wall covered in plant life will act as a natural air filter.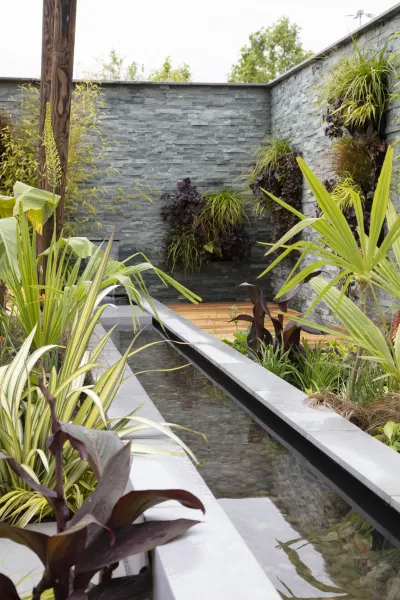 Types of green walls
Living walls can be created relatively easily by simply planting into the ground or containers at the base of a wall. The plants then grow up trellis or wire. Alternatively, plants can be grown on the vertical itself using a 'living wall system', which is similar to a growbag designed to sit against a wall. The most expensive option is the professional version of the 'living wall system.' This involves drip irrigation equipment, which is available in a number of designs and can even be installed indoors. In recent months we've seen people growing plants along our Croft Stone walling, and garden designer Toby Pritchard used our Drystack Veneer Walling to create a living green wall at BBC Gardeners World Live 2019 (pictured).
The best plants for the job
If you want to create a living wall, choose a variety of colours and textures when selecting the plants and don't forget to select plants that have similar needs in terms of sunlight and moisture levels. Climbers are the natural choice if you're looking to create a living wall that grows from the ground, so go for honeysuckle, creepers, trained fruit plants and even grape vines if you live in a sunny spot.
If you're a gardener who prefers to take a sustainable approach, living green walls – like permeable paving, home composting and water butts – are ideal. They use up every inch of available space to help both greenery and the insects and birds who rely on it to thrive. Not only is a living green wall a stunning aesthetic addition to any garden, but they have a whole host of environmental and physical benefits too. They're great for enhancing your whole outlook, not just a garden space.