How to create zones in your garden
Creating different zones in your garden will help you get the most out of your outdoor space, no matter what the size is. With a bit of imagination when it comes to your garden layout, you can create separate areas for entertaining, relaxing or even a space for the kids. In this article, we'll take you through some ideas to inspire you when it comes to renovating your garden.
Creating contrasts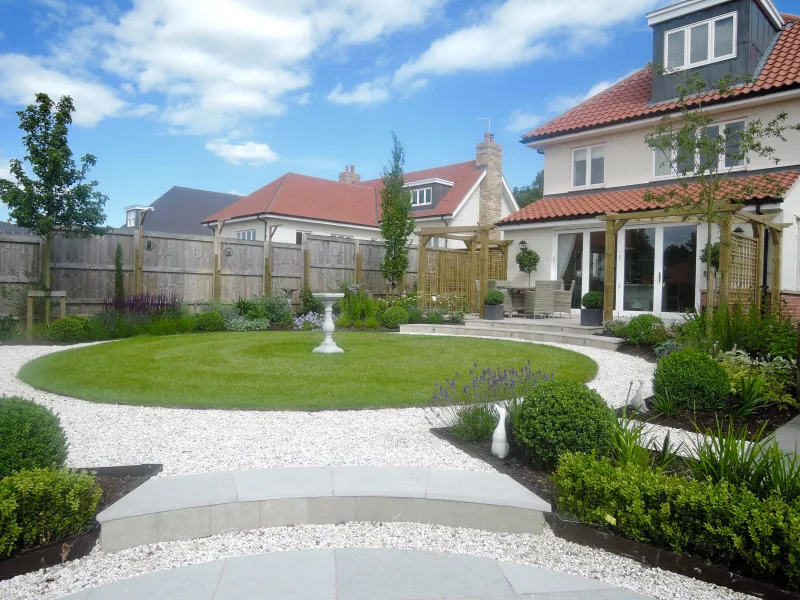 Gravel walkway installed by Waterdale Landscapes
A great way to begin zoning areas in your garden, is to think about different materials and colours. Think about the way you would like to get around your garden. If you're looking to create a few different spaces, why not experiment with colours and consider pathways designs between the zones. We've written an article that goes into detail about creating a garden path.
For something truly unique, why not think about adding a more permanent outdoor rug made from paving to your patio. Our SYMPHONY® Matte paving comes in various colours and sizes which provides endless opportunities for your design needs, and looks great as a rug, edging or sectioning zones in your garden. These are great solutions, especially if you're looking for small patio ideas and want to make the most out of your space.
A garden dining area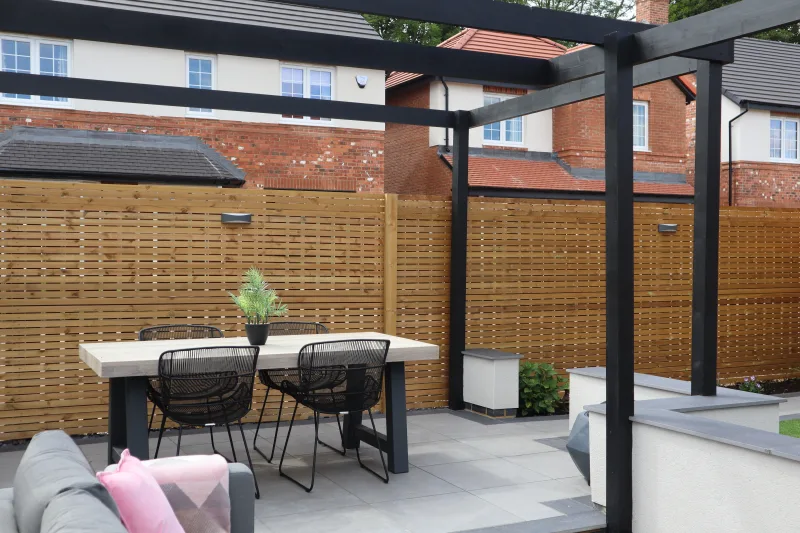 Dining area installed by All Seasons Bespoke Landscapes
Alfresco dining is a highlight of summer. From a morning coffee in your dining area to hosting a barbecue, outdoor dining is a fantastic way to get the most out of your garden. Sectioning off an area using trellis, plants or walling can create an intimate and more sheltered nook for your dining area, so you can enjoy those conservations even more with family and friends over a glass of wine or two.
Dining outside is a great way to connect with nature and perfect for entertaining during those long summer days. Comfortable seating and a table will create a welcoming area to be enjoyed by your guests. A spot with some shade or enough room for a parasol will give you flexibility whilst eating outside. Making note of where the sun is during the time of day when you eat is important to finding the right spot for your dining area.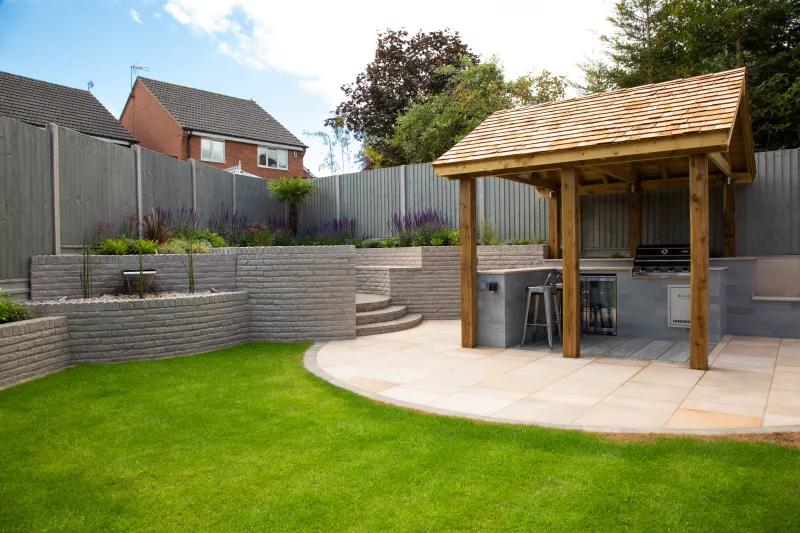 Outdoor kitchen by The Garden Design Company (Midlands) Limited
Typically, a dining area is on the patio next to the property so it has easy access to the kitchen. If you're looking at creating another area for dining in your garden, consider how far the kitchen is to the table and make the route there as simple as possible. If you really want a change, consider an outdoor kitchen! Pizza ovens, gas barbeques and even outdoor fridges are all must-haves for foodies who love the outdoors and there are some great canopy options to give you the flexibility to keep using it even if the weather is wet.
A secluded garden area Scoutmoor Yorkstone in Diamond Sawn and Stoneface® Drystack Venner walling in harvest
Whilst we love our gardens to be open, creating a quiet space will help you to wind down, relax and take some time for yourself. This is a particular necessity if you live in a busy or noisy town, and is still entirely possible if you only have a small patio area. For a quick fix, use tall plants in pots to mark out a secluded area, and consider adding an outdoor sofa or a daybed in a warm spot, so you can lounge away the hours. For a larger renovation, trellis with climbing plants, walling and hedges are great ways of creating a quiet spot. Before you begin your garden design makeover, make sure you check where the sun will be at the times you want to be out in the garden.
A child-friendly garden area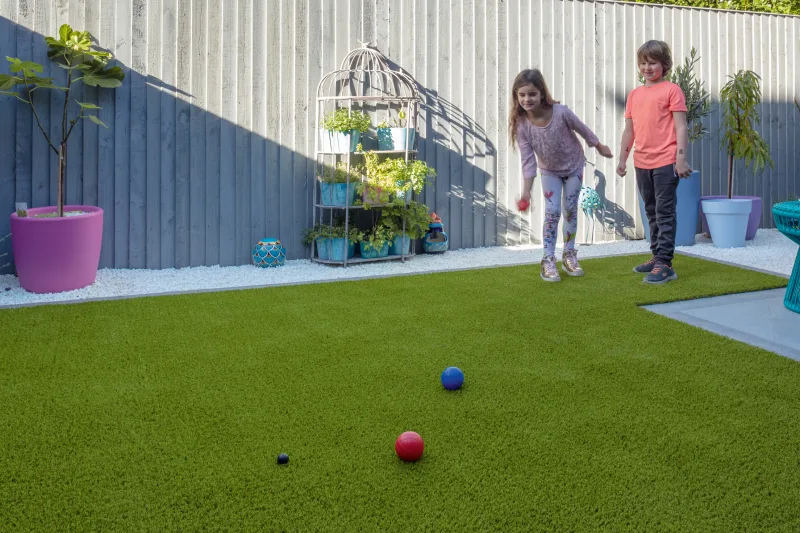 Always Green® Playing Field artificial grass
Children of all ages should be encourage to spend more time outside. Since the pandemic hit in 2020, we've spent a lot more time outside and grown to love our gardens even more, so why not share our love of it with the kids?
Give children their own little plot so they can grow plants and flowers as a great way of introducing them to nature. A fantastic way to start is to pick a spot with plenty of sunlight and encourage the young ones to grow either fruits or vegetables. That way, they can eat what they've grown and it will introduce more fruit or veg into their diet. They could also create bug hotels and feeding areas for small birds. Click here to see our article that goes into more detail about creating a child-friendly garden.
Creating levels in a garden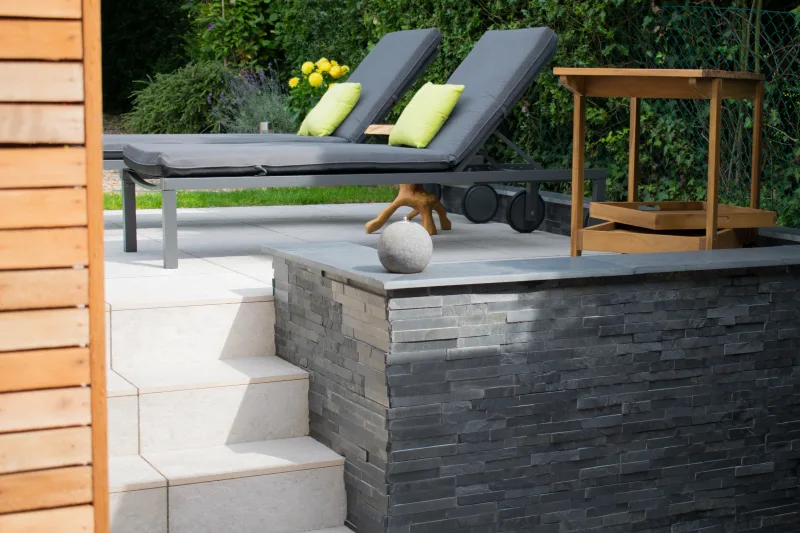 SYMPHONY® Classic in Ivory and Grey and Stoneface® Drystack Venner in Slate Dusk
Adding multiple levels to your garden is a great way of creating the 'wow' factor... Even if you have a small garden, subtle changes such as adding raised beds or creating a rocky water feature will make your outdoor space more appealing.
Raised beds are an ideal option if you're not looking to make vast changes to your garden, but still want to create levels. Planting shrubbery and plants will provide more height and give the impression of more levels in your garden.
A sunken seating area is a great solution to create a nice intimate zone and shield yourself from the wind too. Using steps to go down into your seating area will also give you a new perspective of the garden. If you're looking for more privacy, why not consider using walls or shrubbery to create a cosy nook?
We hope that these garden design ideas have helped to inspire your next project. Before you start, take inspiration from other projects and see what is possible within your outdoor space. If you're looking at creating major changes to your garden, we would recommend getting in touch with a couple installers, so you can compare quotations and get their professional advice.