Child friendly garden design ideas
When it comes to garden design ideas, a child friendly garden is at the top of many wish lists. So, how can you create an outdoor space that looks good, is easy to look after and is fun for the whole family?
We asked our garden design experts to put together the perfect family garden design; from planting to paving to play areas. Scroll down to see our child friendly garden design idea, and find out more about the features we recommend.
Plants in a child friendly garden
Plants and flowers are a definite yes for a family friendly garden, not only do they encourage biodiversity but the wildlife they attract can become a source of entertainment and education for young minds. Bug hunts are a great way for toddlers to explore the outside world, and older children might enjoy creating a bug hotel close to the plants.
Choose plants which are non-toxic and which are resistant to damage and, if you want to spend more time enjoying the garden than maintaining it, look for plants that are easy to take care of. Persicaria, Rudbeckia fuldigar and Alchemilla mollis are lovely to look at but require very little maintenance from busy parents.
Safe water-features for family gardens
A water feature is a relaxing addition to a garden, the sound of running water can be incredibly calming and small birds will love to splash about. The best water features for child friendly gardens are ones which are self-contained, with a covered underground reservoir and pump. Opt for a style where the water runs over an object rather than forming a pool.
Paths and patios in family gardens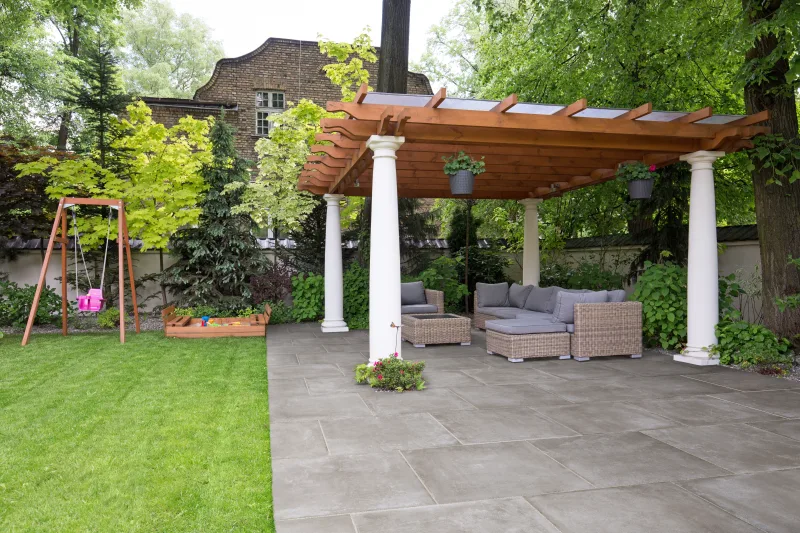 Younger families will favour a garden design which is entirely low maintenance, so that the precious time they have together can be spent having fun outdoors and not cleaning and pruning. With this in mind, choose your garden paving wisely. Porcelain paving, is a great low maintenance option, it absorbs less water than other options which means it's less prone to staining. Not only will it need less cleaning, ranges such as Marshalls Symphony, are also durable and long-lasting – giving you peace of mind that your investment will last for years to come. Porcelain paving comes in a range of styles to suit all types of homes – we even have patterned options that work well for steps and edging.
Children's garden play areas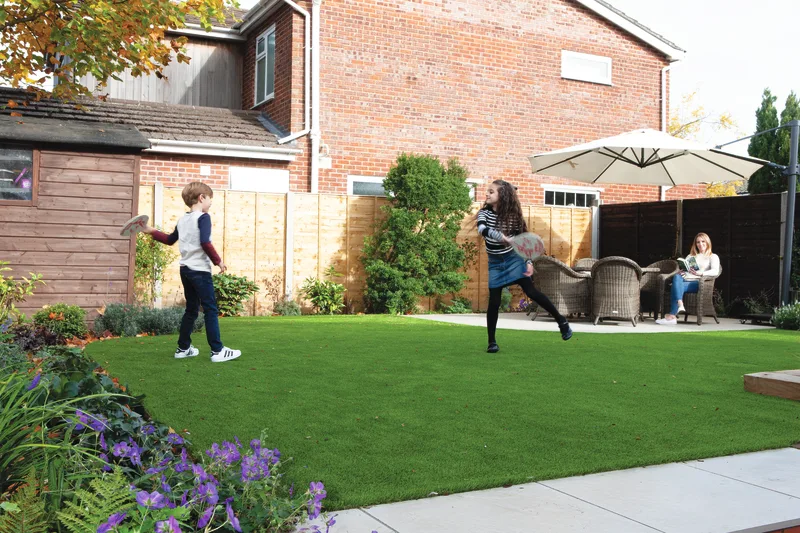 Garden play equipment is a great way to keep children entertained outdoors for longer and there are some great options on the market. Our top tip is to consider the location carefully, build the play area in a shaded part of the garden, where it can be seen from the house. If you're lucky enough to have a very sunny garden, you can create shade with trellis and climbing plants, or by planting large shrubs.
When it comes to your children's play area you should also consider the surface underneath - a lawn is the obvious choice to avoid scrapes and bumps but it can start to look muddy and worn very quickly. With this in mind, an increasing number of families are choosing to use artificial grass for play areas, underneath swings, slides and football goals. It's a low maintenance option, requires little to no maintenance and will stay looking good all year round – a particular winner for children who like to play outdoors whatever the weather. All Marshalls artificial grass is child and pet friendly and carries the Grass Standard mark, which sets the benchmark for quality, performance and value in artificial grass.
A living fence for zoned garden designs
If you're looking for a zoned garden design which also features an outdoor kitchen or barbeque area, you might want to consider ways to divide the space and make it feel safer for young children. A living fence is a great way to do this, you can construct it from willow or wire mesh and climbing plants such as privet, ivy or yew.
Next steps for planning your family garden
If our garden design ideas have helped you decide what you want in your garden, then the next step is to research paving options and contact installers. The Marshalls Register has over 1,000 accredited installers on it, who we have vetted and recommend to you – try our search to see who is local to you and ask them about our Guarantee too. All of our products are listed on our website, including the family friendly porcelain mentioned above.