Concrete block paving or pattern imprinted concrete for your driveway?
As one of the first things that people often notice about a property, a well-maintained concrete driveway can add significant kerb appeal – and value – to your home. In fact, Virgin Money has revealed it can add as much as 10 per cent to the value of your home.
But you don't just need to be thinking about moving house to reap the benefits of a brand-new driveway. The average car spends around 80% of its life parked at home, according to a report by the RAC – and a tired or worn-out driveway with weeds or potholes can risk damaging yours.
Not only that, of course. A new driveway helps your home make a striking first impression with passers-by and visitors alike. So, has the time come to think about upgrading yours?
Upgrading your driveway – your options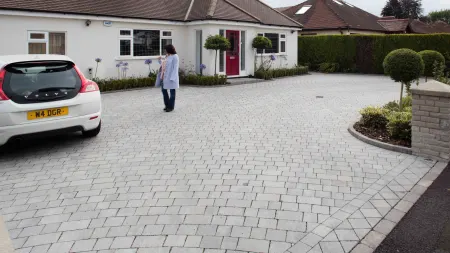 A concrete driveway can often provide the best value for money when upgrading. Not only does it tend to last longer compared to other materials such as tarmac, concrete is strong and simple to maintain. Once you've decided concrete is right for your new driveway, you'll have the choice of Concrete Block Paving (CBP) or Pattern Imprinted Concrete (PIC) to make.
But which one is right for your driveway?
What is Concrete Block Paving?
Concrete block paving – or brick paving – first became popular during the late 70s/early 80s. It was a time when customer choice was limited when it came to styles and colours – a few simple designs and a handful of colours was about as exciting as it got.
But the market for block paving has since grown significantly, while the manufacturing industry has advanced too. As a result, there's now more choice available to you – whether you'd like a traditional or modern design, different textures, range of colours and even material options.
CPB is framed by an edge restraint and laid on top of a sub-base and sand course. These blocks interlock with one another to create a bond, which provides the strength your driveway needs.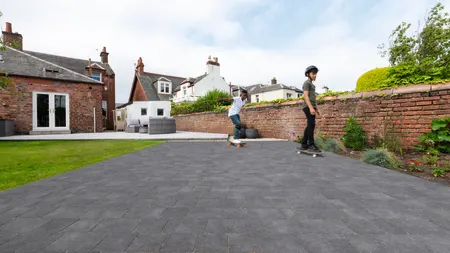 What is Pattern Imprinted Concrete?
Pattern imprinted concrete – or stamped concrete – driveways are a relative newcomer to the scene. Instead of using individual blocks to create your finished surface, a layer of concrete is poured on a suitable sub-base. A colour is then applied, as well as a colour hardener.
To create the desired finished effect, the wet concrete has a patterned matt applied to it. You'll have a choice of designs – from Ashlar Stone to Brickwork and Textured Stone. The idea of PIC is to replicate another material, giving the concrete – and your drive – a more appealing finish.
Concrete Block Paving or Pattern Imprinted Concrete?
To help you decide if CBP or PIC is the right option for your driveway, we've taken a look at the advantages and disadvantages of each. This way, you'll be able to make a fully informed choice.
What are the advantages of Concrete Block Paving driveways?
Attractive
The wide range of styles, colours and textures available with CBP means there are attractive, visually appealing options to suit every driveway.
Long-Lasting
An extremely durable option, CBP driveways can last for many years with the right maintenance. You might never need to upgrade yours again!
Adaptable/Adjustable
Laid your CBP driveway but need to uplift an area due to movement or to access a utility connection/pipe? CBP is easy to remove and reinstate with minimal fuss.
Permeable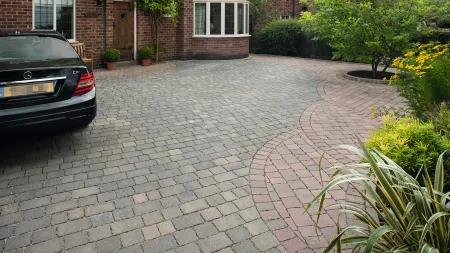 Some CBP options – like the Drivesett Tegula Priora (pictured) – let surface water drain away safely, which complies with current planning rules for front gardens.
What are the disadvantages of Concrete Block Paving?
Sinking/movement
Poor installation or not using an appropriate sub-base when laying block paving could cause part(s) of a CBP drive to start sinking or moving – particularly under the weight of a car. It's not unusual to think sinking/movement is down to the product, but it can actually be due to what it's been laid on.

Using a qualified installer such as a Marshalls' accredited installer can help avoid this.
Cost
It can depend on the product you choose, but the starting block paving driveway cost (per m2) can be the more expensive of the two concrete driveway options.
Degradation
Not such an issue if your CBP driveway is looked after, but degradation and erosion of the pointing could cause individual blocks to spread apart or become loose.
What are the advantages of Pattern Imprinted Concrete driveways?
Efficiency
The installation of patterned concrete driveways can be much more efficient than CBP driveways as the process allows you to cover larger areas quicker.
Weed and moss
Unlike their CBP equivalents, PIC driveways offer fewer opportunities for weeds/moss to take hold. While this unwanted greenery can start appearing between crack control joints over time, you won't need to nearly as much weed-killing as with block paving.
Strength/Integrity
The solid fibre-mesh reinforced concrete base that's laid on top of an appropriate sub-base means a PIC driveway is unlikely to suffer from any movement or sinking.
What are the disadvantages of Pattern Imprinted Concrete driveways?
Less attractive?
It's understandably in the eye of the beholder, but the visual appeal of a PIC driveway can suffer where patterned matts are used and where the alignment isn't quite right.
Cracking
It's not uncommon for cracks to start appearing in PIC drives. It can become an issue if those cracks become large and unsightly. While patch repair is possible, it can often require whole areas to be resurfaced. There's also no guarantee the repair will match the original installation.
Drainage
Patterned concrete isn't permeable. This means it won't let surface water drain away. Without a proper drainage solution in place, a PIC drive doesn't comply with planning rules for front gardens.
Access to pipework
Are you getting cable media services installed? Does a utility company need access to your pipes?
A PIC driveway will need to be broken up and re-patched, which could be a potential issue when it comes to matching existing and replaced surface finishes.
Resealing
To protect the colour of your driveway, imprinted concrete sealer must be applied and re-applied every two-to-four years – especially if there's a lot of wear and tear.
Safety concerns
The sealant used on PIC driveways can be very slippery, particularly in winter when it ices over. This can pose a hazard to people walking on the surface.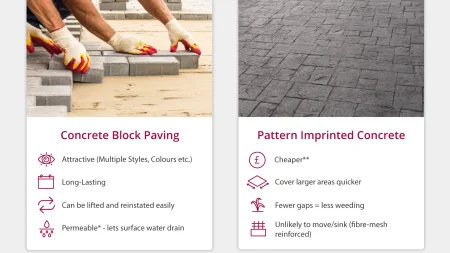 How much does a driveway cost?
It's important to bear in mind that your final new driveway cost will depend on the size you're working with, the products you choose and how much you pay for installation. With our handy at-a-glance-guide, we'll help you work out what you might expect your driveway cost to be.
How much does a block paving driveway cost?
You can expect a typical CBP driveway to cost you between £45 and £70 per square metre – though prices will vary by stockist and product type. This covers the cost of block paving, but not your installation and accessories.
Example: For a 50m2 driveway, your estimated cost will be £2,250 to £3,500.
How much does an imprinted driveway cost?
The starting pattern imprinted concrete cost per m2 might be lower than CBP, but it can also work out more expensive too. Again this depends on several factors, but you'll be looking at between £25 and £130 per square metre.
Example: For a 50m2 driveway, your estimated cost could range from £1,250 to £6,500.

Our verdict?
Both CBP and PIC driveways have their advantages, but we believe that CBP comes out on top. It's not just for driveways either. If you're creating a new patio or garden path, the wide range of styles, shapes and colours makes CBP a highly versatile paving option. It can also be laid in different patters to complement the look of your home and your personal taste.
With CBP, you get the long-term performance that PIC can't quite match. Pre-cast permeable concrete paving can also help in the fight against flooding and pollution. As permeable CPB will comply with current planning rules, you won't have to worry about applying for permission for your new drive – or face retrospective action from your local authority.