How much does a new driveway cost?
A new driveway is a well-known way to add value to a property, but what if you're not planning a house move? Is it still worth the investment, and how much does it cost? In this article we take a look at the average cost of a driveway and the different options open to you, plus we've got some great tips from some of the UKs best installers.
Benefits of a new driveway
Private off-road parking can help bring insurance premiums down, increase vehicle security and it is more convenient too. And don't forget kerb appeal; driving up a well laid driveway is a great welcome home and creates a good first impression for visitors.
Decisions you need to make when it comes to a driveway project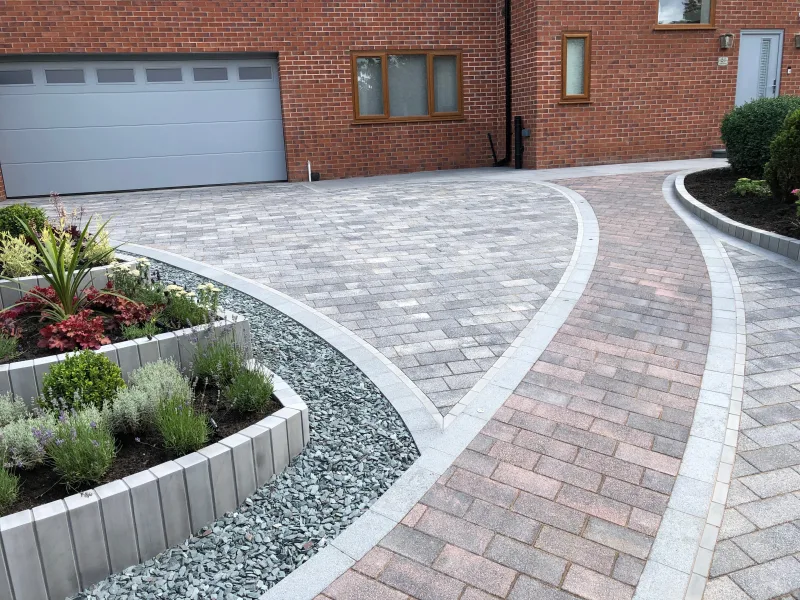 Driveline Nova Coarse in Pebble Grey and Brindle
Whether you're revamping, extending or creating a driveway, there are a few decisions to make at the start of the project that will affect your budget.
DIY or ask a professional?

Consider the extent of the changes you want to make when deciding who will do the work. If you're creating an entirely new space we would always recommend using a professional who has experience of excavating the ground, ensuring adequate drainage and creating a long-lasting finish.

Like any house project, if you're not sure what you're doing you may find that the savings made by doing it yourself will be swallowed by repairs and maintenance later on. It's the reason why we only offer our Marshalls Hard Landscaping Guarantee through Marshalls Registered installers, because we know they're the best people to create long-lasting driveways with our products.

What driveway materials will you use?

Your next decision is based on the driveway style you'd like. In this article we will be focusing on driveway paving, including block paving, natural stone and permeable options. Paving is the best option for a long-lasting, durable driveway that delivers great value for money. You should always order samples of the materials you like before you buy or, better still, ask your installer to tell you where they have completed a driveway nearby using the same paving so you can take a look. Concrete block paving is the most popular choice for driveways, loved for its affordability as well as the hard-wearing attractive finish it gives. Keep reading for a look at how much block paving costs.
How much does the average driveway cost? Drivesett Tegula Original in Autumn
When it comes to driveways, 80% of the cost is made up of the bits you don't see – the sub-base and ground preparation, and only 20% on paving or other materials. The level of work needed to prepare the ground, the materials you choose and the complexity of any laying patterns or designs will all affect the quote. With this in mind, to get an accurate idea of how much your driveway will cost, you will need to arrange for a professional to come out and take a look. We'd recommend getting at least two quotes to compare.
As we mentioned earlier, block paving is a popular option as it's a cost-effective way to create an attractive and hard wearing drive. There are lots of options but a classic choice is Drivesett Tegula (pictured above), from £30.16 per m2 on our website. Based on the average driveway size of just 60m2 you could expect to pay around £2,106 for this, with installation and other materials on top. If you're looking for a modern twist on the traditional block paving, Marshalls Coppice is £28.02 per m2, costing around £1,883 to cover a driveway of 60m2. Block paving also comes in circle designs, giving you the chance to have make more of a statement in front of your home.
Once you know the size of area that you want to pave, you can use our website to roughly calculate how much your favourite materials will cost you. Each product has a price per square metre and you can see how much surface area each pack will cover.
Driveway tips from professional installers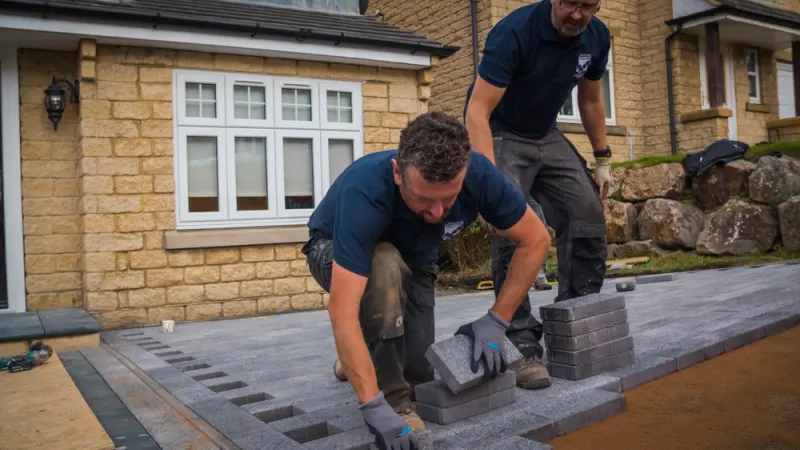 We asked our registered installers to share the tips and advice they give to their customers when it comes to planning a new driveway… here's what they said:
"Use a reputable contractor that can offer a valid guarantee is a good place to start then move onto block choice and requirements/ desires of how you would like drive to look and perform." Paddy Moyna, The Driveway Specialists
"Most important thing in planning a driveway is sub base and drainage." Matt Curran, 4 Life Landscapes
"Choose a contractor that you are happy to be working at your home that can guarantee a clean and tidy job. Listen to the contractors ideas on the design of the driveway and take the parts that you like, and remember the top surface is only a small part of the overall cost so go with what you like." James Kennedy, The Reigate Paving Company
"Be sure to get more than one quote and do your own research when choosing a contractor. Look for reviews online, word of mouth is usually the most effective. Ask to view recent work of the contractors. Only ever accept quotations in writing and not verbal and ensure you sign a contract so everything is black and white. Where possible, try to choose contractors who are members of the Marshalls Register to ensure their work is frequently inspected and that the contractor has adequate insurance cover." Paul Taylor, Preston Paving and Landscaping Ltd
"Do your research into the installers, don't rush into a project. Be prepared to wait as long as it takes for them or more often than not will end up regretting it! You only want to do the job once!" Chris Johnson, CJ Paving
"We always say it like building a house, if the ground works are wrong it's not going to last no matter what you do." Richard Box, English Landscapes
"Regarding block choice, consider if the drive is north or south facing and what level of maintenance you want with the block against your budget. Ask for samples but if you can, ask your contractor if you can go and see another drive of that block they have laid. Samples don't always give a true representative of the overall characteristics of a product when laid in volume, in my opinion." Joe Cheetham, Zenscape
Next steps
A professional installer will help you to work through most of the decisions needed; they can advise on the best design and materials to suit your home and budget. They will also understand what drainage you'll need, to comply with local legislation. Good luck with your driveway project, and if you choose to use Marshalls products, please tag us in your finished photos on social media.