How to clean your patio
Marshalls' patio paving will require regular maintenance to keep it looking its best. While routine brushing will help keep your patio surface clear of the majority of dirt and detritus, other more stubborn dirt and staining will begin to build up over the course of time.
Moss, algae, lichen and other fungi will often develop when a patio is exposed to moisture, staining and masking the colour of the paving. Likewise, in the laying process, cement mortar can often spill and dry on the paving surface. The good news, however, is that such dirt can be successfully removed from most pavers via a number of methods.
Follow our step-by-step guides on three patio cleaning solutions:
• How to clean your patio with soapy water
• Cleaning patio slabs with vinegar
• How to clean a patio with a pressure washer

How to clean your patio with soapy water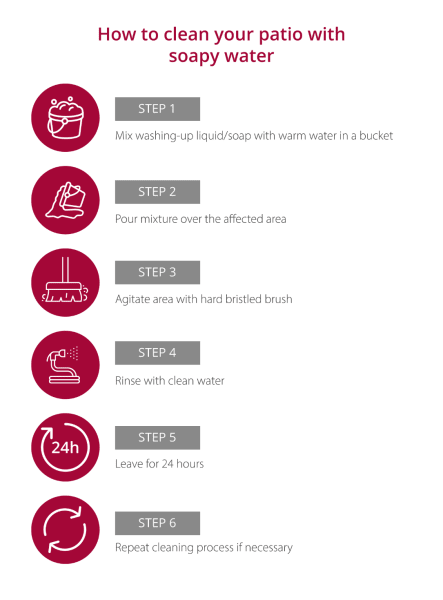 Best for:
• Delicate paving
• Light staining
What you'll need:
• Heavy duty garden broom
• Bucket and warm water
• Washing-up liquid/soap/soda crystals
• Hard bristle brush
• Pressure washer (low setting) or hose pipe
The humble brush and soapy water still go a long way when it comes to cleaning paving slabs. Particularly if you're dealing with light stains on a surface you want to take extra care with, the traditional soap and water approach is highly effective.
First, declutter your patio and do a sweep so that the paving area is clear. Then, simply fill a bucket with warm water and mix in one cup of washing up liquid, soap or soda crystals. Pour the soapy water across the affected area – don't be afraid to be generous - and begin scrubbing.
You can use a broom or a brush with stiff bristles to scrub the area clean – a brush will allow you to focus on more stubborn areas. Once you feel you've done a satisfactory job, rinse away the dirty water and soapy residue with either a pressure washer on a low power setting or a hose. Leave the patio overnight and reassess the area the following day – this will help you spot any areas you might have missed.
If you're looking for a stronger patio cleaning solution, you can always use bleach. However, be wary of using it on softer stone and around your plants, as the strong alkaline base of typical household bleach can do damage to both.
Cleaning your patio slabs with vinegar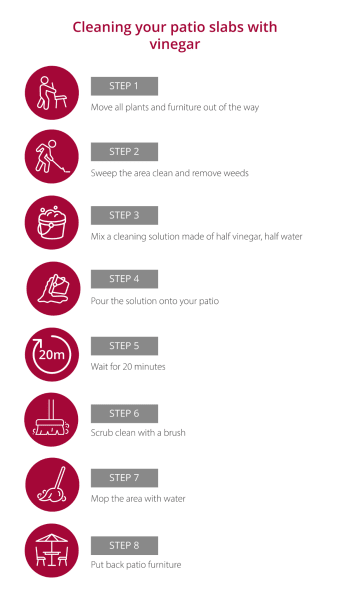 Best for:
• Eco-friendly cleaning
• Lifting stubborn dirt and stains
What you'll need:
• Heavy duty garden broom
• Watering can
• Weeding tool
• Bucket and water
• White vinegar
Non-toxic and environmentally friendly, white vinegar offers one of the best ways to clean your patio and is perfect for those wondering how to clean a patio without chemicals. If an eco-friendly patio cleaning solution is your number one priority, look for white vinegar that is made from grain, as this means it's not distilled from petroleum.
Before you begin, make sure to clear and sweep the area. Due to the acidic nature of white vinegar, it's important you remove plant pots, furniture or ornaments so that they aren't affected by the vinegar water. If there are any items you can't remove, cover them with a sheet. Before you begin the cleaning process, use a weeding tool to uproot any weeds among the jointing.
Your water/vinegar mix should be in equal parts or, if your paving is particularly dirty, mixed with more vinegar than water. When you have your mix, pour it into a watering can. Use the watering can to generously and evenly distribute the mixture across the paved area, making sure the entire surface is covered. Once you're happy with the coverage, leave it to soak in for 20 minutes.
In that time, the solution should have lifted the dirt and grime, meaning a brush should be enough to clean effectively. Make sure to get in among the cracks in the cement point between slabs, as the vinegar will also attack any remaining weeds.
Once you've finished, mop the area clean with cold water. Your vinegar mix should have succeeded in both removing any stains and killing off any remaining weeds.
Finally, don't worry about the smell. Once you've mopped up and the water/vinegar mix has died, any odour will disappear. Remember only to replace your furniture and ornaments once the surface is completely dry.
How to clean your patio with a pressure washer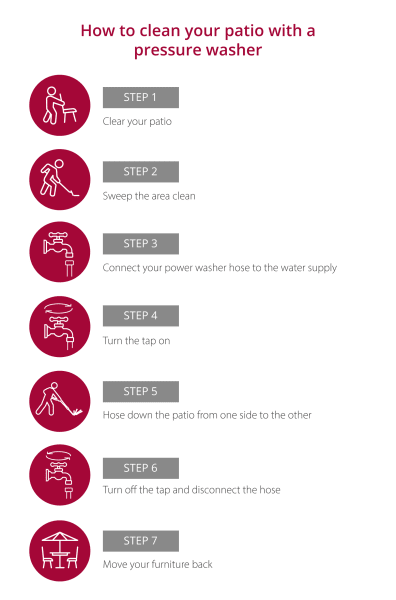 Best for:
• Removing dried cement and other tougher materials
• Quick cleaning
What you'll need:
• Heavy duty garden broom
• Power washer
• Water source
The pressure washer remains the easiest manner of cleaning patio slabs, but it should be used with care. Even on tough concrete and brick surfaces, a powerful pressure washer is capable of damaging the surface of the paving. There's a fine balance between an effective stream pressure and protecting your patio - we would initially recommend a fan setting over a jet to protect your paving.
Again, make sure your patio area is swept and tidy ahead of cleaning. As you begin pressure washing, start with a low setting. If you feel confident in increasing the pressure, do so, but carefully. Of course, the most powerful jet setting will provide the best results, but it may come at the expense of the top layer of your paving, which is particularly undesirable when it comes to pattern and mosaic surfaces. You can do a few test sprays to check whether your water pressure is too high or too low. Don't be afraid to go with a careful trial and error approach.
There is a craft to power washing efficiently and safely when it comes to cleaning your paving slabs. Make sure to avoid spraying the jet directly onto the paving, which could cause damage. Instead, work from a good range and at a shallow angle (no more than 30°), moving in a diagonal motion across the paving. This is to avoid parallel washing of the joints, which could damage the cement pointing.
Move along in a consistent pattern to avoid any over-exposure to the pressure washer. If you paving is particularly dirty, you should be able to track your progress quite easily.
Cleaning your patio in different seasons
If you're wondering how often to clean your patio, this will depend on several factors, including the area surrounding your home and what season it is. It's a good idea to carry out your maintenance in line with changes to the weather in order to keep your patio looking its best.
• In spring, you should clean your patio thoroughly following the winter months, as there may be a build-up of organic growth as well as general dirt and debris. Spring is also a good time to check the joints between the paving slabs, which might need re-pointing.
• In summer, it's likely you'll be using your patio more as the weather warms up – so clean up any spillages when they occur to minimise the risk of staining.
• In autumn, the fallen leaves from shrubs and plants can stain your patio if they're left for long periods of time – so it's a good idea to regularly sweep your patio clean.
• In winter, many homeowners use de-icing salt so they can access their property easily. However, these can cause discolouration, so we'd recommend using other de-icing materials.
For more detailed advice about how to clean your patio, including how to remove stubborn stains, click here to download the full Cleaning & Maintenance Guidelines.
Download our guide to the most popular garden patio paving patterns and see for yourself how a small patio doesn't have to mean a small sense of character.