Marshalls at Chelsea 2017
A ruined abbey perched atop a dramatic coastline clifftop, the waves beneath gently lapping on to a postcard-perfect, pebble-strewn beach complete with a fishing boat and lobster pots. It's a striking slice of Yorkshire that took up residence at this year's RHS Chelsea Flower Show – with a little help from Marshalls.
The vision of Leeds-based garden designer Tracy Foster, the entry was inspired by the rugged beauty of Yorkshire's shorelines, the drama of the county's many historic buildings and Yorkshire's special relationship with its agricultural heritage. Sponsored by tourism agency Welcome to Yorkshire, its aim was to inspire people to experience the region for themselves.
"They wanted something that people would easily relate to, without having to interpret it too much," said Tracy of the thought process behind her design. "I wanted to capture the coast, which is something I particularly enjoy. I drove all the way down it in a day, stopping off everywhere to pick and choose which bits inspired me."
Coastal inspiration
It was the tiny coastal village of Flamborough that provided Tracy with her greatest inspiration. "There is so much variety on the coastline, the cliffs change in character as you go further north towards Whitby," she said. "There's a reference to Whitby Abbey in the garden with the ruined abbey. A lot of the materials I've used have come from the area itself."
The pebbles on the garden's beach were collected by Tracy and enthusiastic schoolchildren from Flamborough Beach – permission having first been granted to borrow them.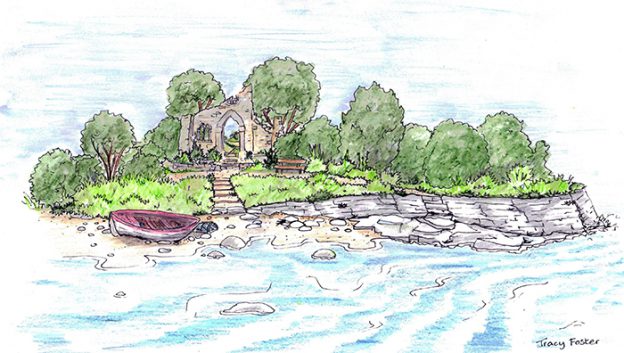 "We are taking them back, I promise," said Tracy. "They're quite unusual – they're chalk and molluscs have burrowed their way into them, leaving tell-tale holes behind."
While the Flamborough authorities were happy to help out, Tracy wasn't able to take quite as many as she would have liked – so we provided some of our Atlantic pebbles and Spanish cobbles to complete the beach look.
"There are some lovely river washed aggregates, cobbles and pebbles," she said. "We needed that mix of textures to make it seem real. The sand has come from Scarborough Beach – apparently they've got lots so that doesn't have to go back!"
The garden's walls represented the cliffs at Flamborough, while Tracy tapped into our bespoke service to create edging for the garden, which harnessed beautiful Stoke Hall natural stone. "They're linear pieces of stone but Marshalls were cleverly able to match it to the material we used for the folly."
Over 3,000 plants suited to a coastal location could be found in the garden, ranging from tiny species of thrift to 5m tall trees. Edible and medicinal plants such as liquorice, fennel, oregano, thyme, salsify and angelica which would have been used in a working abbey hundreds of years ago were also included.
The dramatic design succeeded in capturing the imagination of the judges as well as the public, repeating the success of previous Welcome to Yorkshire gardens by being named a Silver Medallist. It means the agency's gardens have now picked up seven Silver Medals and one Gold Medal in the last eight years, as well as the People's Choice Award in 2016.
Elsewhere at Chelsea
It wasn't just within the Welcome to Yorkshire Garden that you could find Marshalls' products at Chelsea. They also played a part in the special BBC Radio 2 Feel Good gardens, created for the station's 50th anniversary celebrations. The five gardens showed how outdoor spaces can enrich and indulge each of the five senses – touch, taste, smell, sight and sound.
The Zoe Ball Listening Garden, which used Fairstone Sawn Versuro Garden Paving in Caramel Cream, reproduced that feeling when you stand too close to a speaker stack at a concert. While you couldn't hear music at the garden, it was visible in water patterns created in its water features and felt through the floor.
Meanwhile, the Jo Whiley Scent Garden featured the talents of fragrance designer Jo Malone. Its aromas transported visitors to a time or place such as woodland walks, rain on warm paving, fresh earth and new leaf growth, or freshly cut flowers from the garden. The design again incorporated Fairstone Sawn Versuro Garden Paving, this time in Autumn Bronze.